Schedule
Thursday 28th July
| | |
| --- | --- |
| Event | '25/50 Flight A', 25,000 starting stack , 40 Min Clock, £50,000 GTD, Cap 120* |
| Day | Thursday 28th July |
| Time | 7:00pm |
| Buy-in | £200 + £20 |
Friday 29th July
| | |
| --- | --- |
| Event | '25/50 Flight B', 25,000 starting stack , 40 Min Clock, £50,000 GTD, Cap 120* |
| Day | Friday 29th July |
| Time | 7:00pm |
| Buy-in | £200 + £20 |
Saturday 30th July
| | |
| --- | --- |
| Event | Goliath Day 1A, 25,000 starting stack , 40 Min Clock, £250,000 GTD Cap 600 |
| Day | Saturday 30th July |
| Time | 12:00pm |
| Buy-in | £100 + £20 |
| | |
| --- | --- |
| Event | '25/50 Flight C', 25,000 starting stack , 40 Min Clock, £50,000 GTD, Cap 300 |
| Day | Saturday 30th July |
| Time | 7:00pm |
| Buy-in | £200 + £20 |
Sunday 31st July
| | |
| --- | --- |
| Event | Goliath Day 1B, 25,000 starting stack , 40 Min Clock, £250,000 GTD Cap 600 |
| Day | Sunday 31st July |
| Time | 12:00pm |
| Buy-in | £100 + £20 |
| | |
| --- | --- |
| Event | '25/50 Final', Chips carried Forward 40 Min Clock, £50,000 GTD |
| Day | Sunday 31st July |
| Time | 2:00pm |
| Buy-in | N/A |
| | |
| --- | --- |
| Event | 'Open Dealer Championships', 12,000 starting stack , 25 Min Clock, Cap 250 |
| Day | Sunday 31st July |
| Time | 7:00pm |
| Buy-in | £25 + £6 |
Monday 1st August
| | |
| --- | --- |
| Event | Goliath Day 1C, 25,000 starting stack , 40 Min Clock, £250,000 GTD Cap 600 |
| Day | Monday 1st August |
| Time | 12:00pm |
| Buy-in | £100 + £20 |
| | |
| --- | --- |
| Event | '4/5/6 Omaha', 12,000 starting stack , 25 Min Clock, Cap 250 |
| Day | Monday 1st August |
| Time | 7:00pm |
| Buy-in | £30 + £6 |
Tuesday 2nd August
| | |
| --- | --- |
| Event | Goliath Day 1D, 25,000 starting stack , 40 Min Clock, £250,000 GTD Cap500 |
| Day | Tuesday 2nd August |
| Time | 12:00pm |
| Buy-in | £100 + £20 |
| | |
| --- | --- |
| Event | 'Win the Button', 10,000 starting stack , 25 Min Clock, Cap 250 |
| Day | Tuesday 2nd August |
| Time | 7:00pm |
| Buy-in | £30 + £6 |
Wednesday 3rd August
| | |
| --- | --- |
| Event | Goliath Day 1E, 25,000 starting stack , 40 Min Clock, £250,000 GTD Cap 500 |
| Day | Wednesday 3rd August |
| Time | 12:00pm |
| Buy-in | £100 + £20 |
| | |
| --- | --- |
| Event | 'Tag Team', 10,000 starting stack , 25 Min Clock, Cap 250 |
| Day | Wednesday 3rd August |
| Time | 7:00pm |
| Buy-in | £60 + £12 per team |
Thursday 4th August
| | |
| --- | --- |
| Event | Goliath Day 1F, 25,000 starting stack , 40 Min Clock, £250,000 GTD Cap 500 |
| Day | Thursday 4th August |
| Time | 12:00pm |
| Buy-in | £100 + £20 |
Event
'Joker is Wild', 10,000 starting stack , 25 Min Clock, Cap 250
Online registration ONLY
Day
Thursday 4th August
Time
7:00pm
Buy-in
£25 + £6
Friday 5th August
| | |
| --- | --- |
| Event | Goliath Day 1G, 25,000 starting stack , 40 Min Clock, £250,000 GTD cap 1000 |
| Day | Friday 5th August |
| Time | 12:00pm |
| Buy-in | £100 + £20 |
Saturday 6th August
| | |
| --- | --- |
| Event | Goliath Day 2, Chips Carried Forward, 40 Min Clock, £250,000 GTD |
| Day | Saturday 6th August |
| Time | 12:00pm |
| Buy-in | N/A |
Sunday 7th August
| | |
| --- | --- |
| Event | Goliath Final, chips Carried Forward, 60 Min Clock, £250,000 GTD |
| Day | Sunday 7th August |
| Time | 12:00pm |
| Buy-in | N/A |
| | |
| --- | --- |
| Event | Red Tooth Event' RPT Leg3 Coventry, cap 120 |
| Day | Sunday 7th August |
| Time | 12:30pm |
| Buy-in | £25 + £6 |
| | |
| --- | --- |
| Event | Deep & Steep', 20,000 starting stack , 25 Min Clock, Cap 250 |
| Day | Sunday 7th August |
| Time | 1:00pm |
| Buy-in | £30 + £6 |
Check out what the 2015 Goliath looked like!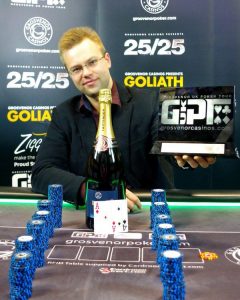 The 2015 Goliath is the largest Poker Tournament ever outside of Las Vegas!
Grosvenor Casinos have broken their own 2014 Goliath record and are yet again proud owners of the record for the largest live-only Poker Tournament held outside of Las Vegas!
2,764 unique players took part in the £120 buy-in Main Event and after combining the 1,446 re-entries, The 2015 Grosvenor Casinos' Goliath Main Event hosted a total of 4,210 entries. This staggering accomplishment meant the total prizepool on offer was an incredible £421,000, smashing the £250,000 guarantee and offering outstanding value for all players taking part.
Grosvenor Casinos takes pride in offering their players the opportunity to turn just £120 in to life changing sums of money and many are already dubbing the Goliath as "The Recreational Player's Main Event"! Over £200,000 in cash prizes was awarded to the final 9 players. Some had invested one or two buy-ins at £120 a go and some had qualified online for only a few pounds. One player had even won his seat without investing a penny!
Last night, after 9 days of non-stop action and with poker fans watching from all around the world, the Goliath 2015 Main Event drew to a close when 27 year old Finnish player Miikka Toikka brushed aside the last of the remaining 4,209 competitors and emerged victorious winning the Goliath trophy and £70,800 in cash! Many will know Toikka, who works as an IT Professional by day, from his successes in the online poker arena. He was visibly delighted with his first big live result telling Phil 'TheTower' Heald he was "over the moon" and couldn't wait to share a drink with his friends, many of whom were supporting via the event's live stream.
Toikka started Day 3 of the Goliath Main Event first in chips but it was no easy ride for the Finn who experienced a few ups and downs along the way. When he met his head's up opponent, Katie Swift, he held an enormous ten to one chip lead. If there was anyone who could deal with a ten to one chip deficit it was a player like Kent based Katie Swift. Swift is no stranger to the UK Poker Circuit and has been taking part in the Goliath and Grosvenor Casinos' flagship Poker Tour, The GUKPT, since their conception, her previous best result [User1] being £4,800 at the Manchester GUKPT earlier this year. Swift comes from a family of poker players and was taught by her parents at an early age. There was no mistaking who her friends and family were on the rail at the Ricoh Arena and you can just imagine the celebrations when she finished in 2nd for an incredible £46,300.
There was a great mix of people on the final table which included 53 year old Sunil Moti (4th) who is planning on treating his family with his winnings and Philip Bain (5th) and Benjamin Boulden (7th) who both beat their previous best poker results of £1,500 and £3,000 respectively. 6th placed finisher Andrew James, a bus driver from Newcastle, freerolled his way to the Goliath at his local Grosvenor Casino and Grant Ferguson (9th) who was taking part in his first ever Poker Tournament – not a bad start to his poker playing career!
1st – Miikka Toikka – £75,800.00
2nd – Katie Swift – £46,300.00
3rd – Ryan Meager – £29,050.00
4th – Sunil Moti – £20,200.00
5th – Philip Bain – £12,650.00
6th – Andrew James – £8,400.00
7th – Benjamin Boulden – £5,900.00
8th – Shane Andrew Mossop – £3,800.00
9th – Grant Paul Ferguson – £3,100.00
Another stand out story from the Goliath goes to two of our 12 "Daves" Nick David Secker and Dave Mee. Both were selected to take part the in the Grosvenor Casinos' "David vs Goliath Bootcamp", run by pros Joe Beevers, Jeff Kimber and Ellie Biessek. Both Nick and Dave had little experience playing poker but were eager to learn more and improve their game in order to take on the Goliath Main Event (all courtesy of Grosvenor Casinos!) It appears all the advice and training was put to good use; David Mee finished in 74th place out of 4,210 taking home £750 and Nick David Secker finished in an impressive 17th place winning £1750 and a seat in to Goliath 2016 Main Event. An incredible achievement by both!
Despite the enormity of the Goliath Main Event, Grosvenor Casinos' still managed to deliver a full week of fun-filled entertainment and other poker Side Events! Notable performances include first place in the side events for  Louise Ann Hill (Blind Man's Bluff), Ashley Dobbs (Deep 'n' Steep), Falko Pavels (Open Dealer's Championship), Richard Simmons (PLO), Vincent Campbell (Win the Button), Aurelijis and Viadas Siriunas (Tag Team Event). Huge congratulations to all!
Grosvenor Casinos were also delighted to debut their first 50/50 event, inspired by the ever growing 25/25 Series. The event was originally capped at 250 players but due to the over-whelming numbers wishing to take part, the quick thinking staff did all they could to accommodate the demand by adding an additional starting flight and managed to fit in 400 players!