Read all about the 2016 UKSPC below, for details on this year's UKSPC running from 18th to 23rd April at Grosvenor Casino Coventry at the Ricoh Arena click here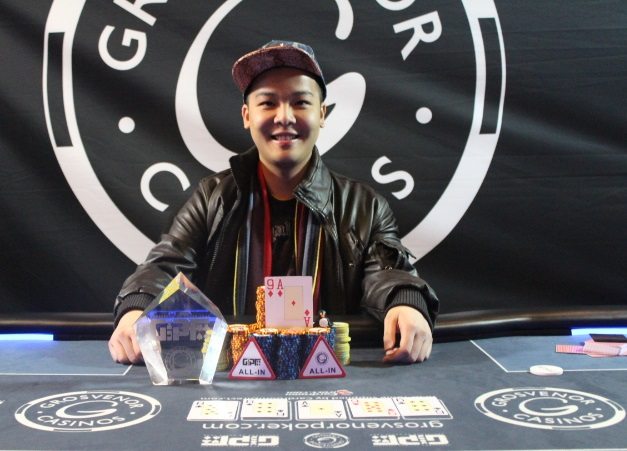 Warwick student Kwok, King of the Castle at Grosvenor Casinos' UKSPC
Warwick University student Joseph Kwok finished top of the class as he beat 964 other poker loving University students, earning himself student poker's highest accolade – the Grosvenor Casinos' U.K. Student Poker Championship title.
It was Grosvenor Casinos' fifth time hosting the UKSPC at Grosvenor Casino Coventry in the Ricoh Arena and Grosvenor Casinos' is proud to reveal the UKSPC is officially the biggest Student Poker event in the U.K. 965 students from all around the country turned up in their masses to take part in the Main Event, creating a £28,950 prizepool to fight for.
Late on Sunday evening thousands tuned in online to watch Joseph Kwok, a 22 year old Entrepreneurship Student, build his chip lead over the course of the final table. It was Kwok's first year at the UKSPC but he has clearly had plenty of experience whilst a member of Warwick University's prestigious Poker Society. With £5,000 in winnings many students would attempt to clear the bar of its contents but Kwok won't have any regrets this morning as he hurried back to campus to add the finishing touches to an essay with a looming deadline – clearly a model student with a bright Entrepreneurial career ahead of him.
Kwok's triumph also cemented Warwick's first place finish in the team event – also thanks to Joshua Woolridge's UKSPC Six Max win earlier in the week.  Warwick University has always proven to produce many talented poker players, with past alumni including EPT winner Rupert Elder and online wizards Alex Millar and Andrew Hulme – also a regular face on Grosvenor Casinos' GUKPT circuit. Huge congratulations to the Warwick University team, we hope to see some of you back next year to defend your title.
UKSPC 2016 Results 
1st – £5,000 – Joseph Kwok
2nd – £4,935 – Isaac Carlisle
3rd – £4,500 – Jack Armorgie
4th – £1,995 – Dan Pope
5th – £1,430 – George Gorvett
6th – £1,125 – Youness Barakat
7th – £520 – Ross Duffin
8th – £405 – Matt Nollett
9th – £350 – Lee Paterson
10th – £290 – Damon Wilson
Another year of the UKSPC to add to Grosvenor Casinos' ever growing history book. Plenty of Grosvenor Casinos' Poker events to help with the post UKSPC blues including a 25/25 (£200+20 buy-in and £25,000 guarantee) in Blackpool and Portsmouth this weekend and Grosvenor Casinos' flagship tour, the GUKPT, in Reading next week.