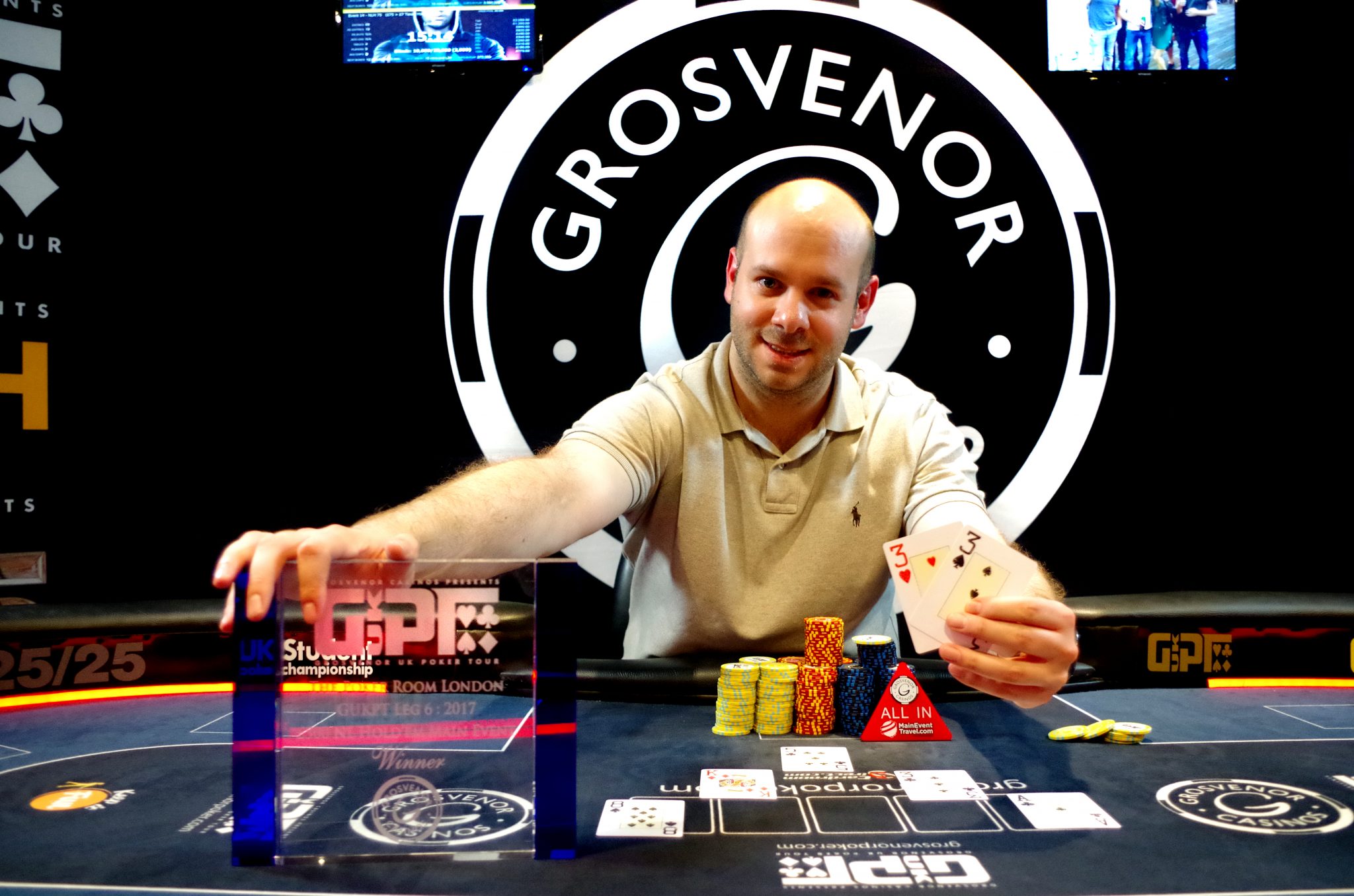 Alexander the Great conquers all as GUKPT London pulls in the crowds
Published On July 4, 2017 |
The dust has finally settled at the iconic The Poker Room after a whirlwind week of non-stop poker action. It was the second time this year Grosvenor Casinos brought its premier poker tour, the GUKPT, to The Poker Room and judging by the number of players who turned up to take part it was clearly a much welcomed return.
Congratulations goes to George Alexander who was the last man standing after besting his fellow 448 competitors, taking home an extraordinary £50,000 first prize. Alexander held his nerve throughout the final, eventually finding himself heads up with a 10 to 1 chip lead against Andrew Christoforou. Many will recognise Christoforou from the coverage of his deep run at the 2016 WSOP and it was another great showing here. Ultimately his second place fate was quickly sealed once the action got headsup, his A6 ruthlessly dealt with by Alexander's 33 when a third 3 hit the flop. The full final table line up showcased the breadth of players that come to play these popular GUKPT events. The majority of the final nine players all went home with their best ever result from a poker tournament!
The GUKPT London Main Event pulled in an impressive 449 entries, creating a prizepool of £224,500. The £550 buy-in events always bring in an eclectic mix of players of all difference experiences, with many satellite winners taking their seat for as little as £5. There were also many seasoned pros in attendance, with the likes of Joe Grech, Martin Bader, Mike Ellis and JP Kelly all taking their seats for this popular event.
The 2017 GUKPT now takes a brief summer hiatus before heading back up North for the Leeds Leg taking place in September. That leaves our customers plenty of opportunities to win their £500+50 seat for a fraction of the cost via satellites running every Tuesday and Sunday on grosvenorpoker.com and at Grosvenor Casino Leeds Westgate.
The GUKPT's sister tour, the 25/25, continues to make its way around the UK, bringing the best value well structured poker tournaments the U.K. has to offer. This weekend it's Grosvenor Casino Didsbury's turn to play host to the £200+20 buy-in event. As ever the 25/25 will have 3 Day 1's taking place this Thursday, Friday and Saturday, with Day 2 following on the Sunday. Grosvenor Casinos always gives their customers the opportunity to win their seat to the £25,000 guaranteed event either via satellites running on grosvenorpoker.com or at Grosvenor Casino Didsbury.