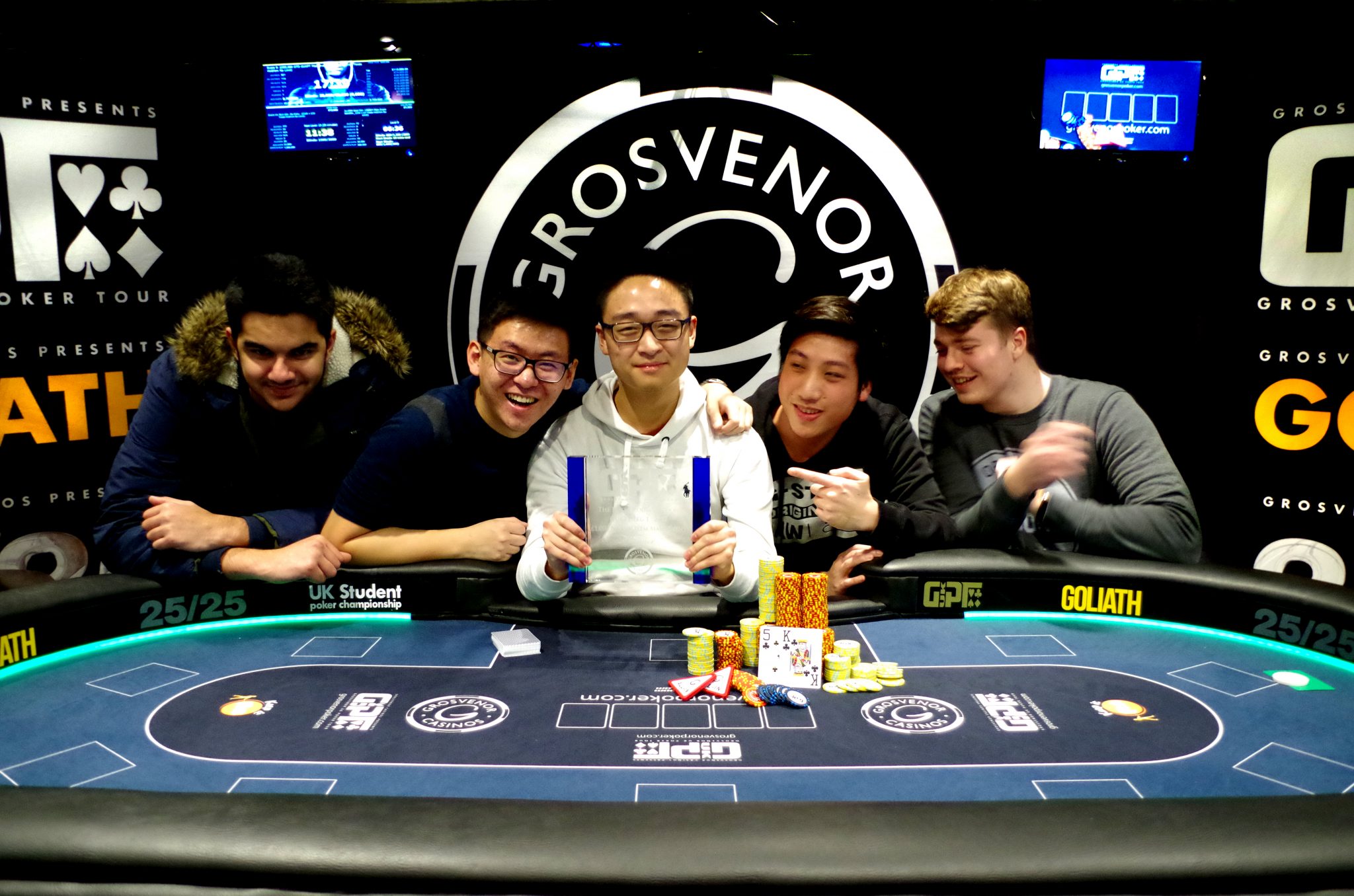 Biggest ever GUKPT awards £113,000 1st prize!
Published On February 7, 2017 |
There is no stopping the Grosvenor Casinos' GUKPT as it hits record breaking numbers in its 11th year. An incredible 435 players took part in the £200,000 Guaranteed Main Event, more than doubling the guaranteed prizepool and creating a £113,000 first prize, the biggest we've ever seen for a £1,100 buy-in GUKPT event.
It was 21-year-old Nottingham resident  Michael Chi Zhang who pocketed the record breaking first prize and the beautiful Season 11 GUKPT trophy. Michael may be relatively unknown amongst the UK poker community but he has been consistently picking up results since he was allowed into cardrooms at the age of 18. Now with his first major win under his belt we have a feeling this is just the beginning for him.
The GUKPT always pulls in the best of UK Poker and this year's GUKPT London was no exception with the likes of Simon Deadman, Priyan DeMel and Ross Boatman, to name just a few, all taking part. The added lure of this iconic venue also attracted some of the biggest names from around the world, with the likes of Poker TV legend Freddy Deeb taking part in Day 1B on Friday.
Despite the experienced faces in attendance, the final table line up showcased the unpredictable nature of poker and underlined how players with lesser experience can also reach the top and beat the best. The final table also reminded us what a wonderfully diverse and cosmopolitan country we live in, with the likes of Greece, India, Netherlands, Morocco and Spain all represented amongst the final nine.
1st – £113,000 – Michael Zhang
2nd – £74,000 – Javier Zapatero
3rd – £48,900 – Fahd Bennanismires
4th – £29,400 – Carl Pickles
5th – £22,200 – Paul Siddle
6th – £18,200 – Sam Meeuse
7th – £14,400 – Alexios Zervos
8th – £10,400 – Muskan Sethi
9th – £7,800 – Khoa Le
10th – £6,200 – Daniel Barriocanal
The GUKPT bus moves up North towards the bright lights of Manchester as Grosvenor Casino Bury New Road gets ready to host the next £200,000 Main Event (£1000+100 buy-in) GUKPT Leg. Grosvenor Casinos encourages players who wish to take part in the main event to win their seat via one of the many satellites on offer. Grosvenor Casino Bury New Road, Manchester, are hosting various satellites before the festival officially kicks off on February 26th. The next direct satellites will be taking place at 8pm on the 14th and 17th February with 7 x £1,100 seats guaranteed in each. You can also qualify for GUKPT Manchester from the comfort of your own home on Grosvenorpoker.com.Grosvenorpoker.com host their own direct satellites every Tuesday and Sunday with each awarding a guaranteed 2 seats.
Grosvenor Casinos is also touring the UK with its popular recreational poker series – the 25/25. The next £200+20 buy-in, £25,000 guaranteed events are at Grosvenor Casino Sheffield this week and Grosvenor Casino Aberdeen next week. Just like the GUKPT, you can win your seat online on Grosvenorpoker.com with direct satellites taking place every Monday and Wednesday.