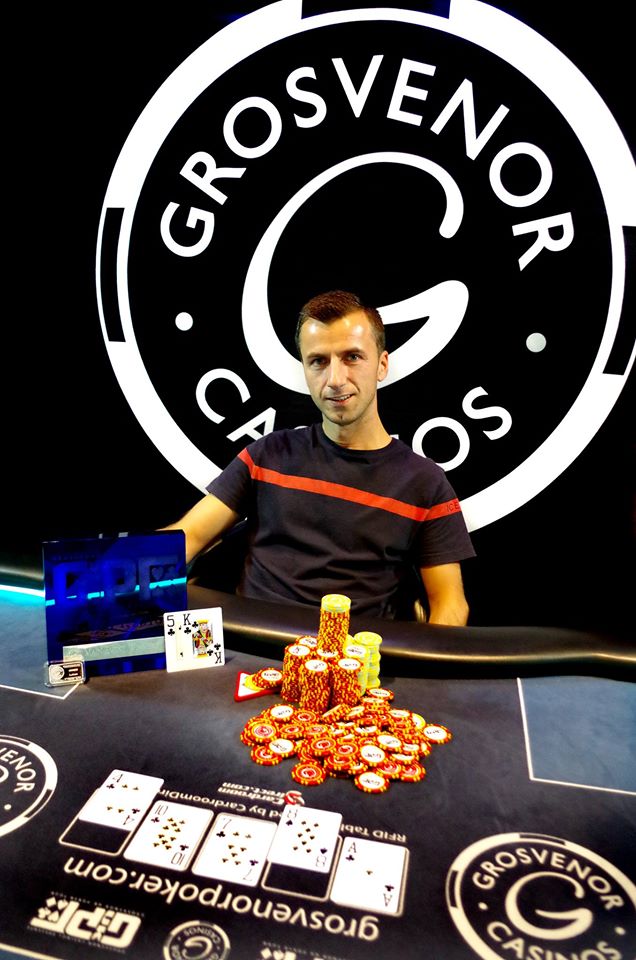 Déjà vu for Driton as he's crowned GUKPT Luton Champion, again!
Published On October 10, 2016 |
That's a wrap for Grosvenor Casinos' GUKPT Luton and thanks to all the 240 players for taking part in the Main Event creating a staggering £240,000 prizepool, crushing the £200,000 guarantee!
33 year old Driton Haxhiaj was the last man standing last night earning himself the coveted trophy and over £61,000 in cash. Albanian Driton is no stranger to winning GUKPT Main Events, the ones hosted in Luton in fact, after he won the GUKPT Luton Main Event back in 2013. Driton has now earned himself a seat in the illustrious multiple winners club alongside Julian Thew, Andrew Teng, Praz Bansi and Sunny Chattha but it's the first time in the tour's ten year history that a player has won the same leg twice.
Driton was not the only final table player looking for his second GUKPT win, Jeff Kimber (8th) won GUKPT Walsall back in 2008, Paul Vas Nunes (7th) won GUKPT Reading in 2014 and more recently Brett Kennedy (4th) won the GUKPT London earlier this year.
The GUKPT Luton Leg has quite the reputation of delivering high profile champions with the like of Richard Gryko, Chaz Chattha, Neil Channing and Sam Trickett all previous winners of the GUKPT Luton trophy.
GUKPT Luton 2016 Final Table
1st – £61,520 – Driton Haxhiaj
2nd – £52,000 – Paul Byrne
3rd – £28,080 – Ben Vinson
4th – £18,240 – Brett Kennedy
5th – £12,480 – Jose Ruben Rubio Gamito
6th – £9,360 – Derek Boyle
7th – £7,440 – Paul Vas Nunes
8th – £6,000 – Jeff Kimber
9th – £5,040 – Janice Phillips
10th – £4,320 – Sandiep Khosa
There are just two more GUKPT events to complete Grosvenor Casinos' ten year GUKPT anniversary tour. The GUKPT bus will now make a U-Turn and head North towards the dazzling lights of Blackpool. Grosvenor Casino Blackpool will host the last £200,000 Guaranteed Main Event of the year, as well as many other side events and satellites. Action kicks off on Sunday 6th November with the 10 Seat Super Satellite and the £20,000 Guaranteed GUKPT Mini Main. You can find all the information on the GUKPT Blackpool here.