The record breaking Goliath returns to Coventry from 26th July to 5th August 2018. Buy in at your local Grosvenor Casino Cardroom or online on Grosvenorpoker.com
Register at your
local casino today
Read all about the record breaking 2017 Goliath here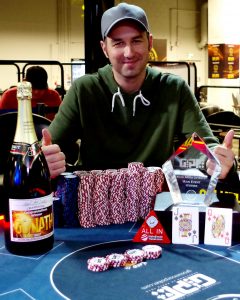 The Goliath 2017 Main Event welcomed an epic 6,385 entries, of which 4,022 were unique players. Grosvenor Casinos and its players are yet again the proud owners of the record for the largest live poker tournament outside of Las Vegas – breaking both the record for unique players and overall entries.
The vast numbers involved generated a prize pool of £638,500 – an unbelievable amount of money to play for, particularly for a buy-in of £120 and even more so for the nearly 1,000 qualifiers who won their seat for less! All 4,022 players dreamt of being the last person standing winning the £85,760 first prize. For Scunthorpe Bricklayer Elliott Marais that dream became a reality as he took home the title, comfortably beating his last recorded tournament win of £275. This now gives him the funds to take poker to the next level with plans for 2018 WSOP on the horizon. Elliott, 34, beat runner up and popular Birmingham player Tai Hoang heads up, for the enormous first prize winnings and the coveted trophy. Spectators were kept enthralled as the chip lead changed hands several times during the gruelling heads-up battle.
The final table showcased exactly what the Goliath is about, having fun whilst taking part in a great structured poker event, bringing together players from all walks of life and experiences.
3rd place finisher was Sheffield native and football mad Levan Reid. He held the chip lead coming into Day 3 and ended up taking home £44,630. During the final table Levan's thoughts were with his two kids and his main aim was to earn enough to take them to Disneyland.
Ex-Marine Paul Morris bowed out in 4th for £31,670, beating his last cash of £2,500.
Robert Shore held his nerve to finish in 5th for £21,900. Recently retired after being made redundant, Robert soon found poker at his local pub and has since played regular small buy-in tournaments at Grosvenor Casino Reading South where he's immersed himself into the local poker community. This was Robert's first time at the Goliath and after finishing in 5th for £21,900, we're sure it won't be the last!
In 6th place was University of Leicester student Calum Goodwin, who set his eyes on the Goliath after taking part in the UK Student Poker Championship also held at Grosvenor Casino Coventry earlier in the year. Calum plans to use his £15,390 winnings on heading to Las Vegas next summer, soon after his 21st birthday.
Reading was represented for the second time on the final by Oneib Saeed who finished in 7th for £12,005. Oneib was one of the more experienced players on the table with a few big online scores already under his belt.
Portuguese Fabio Liriomiranda finished in 8th for £9,895. Fabio recently moved to London and works as a receptionist in a London hotel.
Completing the final table, Pub Poker player Dean Perry, originally from Somerset but now living in Warrington, finished in 9th for his best result to date of £8,490.
Once again Grosvenor Casinos are blown away by the support of the Goliath over the years, seeing growth of over 20% from last year alone. Not long after the final hand was dealt talk turns to the Goliath 2018 with Grosvenor Casinos' new goal to surpass the 7,000 mark and attempt to beat the record held by the WSOP for the most entries in to a live poker tournament.