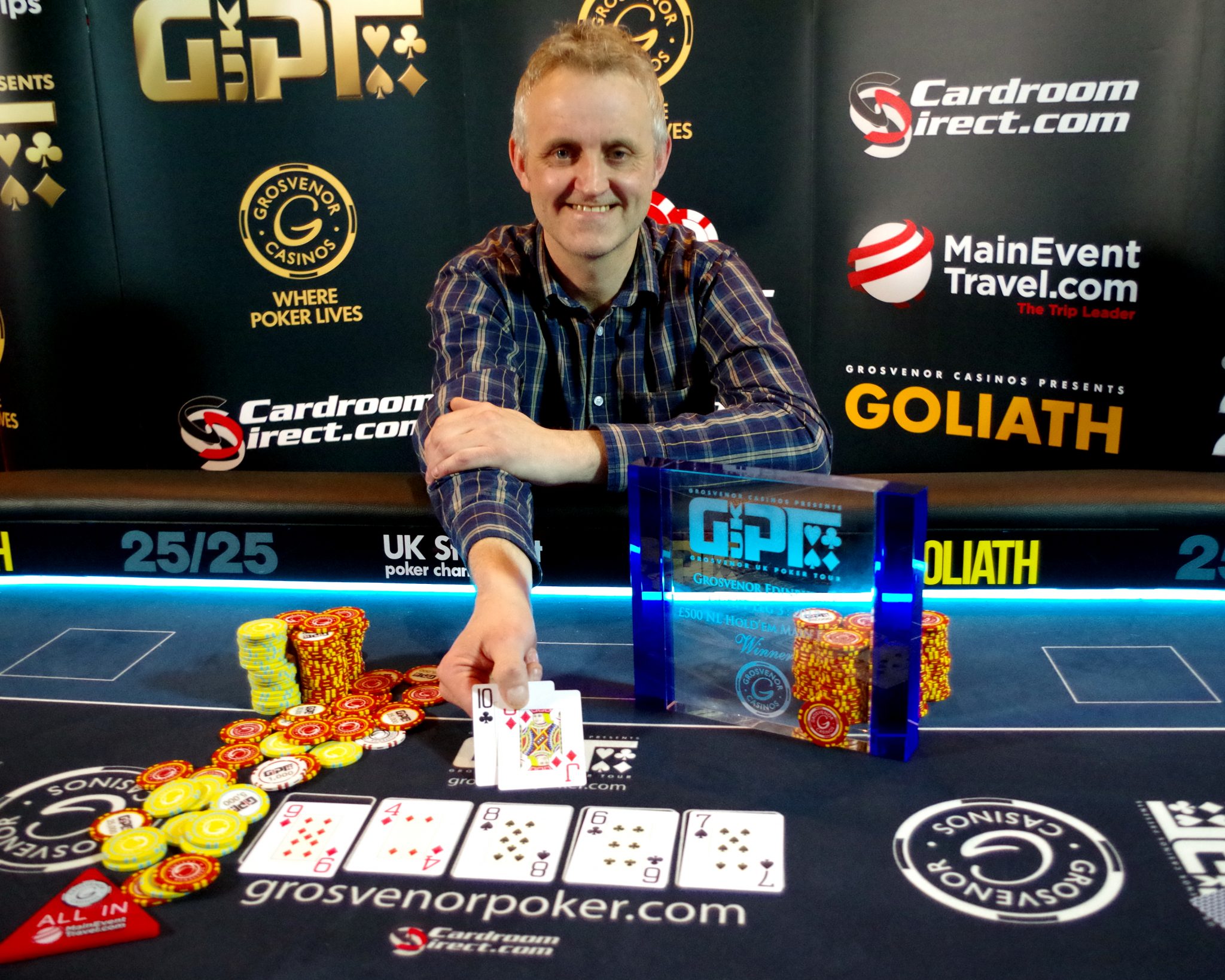 Green with Envy – local man scoops £17,000 at GUKPT Edinburgh!
Published On April 4, 2017 |
It's a wrap for GUKPT Edinburgh, with a final total of 229 entries meaning the £100,000 Guaranteed Prizepool was bumped up to a mouth-watering £114,500!
It was local man Paul Green who left Grosvenor Casino Maybury with the trophy in tow and first prize winnings of £17,000. We're sure the entire Scottish Poker community will agree that Paul is an extremely deserving person to have won the title. Only last month Paul had organised a Poker Charity Tournament in memory of his friend and once Grosvenor Casino Maybury local, Colin McConnaghy, who died of cancer last year. Thanks to Paul's hard work and dedication in running the event an incredible £6,500 was raised for Colin's family. In a cruel twist of fate, just days after this generous deed Paul's van was broken into and all of his tools which he relied upon for his job as a joiner were stolen. Our faith in karma has now been restored and Paul is in a position to replenish his tool box.
He did have his work cut out for him to take down the title, with some stiff competition from the likes of last year's winner, Tommy Le, coming desperately close to being the first person to make back to back wins, ultimately falling short of the final table and finishing in 17th place. GUKPT veteran Colin Wu was also in close contention after holding the chip lead throughout much of Day 3, which ultimately saw him bow out in 4th for £24,000 after a deal was agreed amongst the final four players.
Members of the Scottish Poker Community were out in force and it was great to see that 76 of the 229 entrants had won their seat in one of the many satellites on offer, either at Grosvenor Casino Maybury, Grosvenor Casino Merchant City or online at Grosvenor Poker.
There's no rest for the wicked as Grosvenor Casinos quickly turns its attention to the next poker event, which in this week's case is 25/25 Bolton and 25/25 Southend, both starting this Thursday. The £25,000 Guaranteed events are a favourite amongst all types of poker players thanks to the extensive satellite offering online at Grosvenor Poker or the opportunity to buy-in for £200+20. The 25,000 starting stack and 2 day structure allows for plenty of play, favoured by both experienced players and also those looking for their first serious live poker experience.
Next Monday Grosvenor Casinos' will be kicking off the first flights of the notorious Easter Beast, which will be appearing in 8 regions all across the UK between 10th and 18th April. This unique format sees Day 2 players come together at chosen destinations, making it one of the most sociable, fun poker events in the country! As for the GUKPT, the next stop on the tour will be at Grosvenor Casino Walsall at the end of the month. We encourage all those wishing to play the £500+50 buy-in Main Event to try to win their seat. Feeders and satellites start at just 25p and with 10 seats guaranteed on Grosvenorpoker.com each week, there are plenty to go around!