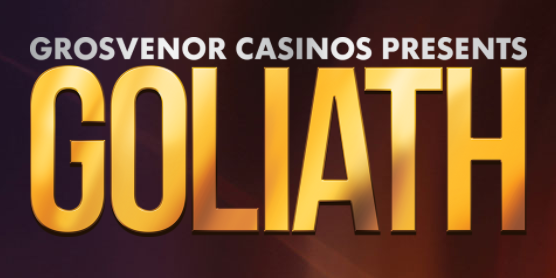 Grosvenor Casinos' mighty Goliath Is ready to crush in Coventry!
Published On July 24, 2017 |
Media Release: Monday 24th July 2017
Grosvenor Casinos' mighty Goliath Is ready to crush in Coventry!
Grosvenor Casino Coventry, in the iconic Ricoh Arena, is putting the final touches to what promises to be a monstrous week of unparalleled poker action at the record breaking Goliath.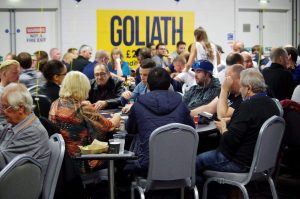 Forget Las Vegas, Coventry is where the poker world's attention will be as Grosvenor Casinos puts in its best efforts at retaining the title for the biggest live poker tournament in the UK, and possibly even the world! The Goliath has witnessed considerable growth since it's inception back in 2012, which has seen entry numbers rise every year from 1,954 in 2012 to an incredible 5,232 in 2016.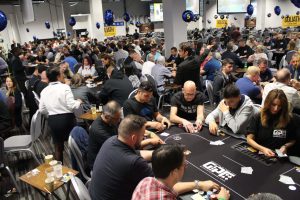 For those new to the world of poker and interested in an introduction, there is no better time to give it a go. The record breaking Goliath Main Event is on track to surpass 5,000 entries, generating a staggering £500,000 prizepool – doubling the guaranteed £250,000 prizepool already on offer. An incredible amount of money from just a buy-in of £100+20 or even less!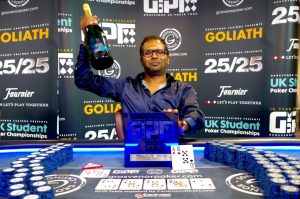 The £100+20 buy-in appeals to plenty of beginners but the sheer numbers involved and the life changing sums of money to play for also brings in some of the big names too! Grosvenor Poker's full team of pros will be in attendance, including the latest name to join the roster, one of the most talked about poker player in the world right now, Mr William Kassouf! If you want some tips on how to get through big-field tournaments, have a look at what the grosvenorpoker.com pro's have to say.
Goliath supporters from over the years will be well aware it's not just about the £250,000 Guaranteed Main Event. There's a full week of poker festivities with a plethora of events to suit all types of players and bankrolls – including team events, 'win the button', 'Joker is Wild' and Omaha! Grosvenor Casino Coventry will also be running around the clock cash game action ranging from £1/£1 to £5/£10 with up to as many as 34 cash tables at one time.
Final reminders;
Our travel partners Maineventtravel.com have some great packages in place to sort out those last minute travel and accommodations requirements
Due to the numbers taking part we do expect queues. Grosvenor Casinos will be doing its best to minimise waiting times but we do encourage players to buy in prior to the event either at their local Grosvenor Casino, at Grosvenor Casino Coventry or online on Grosvenor Poker
Play Day 1c, 1d and/or 1e and you will be entered into a draw which could see you play the Goliath for free!
There is parking available onsite but due to the huge fields we expect this to get full fast. If you can take public transport, we recommend you do so!
There is still time to win your seat online on grosvenorpoker.com. Remember, you can play up to 3 times per Day 1 and there is no limit to how many seats you can win! There are 4 remaining super satellites, all at 9pm, with a minimum of 25 seats guaranteed. You can only pre-register for one day 1 holding tank.
Let's make poker history at the Goliath!
To Read more about previous years – 2016 | 2015 | 2014 | 2013