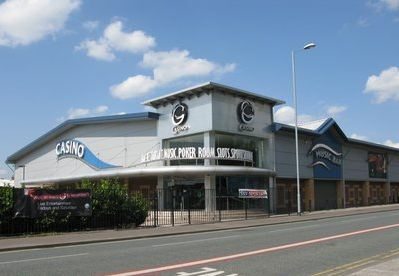 Manchester prepares for the arrival of GUKPT 2017
Published On February 22, 2017 |
Media Release: Wednesday 22nd February 2017
Manchester prepares for the arrival of GUKPT 2017
Grosvenor Casinos' GUKPT heads North to the colourful and vibrant city of Manchester for its 2nd leg of the 2017 GUKPT. A stop in Manchester is always a highlight of the tour as without fail we leave overwhelmed by the support from the poker community in the North of England.
Last year Reyaaz Mulla won his seat to the £1,100 buy-in main event for a small investment via one of Grosvenor Casino Bury New Road's live satellites during the week prior to the event. Not in his wildest dreams did Reyaaz think he would be playing for £58.000 against the likes of EPT Champion Tom Middleton. Luckily for Reyaaz, poker tournaments continue to provide the arena for such David and Goliath battles to play out.
GUKPT Manchester officially kicks off this Sunday with the popular GUKPT Mini Main, which carries a buy-in of £200+20 and a guarantee of £20,000. This is the perfect tournament for those looking for something a little more affordable and with a structure that allows for plenty of play. This will be closely followed by the £30+6 buy-in Super Satellite which guarantees a massive 10 seats worth £1,100 each.
Customers won't have to wait until Sunday to get involved in the action as Grosvenor Casino Bury New Road are getting the party started early by running satellites all this week. This will guarantee an additional 30 x £1,100 seats as well as opportunities to win your £220 and £330 seats in some of the GUKPT side events and satellites.
As ever our dedicated live media team will be in Manchester making sure all those unable to attend are kept up to date with all the poker shenanigans during the week. You can follow all of the action via www.gukpt.com
The complete GUKPT Leg 2 Manchester Schedule can be found below. Alternatively click on any of the following days for instant access: SUNDAY| MONDAY| TUESDAY| WEDNESDAY| THURSDAY| FRIDAY| SATURDAY| SUNDAY|
| | | |
| --- | --- | --- |
| GUKPT 2017 | LEG 2 MANCHESTER SCHEDULE | |
| | |
| --- | --- |
| Event 1 | £20,000 Mini Main Flight A |
| Buy-in: | £200 + £20 |
| Guarantee: | £20,000 |
| Re–entry: | 2 |
| Entry period: | 6 levels |
| Days: | 2 days |
| Levels: | 12 |
| Clock: | 40min |
| Starting stack: | 20,000 |
| | First break at 2.00pm, then every 3 levels/2hrs (8.45pm finish) |
| | Additional £20 buy-in Last person standing (LPS) with 1 x £1100 Main Event Seat GTD |
| | |
| --- | --- |
| Event 2 | 10 Seat Super Satellite |
| Buy-in: | £30 + £6 |
| Guarantee: | 10 x £1000+100 GUKPT Main Event Seats |
| Start time: | 7.30pm |
| Re-buy/Add-on: | 2hr of unlimited re-buys + 1 Add-on |
| Re–entry: | 1 |
| Entry period: | 4 levels |
| Clock: | 4 x 30min then a 20min clock |
| Starting stack: | 2,000 starting stack / 4,000 Add-on stack |
| | First break at 9.30pm, then every 5 levels/1hr 40min |
| | |
| --- | --- |
| Event 1 | £20,000 Mini Main Flight B |
| Buy-in: | £200 + £20 |
| Guarantee: | £20,000 |
| Start time: | 6.00pm |
| Re–entry: | 2 |
| Entry period: | 6 levels |
| Days: | 2 days |
| Levels: | 12 |
| Clock: | 40min |
| Starting stack: | 20,000 |
| | First break at 2.00pm, then every 3 levels/2hrs (8.45pm finish) |
| | Additional £20 buy-in Last person standing (LPS) with 1 x £1100 Main Event Seat GTD |
| | |
| --- | --- |
| Event 3 | Turbo Satellite |
| Buy-in: | £30 + £6 |
| Guarantee: | 1 x £1000+100 GUKPT Main Event Seat |
| Start time: | 4.00pm |
| Re-buy/Add-on: | 1hr 15min of unlimited re-buys + 1 Add-on |
| Re-entry: | No |
| Entry period: | 3 levels |
| Clock: | 3 x 25min then a 15min clock. |
| Starting stack: | 2,000 starting stack / 4,000 Add-on stack |
| | First break at 5.15pm, then every 8 levels/2hrs |
| | |
| --- | --- |
| Event 4 | Turbo Satellite |
| Buy-in: | £30 + £6 |
| Guarantee: | 1 x £1000+100 GUKPT Main Event Seat |
| Start time: | 4.00pm |
| Re-buy/Add-on: | 1hr 15min of unlimited re-buys + 1 Add-on |
| Re-entry: | No |
| Entry period: | 3 levels |
| Clock: | 3 x 25min then a 15min clock. |
| Starting stack: | 2,000 starting stack / 4,000 Add-on stack |
| | First break at 5.15pm, then every 8 levels/2hrs |
| | |
| --- | --- |
| Event 1 | Mini Main Day 2 |
| Start time: | 6.00pm |
| Levels: | plays to conclusion. |
| | |
| --- | --- |
| Event 5 | NLH 300 |
| Buy-in: | £300 + £30 |
| Start time: | 6.30pm |
| Re-entry: | 1 |
| Entry period: | 3 levels |
| Days: | 2 Days |
| Levels: | 12 |
| Clock: | 40min |
| Starting stack: | 20,000 |
| | First break at 8.30pm, then every 3 levels/2hrs (Finish 3.15am) |
| | Additional £20 buy-in Last person standing (LPS) with 1 x £1100 Main Event Seat GTD |
| | |
| --- | --- |
| Event 6 | Turbo Satellite |
| Buy-in: | £30 + £6 |
| Guarantee: | 1 x £1000+100 GUKPT Main Event Seat |
| Start time: | 4.00pm |
| Re-buy/Add-on: | 1hr 15min of unlimited re-buys + 1 Add-on |
| Re-entry: | No |
| Entry period: | 3 levels |
| Clock: | 3 x 25min then a 15min clock. |
| Starting stack: | 2,000 starting stack / 4,000 Add-on stack |
| | First break at 5.15pm, then every 8 levels/2hrs |
| | |
| --- | --- |
| Event 5 | NLH 300 Day 2 |
| Start time: | 6.30pm |
| Levels: | Plays to conclusion |
| | |
| --- | --- |
| Event 7 | 6 Max |
| Buy-in: | £200 + £20 |
| Start time: | 7.30pm |
| Re-entry: | 1 |
| Entry period: | 4 levels |
| Clock: | 4 x 30min then a 25min clock |
| Starting Stack: | 10,000 |
| | First break at 9.30pm then every 5 levels/2hrs 05mins |
| | Additional £20 buy-in Last person standing (LPS) with 1 x £1100 Main Event Seat GTD |
| | |
| --- | --- |
| Event 8 | 5 Seat Super Satellite |
| Buy-in: | £150 + £15 |
| Guarantee: | 5 x £1000+100 GUKPT Main Event Seats |
| Start time: | 9.00pm |
| Re-buy or Add-on: | 1 |
| Re-entry: | 1 |
| Entry period: | 4 levels |
| Clock: | 4 x 30min then a 20 min clock |
| Starting stack: | 7,500 |
| | First break at 11.00pm, then every 5 levels/1hr 40mins |
| | |
| --- | --- |
| Event 9 | £200,000 Main Event Flight A |
| Buy-in: | £1,000 + £100 |
| Guarantee: | £200,000 |
| Start time: | 1.00pm |
| Re-entry: | 2 |
| Entry period: | 6 levels |
| Days: | 3 |
| Levels: | 9 |
| Clock: | 60 min |
| Starting Stack: | 20,000 |
| | First break at 3.00pm, then every 2 levels/2hrs |
| | Buffet break at 5.15pm |
| | |
| --- | --- |
| Event 10 | Turbo Satellite |
| Buy-in: | £30 + £6 |
| Guarantee: | 1 x £1000+100 GUKPT Main Event Seat |
| Start time: | 4.00pm |
| Re-buy/Add-on: | 1hr 15min of unlimited re-buys + 1 Add-on |
| Re-entry: | No |
| Entry period: | 3 levels |
| Clock: | 3 x 25min then a 15min clock. |
| Starting stack: | 2,000 starting stack / 4,000 Add-on stack |
| | First break at 5.15pm, then every 8 levels/2hrs |
| | |
| --- | --- |
| Event 11 | Omaha 4/5/6 |
| Buy-in: | £150 + £15 |
| Start time: | 6.00pm |
| Re-entry: | 1 |
| Entry period: | 3 levels |
| Clock: | 3 x 40min then a 30min clock |
| Starting stack: | 12,500 |
| | First break at 8.00pm then every 4 levels/2hrs |
| | |
| --- | --- |
| Event 9 | £200,000 Main Event Flight B |
| Buy-in: | £1,000 + £100 |
| Guarantee: | £200,000 |
| Start time: | 1.00pm |
| Re-entry: | 2 |
| Entry period: | 6 levels |
| Days: | 3 |
| Levels: | 9 |
| Clock: | 60 min |
| Starting Stack: | 20,000 |
| | First break at 3.00pm, then every 2 levels/2hrs |
| | Buffet break at 5.15pm |
| | |
| --- | --- |
| Event 12 | Bounty |
| Buy-in: | £75/£75 + £15 |
| Start time: | 9.00pm |
| Re-entry: | 1 |
| Entry period: | 4 levels |
| Clock: | 4 x 30min then a 20 min clock |
| Starting stack: | 10,000 |
| | First break at 11.00pm then every 5 levels/1h 40mins |
| | |
| --- | --- |
| Event 9 | £200,000 Main Event Day 2 |
| Start time: | 1.00pm |
| Levels: | 9 or the final table |
| | Buffet at 5.15pm |
| | |
| --- | --- |
| Event 13 | Win the Button |
| Buy-in: | £150 + £15 |
| Start time: | 6.00pm |
| Re-entry: | 1 |
| Entry period: | 4 levels |
| Clock: | 4 x 30mins then a 25min clock |
| Starting stack: | 10,000 |
| | First break at 8.00pm, then every 5 levels (2hr 05mins) |
| | |
| --- | --- |
| Event 9 | £200,000 Main Event Day 3 |
| Start time: | 12.00pm |
| Levels: | Plays to conclusion |
| | |
| --- | --- |
| Event 14 | NLH 100 |
| Buy-in: | £100 + £10 |
| Start time: | 4.00pm |
| Re-entry: | 1 |
| Entry period: | 4 levels |
| Clock: | 4 x 30mins then a 25min clock |
| Starting stack: | 10,000 |
| | First break at 6.00pm then every 5 levels/2hr 05mins |