£150,000 Guaranteed MPNPT
Where? Grosvenor Casino Manchester
When? 20th – 27th July 2017
Buy-in? £500 + £50 Buy-in or qualify online for a fraction of the cost!
Guarantee? £150,000
structure? 25,000 starting chips
MPNPT Schedule
Click on the image to enlarge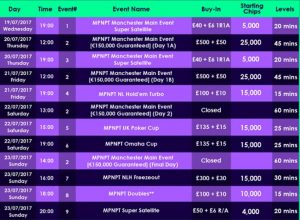 Packages worth €1,500 Includes:
Entry into the £550 Main Event (£150,000 Guaranteed)
Entry into the £110 MPNPT Manchester Poker Cup
Accommodation for four nights at the Park Inn by Radisson including breakfast for you and a guest
A Players Welcome Party where you can meet
For more info: https://www.mpnpokertour.com/events/manchester-20-23-july/

MPN Poker Tour Terms & Conditions for Players
1. This contract is with Prima Poker Limited, and any player that registers or takes part in the MPN Poker Tour, agrees to be bound by these MPN Poker Tour Terms and Conditions.
2. The MPN Poker Tour ("MPNPT") is a live event series in which players compete for a number of tournament packages ("MPNPT Package") for live poker events organised by the MPN.
3. The Terms and Conditions for play in Manchester are relevant for both the MPNPT online qualifiers and the live event held in Manchester in July 2017. Players are encouraged to familiarise themselves with these Terms and Conditions prior to joining any MPNPT online qualifiers or event tournaments.
4. The House Rules for play in the chosen venue will govern players' behaviour and conduct for the duration of the event in that casino. Players are encouraged to make themselves aware of these Rules.
5. The destination venue will conduct due diligence on all players taking part in the MPNPT Event on their premises, and they will furthermore handle all monetary transactions, including, but not limited to, collection of direct buy-ins for the Main Event and any side events, and payment of winnings from the relevant tournaments. The Terms and Conditions for the poker room through which players qualify online for the MPNPT will apply in full. We recommend players familiarise themselves with their poker room's Terms and conditions.
6. The promotional period for the MPNPT will commence from 0000 GMT on 7th January 2013 and continue until discontinued by the promotion administrators.
7. Server time (GMT) will be used at all times for the purposes of this promotion unless otherwise stated.
8. Any player who participates in a tournament associated with the MPNPT hereby accepts all terms of the MPNPT's Terms and Conditions for such tournaments, as referenced herein or separately.
MPN General Rules
1. Players must be at least 18 years old to take part in MPNPT, or at least as old as required in the jurisdiction of the event's location.
2. MPNPT Qualifiers must bring government-issued photographic identification, such as their passport, to the event.
3. The promotion administrators reserve the right to change the rules and/or structure of the MPNPT Finals, Satellites and Main Event at their discretion.
4. The promotion administrators reserve the right to buy back MPNPT Packages from any winner(s) at a price equivalent or similar to the value of that Package at their discretion.
5. Awarding of any and all prizes is at the sole discretion of the promotion administrators, and any decisions taken in this regard are final.
6. The promotion administrators and Prima Poker shall in no way be liable for any injuries, losses, damages or expenses suffered or incurred by any winner of a Package or event entry as a direct or indirect result of accepting the Package and participating in the MPNPT.
7. All other network rules, House Rules, TDA Tournament Rules and operator rules apply to this promotion.
8. Players acknowledge that any complaints shall be dealt with pursuant to the complaints terms and conditions and procedures of their respective operators.
9. The validity, construction and effect of these Terms and Conditions and each and every provision hereof shall be governed by and construed in accordance with the laws of England.
10. Any dispute arising out of or in connection with these Terms and Conditions, whether in contract or tort and including any question regarding its existence, validity or termination, shall be referred to and finally resolved by arbitration under the rules (the "Rules") of the London Court of International Arbitration ("LCIA"), which Rules are deemed to be incorporated by reference into this clause. The arbitration proceedings shall be conducted in London, United Kingdom, in the English language before a single arbitrator. If the Parties fail to agreeably nominate the arbitrator within 14 days of either party's first written demand to that effect, the arbitrator shall be appointed by the LCIA. If any arbitral nomination of a Party fails or is not approved by the LCIA, the LCIA shall appoint a replacement arbitrator. The arbitrator may be of any nationality.
11. 3% of the prizepools for the Manchester 2017 festival will be held back for staff costs.