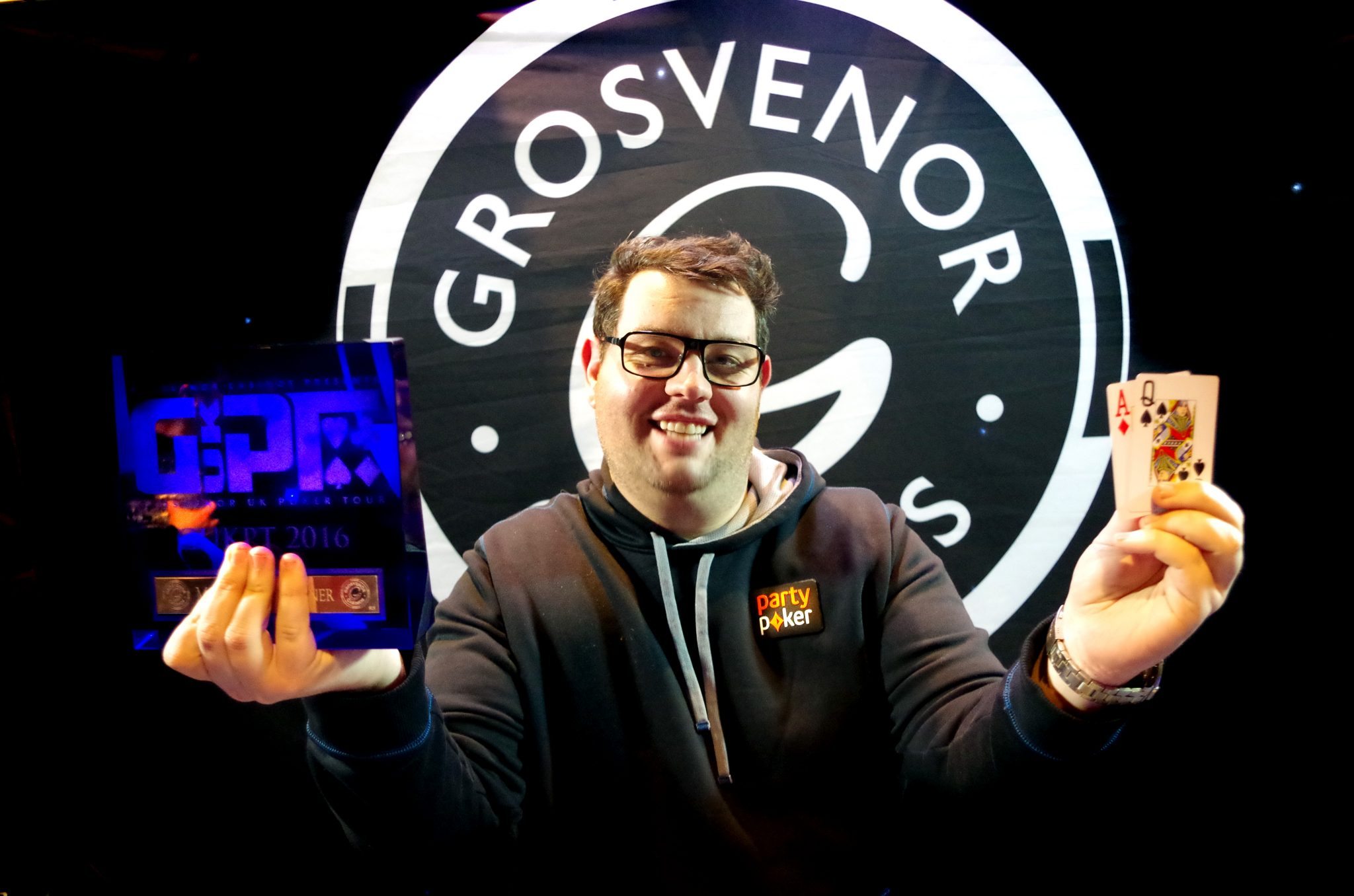 No Mercy for Ming, as Ryan Spittles becomes the latest GUKPT Champion!
Published On April 25, 2016 |
GUKPT regular and Poker TV personality Ryan Spittles has been crowned 2016 GUKPT Reading Champion, taking home the coveted GUKPT trophy and over £30,000 in first prize winnings.
Ryan is no stranger to the UK Poker Circuit. Known as a feared opponent at the table but also for imparting his knowledge as an analyst on Sky Sports TV poker shows. Ryan has racked up many impressive results over the years but a result of this scale has long been overdue. During an interview on Day 1 Ryan made his mission clear – to win some Las Vegas spending money and now we can confidently say he's in for a good trip. The GUKPT is well known as a great platform for players looking to win big in Las Vegas. Who can forget Andrew Teng who went straight on to win almost $500,000 at the WSOP Millionaire maker after taking down GUKPT Edinburgh in 2014. Fingers crossed Ryan is on the road to similar success!
We saw an incredible week of poker action take place at Grosvenor Casinos Reading South which drew to a close late last night as Ryan dispensed of his last remaining opponent in the form of Chinese student Ming Ju. There was no mercy for Ming as Ryan's AQ dominated the student's 89, sending him home in second place for £26,500. A remarkable, yet understandably frustrating, result for Ming who recently finished in 3rd place at GUKPT Manchester only last month. At this rate we're sure this is not the last we hear of Ming on the GUKPT circuit.
The final table was an eclectic mix of players from all walks of life and with various levels of poker playing experience. On the final we had, amonst others Ming Ju originally from China and in the U.K for his studies (2nd), Dinate De Sousa a bus driver from Oxford (6th) and Scott Mogridge a dairy farmer from Dorset who learnt to play in his local pub (9th). The final table also featured some familiar players including Robert Boon a car broker by profession who finished 2nd at GUKPT's first ever GUKPT Grand Final in 2007 for £62,000 (4th), young gun Will Davies – a GUKPT hall of famer who won the 2015 GUKPT Luton Main Event (3rd) and David Lloyd, also a previoius GUKPT winner after taking down the Main Event in Brighton in 2013 but must also be recognised for final tabling 3 out of the last 4 GUKPT Reading Main Events! Please find a list of Main Event Results below
2016 GUKPT Reading Results
1st – £31,100 – Ryan Spittles
2nd – £26,500 – Ming Ju
3rd – £14,280 – Will Davies
4th – £9,360 – Rob Boon
5th – £6,480 – Hui Jin
6th – £4,680 – Dinarte De Sousa
7th – £3,840 – Dave Lloyd
8th – £3,240 – Dan Efeturk
9th – £2,760 – Scott Mogridge
10th – £2,280 – Matteo Mutti
11th – £1,920 – Ann Preston
12th – £1,920 – Ricky Smith
13th – £1,680 – Claire Hulott
14th – £1,680 – David Gallagher
15th – £1,440 – Huy Nguyen
16th – £1,440 – Joe Hindry
17th – £1,440 – Yiannis Liperis
18th – £1,320 – David Buckley
19th – £1,320 – Darren Fuller
20th – £1,320 John Ventre
The 2016 GUKPT tour bus is now making a slight detour. Due to unforeseen circumstances Leg 4 of the GUKPT, taking place from 29th May to 5th June, will now be taking place at Grosvenor Casino Walsall. This leg was originally planned to take place at Grosvenor Casino Leeds Westgate but due to flooding in the surrounding area, Grosvenor Casino Leeds Westgate has had to undergo some essential renovation work. Grosvenor Casino Walsall look forward to welcoming all GUKPT players, both old and new, in May!