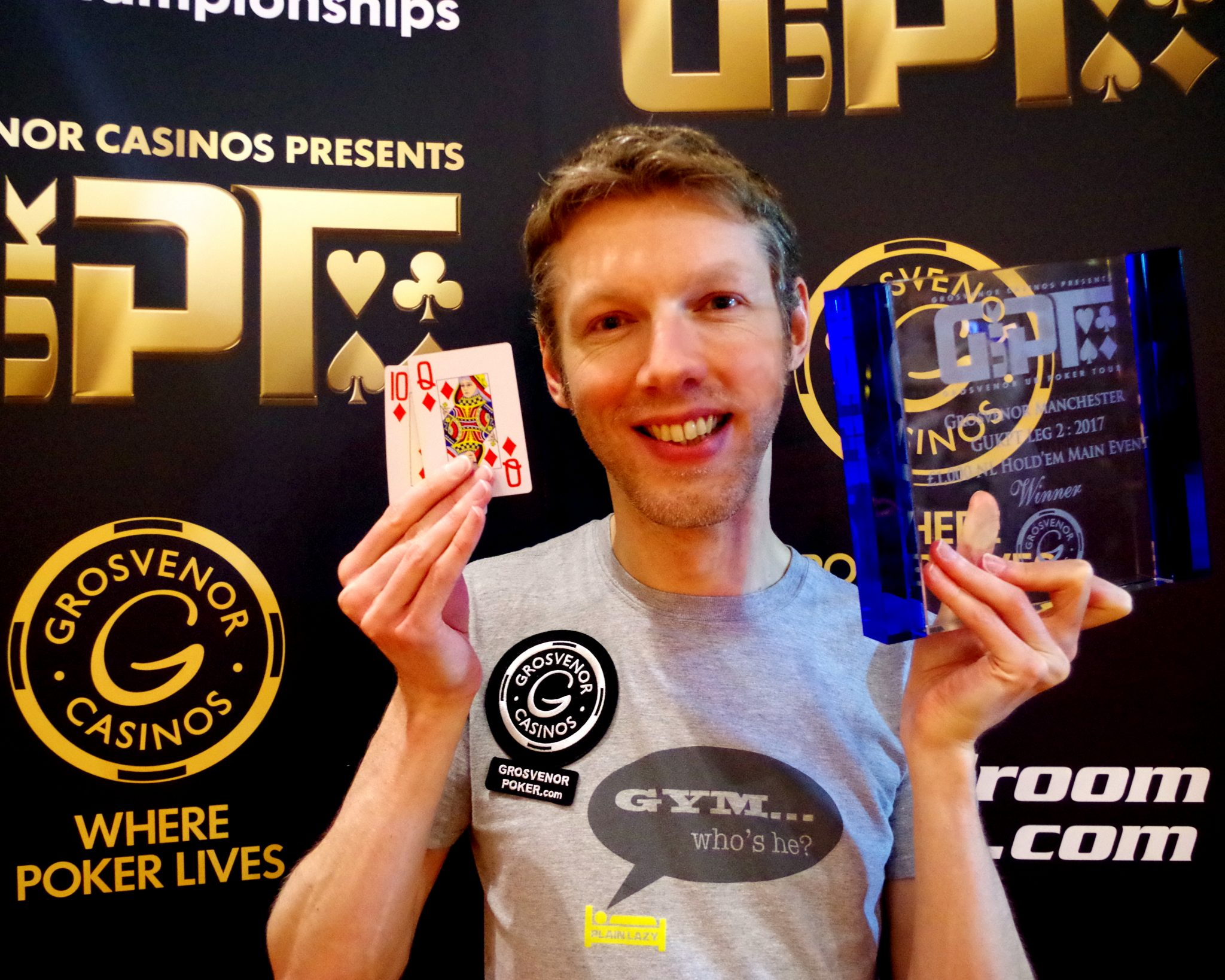 Quite some score! – Musician turned poker pro grabs almost £50k at GUKPT Manchester
Published On March 6, 2017 |

Media Release: Tuesday 7th March 2017
Quite some score! – Musician turned poker pro grabs almost £50k at GUKPT Manchester 
This year the coveted Grosvenor Casinos GUKPT Manchester crown rests on the deserving head of Andy Hills. It was only a couple of months ago Andy "Logjam" Hills dominated poker headlines after winning Grosvenor Casinos' GUKPT Passport promotion earning himself a sponsorship deal worth £10,000. You can read all about his win here. Andy has now done the unimaginable by turning a free seat to GUKPT Manchester into an extraordinary £48,000! The classically trained musician has been playing poker for eight years and is now emerging as one of the country's biggest rising stars of the game.
            "I'm elated with the result and this dwarfs my previous best cash when I won 25/25 Blackpool last year. We played on                  for the trophy and I managed to take it down – my first ever Main Event win! I'm absolutely thrilled, and already                          looking forward to the next event in Edinburgh"  Said Andy after his win…
 "We are delighted that the Grosvenor Casinos GUKPT Passport Winner managed to secure victory on his second attempt in 2017. With eight more legs to go, we wouldn't bet against Andy securing another trophy this year. We will be sending more and more online satellite qualifiers to these fantastic events, giving players the opportunity to succeed like Andy and experience a poker event outside of their usual budget."  said Adam Joseph – Director of Operations
A huge congratulations should also be extended to all of the other final table finishers, many of whom had also won their £1,100 entry seat for a fraction of the cost at either Grosvenor Casino Bury New Road, Manchester or online at GrosvenorPoker.com.
The combination of Grosvenor Casino Bury New Road's impeccable hospitality and our enthusiastic Mancunian customers always guarantees a great spectacle when the GUKPT tour bus rolls into town. This time was no different as the £200,000 Guaranteed was smashed thanks to an impressive line-up of qualifiers and loyal customers turning up in their masses to take part. Andy Hills wasn't the only player from Grosvenor Casinos' team of pros to show their worth at GUKPT Manchester. In fact it was a treble win for the team as Joe Beevers and Jeff Kimber both took home a trophy – Joe for the Omaha and Jeff for the Win the Button side event. Congratulations also to the other GUKPT Side Event winners; Hussian Patel, Liam Whitty, Dean Hutchison, Daryl Booth and Ronnie Marland.
Next stop for the GUKPT is Edinburgh! Grosvenor Casinos always looks forward to visiting their customers North of the border. Everyone is welcome to take part in the £100,000 Guaranteed Main Event (£500+50 buy-in) and we always encourage players to explore the opportunities to win their seat for less onGrosvenorPoker.com or at Grosvenor Casino Maybury, Edinburgh.
Soon after GUKPT Edinburgh, The Grosvenor Casinos' Easter Beast will be rearing its not so ugly head at destinations across the entire country. The £100+10 buy-in, £20,000 Guaranteed Event will be at a Grosvenor Casino near you. Details can be found here.
Last but certainly not least, Grosvenor Casinos' other main poker tour, the 25/25, is on a mission to crown as many winners as possible in 2017. The 25/25 seeks to offer everyone the chance to get involved in some serious poker action. In fact given the huge prizepools on offer the only thing not so serious are the entry fees! The next Series take place in Stockon from 9th to 12th March.