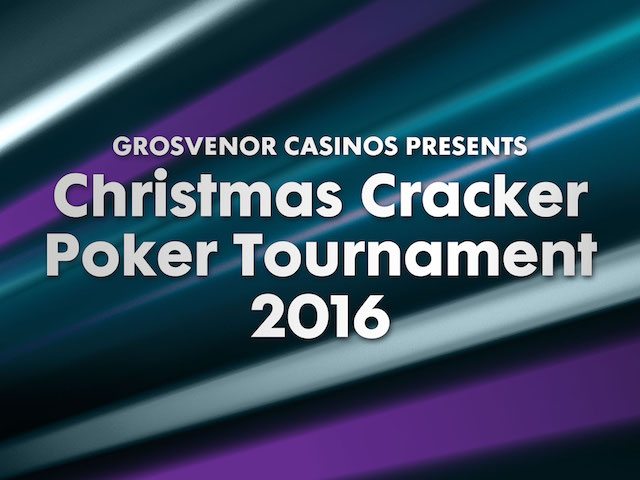 About the Christmas Cracker
One tournament per region
Covering 8 regions across the UK
Each region has various Day 1s – all details below
Each region has one Day 2 destinations – so make sure you can make the choosen Day 2 destination in your region
Each region has a £20,000 Guaranteed prizepool
£100+£10 buy-in, 2 Re-entries allowed per day
20,000 starting chips
30 min levels, 14 levels played on Day 1s and play to conclusion on Day 2
To register for this year's Christmas Cracker buy-in at your local Grosvenor Casino!

The Christmas Cracker is back but this time bigger and better!
Enter our Facebook competition running from 7:48pm on 5/12/2016 till 5:00pm on 16/12/2016 to win a free seat at the first leg of the Christmas Cracker Poker Tournaments 2016. All you have to do is watch the video here and guess the correct amount of aces that appears in the video. Then post the correct answer in the comment section below and wait until 16th December to see if you have won!
You can only enter once so take a smart guess and you could be one of the 10 winners at this year's Christmas Cracker 2016!
T&C's apply, please see below.
Christmas Cracker Venue and Dates
SCOTLAND
| | |
| --- | --- |
| Dundee | Wednesday 21st December at 7:30pm |
| Glasgow | Thursday 22nd December at 7:30pm |
| Edinburgh and Aberdeen | Friday 23rd December at 7:30pm |
| Dundee | Monday 26th December at 4:00pm |
| Day 2 takes place in Dundee | Tuesday 27th December at 2:00pm |
NORTH EAST
| | |
| --- | --- |
| Newcastle | Wednesday 21st December at 7:30pm |
| Sunderland | Thursday 22nd December at 7:30pm |
| Stockton | Friday 23rd December at 7:30pm |
| Newcastle | Monday 26th December at 4:00pm |
| Day 2 takes place in Newcastle | Tuesday 27th December at 2:00pm |
YORKSHIRE
| | |
| --- | --- |
| Hull and Leeds | Wednesday 28th December at 7:30pm |
| Huddersfield | Thursday 29th December at 7:30pm |
| Bradford and Sheffield | Friday 30th December at 7:30pm |
| Leeds | Sunday 1st Janruary at 4:00pm |
| Day 2 takes place in Leeds | Monday 2nd January at 2:00pm |
NORTH WEST
| | |
| --- | --- |
| Bolton | Wednesday 21st December at 7:30pm |
| Liverpool and Salford | Thursday 22nd December at 7:30pm |
| Blackpool and Didsbury | Friday 23rd December at 7:30pm |
| Manchester BNR | Monday 26th December at 4:00pm |
| Day 2 takes place in Manchester BNR | Tuesday 27th December at 2:00pm |
WALES
| | |
| --- | --- |
| Swansea | Wednesday 21st December at 7:30pm |
| Cardiff | Thursday 22nd December at 7:30pm |
| Swansea | Friday 23rd December at 7:30pm |
| Cardiff | Monday 26th December at 4:00pm |
| Day 2 takes place in Cardiff | Tuesday 27th December at 2:00pm |
MIDLANDS
| | |
| --- | --- |
| Birmingham Hill Street | Wednesday 28th December at 7:30pm |
| Leicester | Thursday 29th December at 7:30pm |
| Walsall | Friday 30th December at 7:30pm |
| Coventry | Sunday 1st January at 4:00pm |
| Day 2 takes place in Coventry | Monday 2nd January at 1:00pm |
SOUTH EAST
| | |
| --- | --- |
| The Poker Room, London | Tuesday 20th December at 7:30pm |
| Reading South and Southend | Wednesday 21st December at 7:30pm |
| Luton | Thursday 22nd December at 7:30pm |
| Luton and Thanet | Friday 23rd December at 7:30pm |
| The Poker Room, London | Monday 26th December at 4:00pm |
| Day 2 at The Poker Room, London | Tuesday 27th December at 2:00pm |
SOUTH COAST
| | |
| --- | --- |
| Portsmouth | Wednesday 21st December at 7:30pm |
| Bournemouth | Thursday 22nd December at 7:30pm |
| Brighton | Friday 23rd December at 7:30pm |
| Southampton | Monday 26th December at 4:00pm |
| Day 2 at Portsmouth | Tuesday 27th December at 2:00pm |
Terms and Conditions
1) Anyone above the age of 18 can apply for the Christmas Cracker Competition.
2) A member of the Grosvenor Casino is permitted to question customer's age once the prize is redeemed.
3) Customers can enter the competition on Facebook only. Entries on other social media channels or offline channels will not be considered.
4) The participant cannot apply twice and will be disqualified if two answers are submitted.
5) Entries must be submitted between the 5th December 2016 7:48pm until the 16th December 2016 5:00pm.
6) Each competition entry must include one answer.
7) If two participants that submit the correct answers, the entries will be drawn from a hat once the competition has closed.
8) To claim the prize the customer must be a register as a member of the Casino.
9) The winner will be contacted between 16th December 5:00pm and Monday 19th December to be informed of the win. If Grosvenor Casinos is unable to contact the winner during that time or the winner advises that it cannot attend Day 1 of the Tournament  the promoter reserves the right to award the prize to another entrant.
10) If the winner does not respond to a Facebook message from Grosvenor Casinos within 24 hours, the promoter has the right to award the prize to another entrant.
11) The prize is only valid on the 1st day flight of the Poker Tournament within that region at the selected casino.
12) The participant can only redeem the prize once and cannot be used in conjunction with any other offer or voucher.
13) The prize can only be redeemed at the selected Casino and prohibited in any other club, unless there are further instructions from Grosvenor Casino Head Office.
14) The prize cannot be redeemed for cash.
15) Grosvenor Casino employees cannot enter this competition.
16) Grosvenor Casinos is the sole arbiter of this promotion and its decision is final and binding. No correspondence will be entered into.
17) The promoter reserves the right to alter or withdraw the promotion at any time.
18) This promotion is also subject to Grosvenor Casinos General Terms and Conditions which can be viewed within Grosvenor Casions.
Promoter: Grosvenor Casinos Limited, Grosvenor Casinos (GC) Limited and The Gaming Group Limited, Statesman House, Stafferton Way, Maidenhead, SL6 1AY