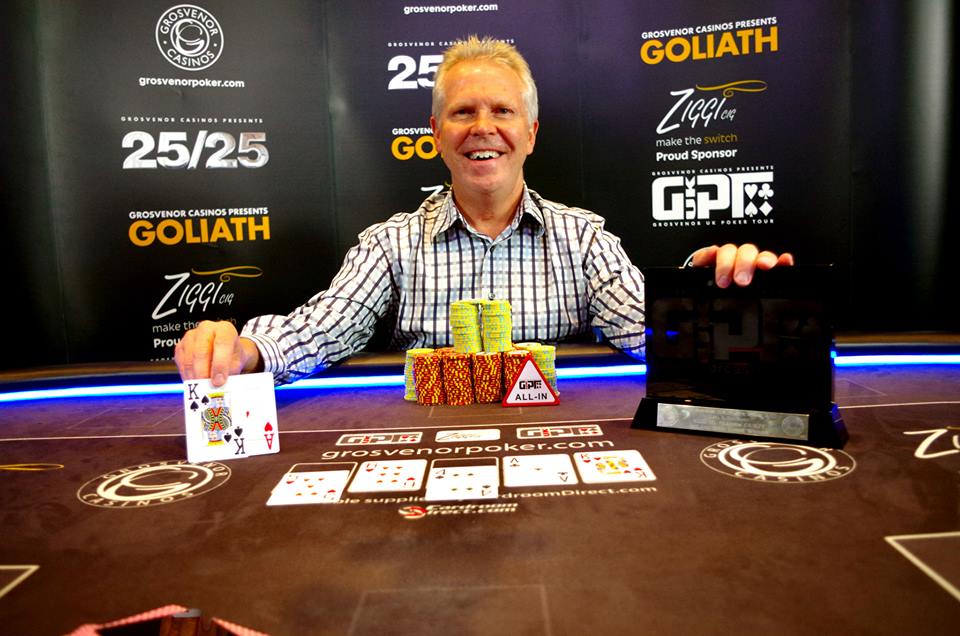 Stephen Foster's success at Leeds GUKPT
Published On August 3, 2015 |
Media Release: Monday 3rd August 2015
Stephen Foster's success at Leeds GUKPT
The last £100,000 Guaranteed GUKPT Main Event on the 2015 Calendar has now come to a close. It was 57 year old retired Executive Stephen Foster who took home the trophy and the winner's share of £24,500. Foster is no stranger to the GUKPT Tour. He has picked up some notable successes including taking down the 2014 Blackpool GUKPT £300 Side Event for a 4 figure payday. Family man Foster is already looking forward to spending some of his winnings by taking his family on holiday to Portugal. We're sure a holiday is just what Foster feels like after some of the competitors he faced over the 3 days of playing in Leeds!
Overall a mighty 249 entries took part in the Leeds GUKPT Main Event creating a £124,500 prizepool – smashing the £100,000 guarantee and making it one of the highlights of this year's tour! Lots of big names were in attendance including GUKPT legend Ali Mallu, EPT winner Tom Middleton, Online whizz-kid Luke Fields, UKSPC Champion Alex Spencer, previous GUKPT Champs Jamie O'Connor and Paul Foltyon and Grosvenor Casinos' very own Jeff Kimber and Ellie Biessek. Grosvenor Casinos are truly thankful to all their loyal players for taking part and supporting the UK's longest running Poker tour, particularly as it was such a busy weekend for the UK Poker Market!
As ever the Final Table line up showcased what a diverse playing field the GUKPT Main Events attract. Renee Xie, who finished 9th for £2,600, was determined to leave Leeds with a profit after bubbling the 2014 Main Event in cruel fashion. We lost local Leeds Lad, George Wainberg (8th), Gary Whitehead (7th), Richard Hawes (6th) one after another, a great effort from the three who regularly take part in the GUKPT tour and can be found most weeks playing at Grosvenor Casino Leeds. Luke Fields (5th) is no stranger to the GUKPT Tour and was the tour's Champion of Champions back in 2010. Many avid Poker fans may know of Luke Field from his outstanding Online Poker successes which have seen him cash for over $2,000,000! Thomas Besnier bowed out in 4th place for just shy of £20,000, not a bad week for Thomas after he won Friday night's GUKPT bounty event! Representing the Aussies was Simon Taberham who finished in 3rd, also for £19,500. When asked what he was doing with the money he said it was giving it straight to the wife, as he does with all his money!
John Woodhead was our GUKPT Leeds runner up, he won his £550 GUKPT buy-in via his local Poker League and was close to selling his ticket but fortunately his friend talked him in to playing – let's hope he at least gets a drink for that!
2015 GUKPT Leeds Results
1st – £24,500 – Stephen Foster
2nd – £19,500 – John Woodhead
3rd – £19,500 – Simon Taberham
4th – £19,500 – Thomas Besnier
5th – £6,500 – Luke Fields
6th – £4,850 – Richard Hawes
7th – £3,850 – Gary Whitehead
8th – £3,100 – George Wainberg
9th – £2,600 – Renee Xie.
10th – £2,250 – Masud Prodhan
11th – £2,000 – Norman Reynolds
12th – £1,850 – Theo Drekolias
13th – £1,750 – Tom Middleton
14th – £1,500 – Baz Hussain
15th – £1,500 – Ian Burdon
16th – £1,350 – Andreas Olympios
17th – £1,350 – Greg Harrison
18th – £1,250 – Dan Stacey
19th – £1,250 – Arthur Harvey
20th – £1,250 – Skullman
21st – £1,100 – Andrew Pidcock
22nd – £1,100 – Martyn Fuller
23rd – £1,100 – Andrew Christoforou
Goliath 2015
It's now time for the Grosvenor Casinos' record breaking event – The Goliath! Action kicks off this week with the first Day 1 on Saturday 8thAugust. The £250,000 Guaranteed Main Event will host a further 6 day 1's, giving players plenty of opportunities to make their way through to Day 2 of this exclusive event.
The Goliath will also be hosting an array of side events including the first ever 50/50 event – inspired from Grosvenor Casinos' 25/25 Tour which continues to grow in popularity.
Grosvenor Casinos' are also pleased to announce they are bringing back the Team Event element to the Goliath Main Event! Teams of between 2 and 6 can enter their team and the team to perform the best by accumulating their individual performances wins a handful of prizes! Details on how to register your team coming soon.
For any information on the Goliath 2015 please visit the website here and any questions of queries please don't hesitate to get in touch via our GUKPT and/or Twitter page