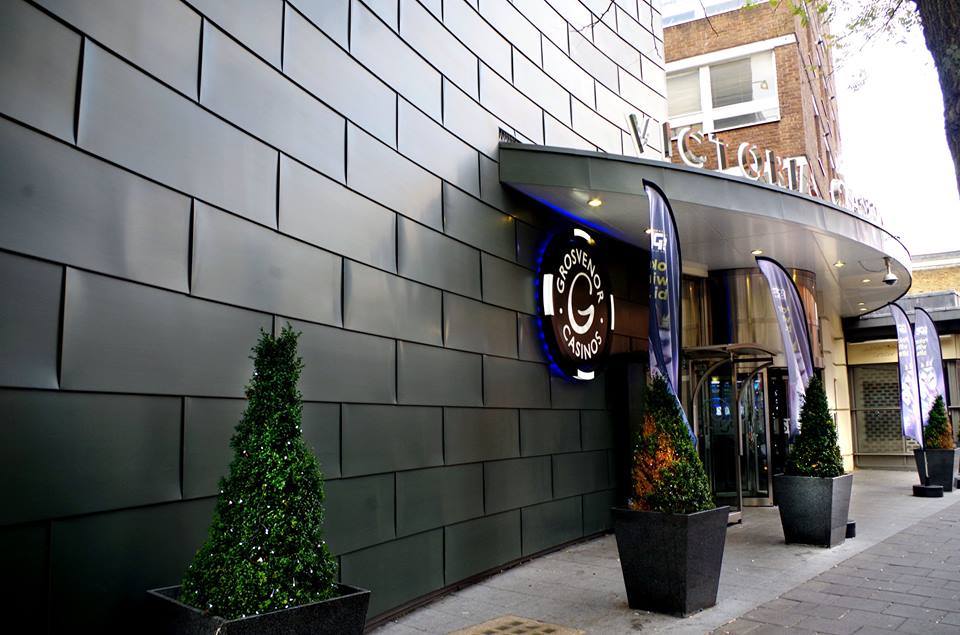 2020 – A vision of poker heaven at the Grosvenor Casinos' GUKPT
Published On January 22, 2020 |
Media Release: Tuesday 21st January 2020
This week the iconic The Poker Room, London will be opening its doors to the first leg of the GUKPT and this year Grosvenor Casinos has pulled out all the stops, ramping up the schedule to include new events and even bigger guarantees. After witnessing record numbers in last year's London leg, this year's GUKPT London leg 1 is predicted to be the biggest in the tour's 14 year history.
2020 welcomes a brand new event – the GUKPT Midi Main! This £500+60 buy-in event carries a £100,000 guarantee and a favourable 2-day structure, ensuring this event will quickly become a favourite for all players. The £20,000 Mini Main will also make a return and brings with it an additional online Day 1 taking place this Saturday.
Grosvenor Casinos is also excited to reveal the GUKPT Leg 1 Main Event's price tag is now £1,350+150 and the guarantee has been boosted to a mouth-watering £300,000! As always there are plenty of opportunities to win a seat to the GUKPT London Main Event, both online on www.grosvenorpoker.com or at The Poker Room, London.
The GUKPT London Leg also welcomes a Seniors' and Women's event to the line-up, both of which will count towards the 2020 Seniors' and Women's National Leagues. More information about the all of the 2020 National Leagues can be found here.
All the action kicks off this Thursday with day 1 of the GUKPT Midi Main. Tour staff are busy putting all the final preparations in place to ensure an unforgettable start to the season. See you there!
The complete GUKPT Leg 1 London Schedule can be found below. Alternatively click on any of the following days for instant access: THURSDAY 23rd Jan| FRIDAY 24th| SATURDAY 25th|SUNDAY 26th| MONDAY 27th| TUESDAY 28th| WEDNESDAY 29th| THURSDAY 30th| FRIDAY 31st| SATURDAY 1st Feb| SUNDAY 2nd|

| | |
| --- | --- |
| Event Name: | GUKPT Midi Main Day 1A – £100,000 Guaranteed |
| Buy-in: | £500+60 |
| Re-entry: | Yes unlimited |
| Time: | 12pm |
| Entry Period: | Till Day 2 |
| Days: | 3 |
| Levels played: | 10 |
| Clock: | 60 min |
| Starting stack: | 20,000 |
| Breaks: | Every 2H |
| Last Person Standing Promotion: | Yes £20, one Main event seat GTD |
| | |
| --- | --- |
| Event Name: | GUKPT Main Event Satellite – 4 x £1,350+150 GUKPT Main Seats Guaranteed |
| Buy-in: | £150+15 |
| Time: | 8:00pm |
| | |
| --- | --- |
| Event Name: | GUKPT Midi Main Day 1B – £100,000 Guaranteed |
| Buy-in: | £500+60 |
| Re-entry: | yes unlimited |
| Time: | 12pm |
| Entry Period: | Till Day 2 |
| Days: | 3 |
| Levels played: | 10 |
| Clock: | 60 min |
| Starting stack: | 20,000 |
| Breaks: | Every 2H |
| Last Person Standing Promotion: | Yes £20, one Main event seat GTD |
| | |
| --- | --- |
| Event Name: | GUKPT Midi Main Day 2 |
| Time: | 12pm |
| Levels played: | 10 |
| Clock: | 60 min |
| Breaks: | Every 2H |
| | |
| --- | --- |
| Event Name: | 4 Card PLO |
| Buy-in: | £300+30 |
| Time: | 3:00pm |
| | |
| --- | --- |
| Event Name: | GUKPT Main Event Satellite – 4 x £1,350+150 GUKPT Main Seats Guaranteed |
| Buy-in: | £150+15 |
| Time: | 8:00pm |
| | |
| --- | --- |
| Event Name: | GUKPT Mini Main (OnLine) |
| Buy-in: | £300+40 |
| Re-entry: | Yes unlimited |
| Time: | 8pm |
| Entry Period: | 2hours 15mins |
| Days: | 2 |
| Levels played: | 13 |
| Clock: | 7x20min |
| Starting stack: | 20,000 |
| Breaks: | Every 2H |
| Last Person Standing Promotion: | Yes £20, one Main event seat GTD |
| | |
| --- | --- |
| Event Name: | GUKPT Midi Main Day 3 |
| Time: | 12pm |
| Clock: | 60 min |
| Breaks: | Every 2H |
| | |
| --- | --- |
| Event Name: | GUKPT Mini Main Day 1A |
| Buy-in: | £300+40 |
| Re-entry: | Yes unlimited |
| Time: | 3pm |
| Entry Period: | Till Day 2 |
| Days: | 2 |
| Levels played: | 13 |
| Clock: | 40min |
| Starting stack: | 20,000 |
| Breaks: | Every 2H |
| Last Person Standing Promotion: | Yes £20, one Main event seat GTD |
| | |
| --- | --- |
| Event Name: | GUKPT Main Event Satellite – 4 x £1,350+150 GUKPT Main Seats Guaranteed |
| Buy-in: | £150+15 |
| Time: | 8:00pm |
| | |
| --- | --- |
| Event Name: | GUKPT Mini Main Day 1B |
| Buy-in: | £300+40 |
| Re-entry: | Yes unlimited |
| Time: | 5pm |
| Entry Period: | Till Day 2 |
| Days: | 2 |
| Levels played: | 13 |
| Clock: | 40min |
| Starting stack: | 20,000 |
| Breaks: | Every 2H |
| Last Person Standing Promotion: | Yes £20, one Main event seat GTD |
| | |
| --- | --- |
| Event Name: | GUKPT Mini Main Day 1C (Turbo) |
| Buy-in: | £300+40 |
| Re-entry: | Yes unlimited |
| Time: | 12pm |
| Entry Period: | Till Day 2 |
| Days: | 2 |
| Levels played: | 13 |
| Clock: | 15min |
| Starting stack: | 20,000 |
| Breaks: | Every 2H |
| Last Person Standing Promotion: | Yes £20, one Main event seat GTD |
| | |
| --- | --- |
| Event Name: | Mini Main Day 2 |
| Clock: | 40min |
| Breaks: | Every 2H |
| | |
| --- | --- |
| Event Name: | £225 NLH |
| Buy-in: | £225+25 |
| Re-entry: | Yes unlimited |
| Time: | 7.30pm |
| Entry Period: | 3 hours |
| Days: | 1 |
| Clock: | FTT 6X30min>25min |
| Starting stack: | 20,000 |
| Breaks: | Every 2H |
| | |
| --- | --- |
| Event Name: | Seniors |
| Buy-in: | £135+15 |
| Re-entry: | Yes unlimited |
| Time: | 4.30pm |
| Entry Period: | 2 hours |
| Days: | 1 |
| Levels played: | |
| Clock: | FTT 25min |
| Starting stack: | 20,000 |
| Breaks: | Every 2H |
| | |
| --- | --- |
| Event Name: | £5,000 NLH |
| Buy-in: | £5,000+300 |
| Re-entry: | Yes unlimited |
| Time: | 6.00pm |
| Entry Period: | 3 hours |
| Days: | 1 |
| Clock: | 30min |
| Starting stack: | 25,000 |
| Breaks: | Every 2H |
| | |
| --- | --- |
| Event Name: | Omaha 4/5/6 |
| Buy-in: | £180+20 |
| Re-entry: | Yes unlimited |
| Time: | 8pm |
| Entry Period: | 3 hours |
| Days: | 1 |
| Clock: | FTT 30min |
| Starting stack: | 20,000 |
| Breaks: | Every 2H |
| | |
| --- | --- |
| Event Name: | GUKPT Main Event Day 1A – £300,000 Guaranteed |
| Buy-in: | £1,350+150 |
| Re-entry: | Yes unlimited |
| Time: | 12pm |
| Entry Period: | Till Day 2 |
| Days: | 3 |
| Levels played: | 10 |
| Clock: | 60min |
| Starting stack: | 20,000 |
| Breaks: | Every 2H |
| | |
| --- | --- |
| Event Name: | Super Satellite – 6 x £1,350+150 GUKPT Main Seats Guaranteed |
| Buy-in: | £150+15 |
| Re-entry: | Yes unlimited |
| Time: | 6.30pm |
| Entry Period: | 2 hours |
| Days: | 1 |
| Levels played: | |
| Clock: | FTT 4X30min>25min |
| Starting stack: | 10,000 |
| Breaks: | Every 2H |
| | |
| --- | --- |
| Event Name: | GUKPT Main Event Day 1B – £300,000 Guaranteed |
| Buy-in: | £1,350+150 |
| Re-entry: | Yes unlimited |
| Time: | 12pm |
| Entry Period: | Till Day 2 |
| Days: | 3 |
| Levels played: | 10 |
| Clock: | 60min |
| Starting stack: | 20,000 |
| Breaks: | Every 2H |
| | |
| --- | --- |
| Event Name: | GUKPT Main Event Day 2 |
| Time: | 12pm |
| Levels played: | 10 |
| Clock: | 60min |
| Breaks: | Every 2H |
| | |
| --- | --- |
| Event Name: | £270 NLH |
| Buy-in: | £270+30 |
| Re-entry: | Yes unlimited |
| Time: | 4pm |
| Entry Period: | 2 hours 15 mins |
| Days: | 1 |
| Clock: | FTT 30min |
| Starting stack: | 20,000 |
| Breaks: | Every 2H |
| | |
| --- | --- |
| Event Name: | GUKPT Main Event Day 3 |
| Time: | 12pm |
| Clock: | 60min |
| Breaks: | Every 2H |
| | |
| --- | --- |
| Event Name: | £100 NLH |
| Buy-in: | £100+15 |
| Re-entry: | Yes Unlimited |
| Time: | 2pm |
| Entry Period: | 3 hours |
| Days: | 1 |
| Clock: | 30 min |
| Starting stack: | 15,000 |
| Breaks: | Every 2H |
| | |
| --- | --- |
| Event Name: | Womens |
| Buy-in: | £90+10 |
| Re-entry: | Yes unlimited |
| Time: | 3pm |
| Entry Period: | 2 hours |
| Days: | 1 |
| Clock: | 25min |
| Starting stack: | 20,000 |
| Breaks: | Every 2H |
| | |
| --- | --- |
| Event Name: | 75/75 Bounty |
| Buy-in: | £150+20 |
| Re-entry: | Yes unlimited |
| Time: | 4pm |
| Entry Period: | 2hours 15mins |
| Days: | 1 |
| Clock: | FTT 20min |
| Starting stack: | 15,000 |
| Breaks: | Every 2H |