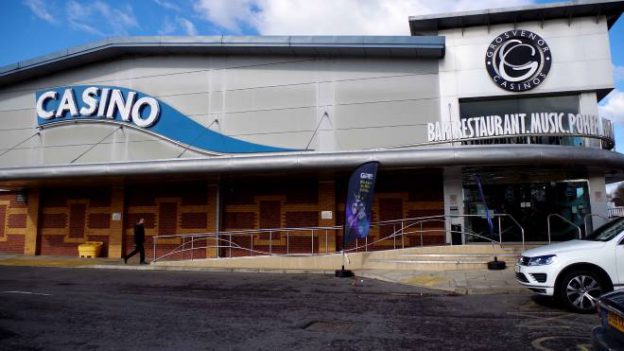 All roads lead to Manchester for the return of the £200,000 GUKPT
Published On February 20, 2020 |
Media Release: Thursday 20th February 2020
Season 14 of Grosvenor Casinos' GUKPT started with a bang in London after a momentous week of poker which saw local player Artan Dedusha crowned the first GUKPT champion of 2020. Dedusha stayed on top of the chipcounts throughout the event, successfully navigating his way through a field packed with formidable competitors such as TV presenter and journalist Victoria Coren and 3 times GUKPT champion, Ben Winsor. He left The Poker Room with the coveted GUKPT trophy and a cash prize of over £130,000.
Now it's Grosvenor Casino Bury New Road, Manchester's turn to play host to the latest GUKPT festival. With a newly tweaked schedule we know players will be mad for, action kicks off this Saturday with the first flight of the £20,000 GUKPT Mini Main. This is quickly followed by a range of satellites and a packed line up including Omaha, Women's and Seniors' side events.
The first Day 1 of the £200,000 Guaranteed GUKPT Main Event takes place on Thursday 27th February. This means there's still plenty of time for players to win their £1,000+110 seat for a fraction of the entry cost, either at www.grosvenorpoker.com or at Grosvenor Casino Bury New Road, Manchester. Please find full GUKPT Manchester schedule here.
The latest National League is also only a few months in and the league table is already hotting up with plenty of movement amongst the top 10 players. With over £150,000 in 2021 Grosvenor Casinos' Poker packages to play for, Grosvenor Casinos is already looking forward to seeing how the tables turn over the next few months.

| | |
| --- | --- |
| Event Name: | GUKPT Mini Main (OnLine) |
| Buy-in: | £200+25 |
| Re-entry: | Yes unlimited |
| Time: | 8pm |
| Entry Period: | 2hours 15mins |
| Days: | 2 |
| Levels played: | 13 |
| Clock: | 7x20min |
| Starting stack: | 20,000 |
| Breaks: | Every 2H |
| Last Person Standing Promotion: | Yes £20, one Main event seat GTD |
| | |
| --- | --- |
| Event Name: | GUKPT Mini Main Day 1A |
| Buy-in: | £200+25 |
| Re-entry: | Yes unlimited |
| Time: | 3pm |
| Entry Period: | Till Day 2 |
| Days: | 2 |
| Levels played: | 13 |
| Clock: | 40min |
| Starting stack: | 20,000 |
| Breaks: | Every 2H |
| Last Person Standing Promotion: | Yes £20, one Main event seat GTD |
| | |
| --- | --- |
| Event Name: | GUKPT Mini Main Day 1B |
| Buy-in: | £200+25 |
| Re-entry: | Yes unlimited |
| Time: | 5pm |
| Entry Period: | Till Day 2 |
| Days: | 2 |
| Levels played: | 13 |
| Clock: | 40min |
| Starting stack: | 20,000 |
| Breaks: | Every 2H |
| Last Person Standing Promotion: | Yes £20, one Main event seat GTD |
| | |
| --- | --- |
| Event Name: | GUKPT Mini Main Day 1C (Turbo) |
| Buy-in: | £200+25 |
| Re-entry: | Yes unlimited |
| Time: | 12pm |
| Entry Period: | Till Day 2 |
| Days: | 2 |
| Levels played: | 13 |
| Clock: | 15min |
| Starting stack: | 20,000 |
| Breaks: | Every 2H |
| Last Person Standing Promotion: | Yes £20, one Main event seat GTD |
| | |
| --- | --- |
| Event Name: | Mini Main Day 2 |
| Time: | 5pm |
| Clock: | 40min |
| Breaks: | Every 2H |
| | |
| --- | --- |
| Event Name: | £135 NLH – £8,500 Guaranteed |
| Buy-in: | £135+15 |
| Re-entry: | Yes unlimited |
| Time: | 7pm |
| Entry Period: | 3 hours |
| Days: | 1 |
| Clock: | FTT 6 X 30min then 25min |
| Starting stack: | 15,000 |
| Breaks: | Every 2H |
| | |
| --- | --- |
| Event Name: | Seniors |
| Buy-in: | £135+15 |
| Re-entry: | Yes unlimited |
| Time: | 4.30pm |
| Entry Period: | 2 hours |
| Days: | 1 |
| Levels played: | |
| Clock: | FTT 25min |
| Starting stack: | 20,000 |
| Breaks: | Every 2H |
| | |
| --- | --- |
| Event Name: | Omaha 4/5/6 |
| Buy-in: | £150+15 |
| Re-entry: | Yes unlimited |
| Time: | 8pm |
| Entry Period: | 2 hours |
| Days: | 1 |
| Clock: | FTT 25 min |
| Starting stack: | 20,000 |
| Breaks: | Every 2H |
| | |
| --- | --- |
| Event Name: | GUKPT Main Event Day 1A – £200,000 Guaranteed |
| Buy-in: | £1,000+110 |
| Re-entry: | Yes unlimited |
| Time: | 12pm |
| Entry Period: | Till Day 2 |
| Days: | 3 |
| Levels played: | 10 |
| Clock: | 60min |
| Starting stack: | 20,000 |
| Breaks: | Every 2H |
| | |
| --- | --- |
| Event Name: | Super Satellite – 6 x £1,000+110 GUKPT Main Seats Guaranteed |
| Buy-in: | £60+7 |
| Re-entry: | Yes unlimited |
| Time: | 6.30pm |
| Entry Period: | 2 hours |
| Days: | 1 |
| Levels played: | |
| Clock: | FTT 4 x 30mins then 25min |
| Starting stack: | 10,000 |
| Breaks: | Every 2H |
| | |
| --- | --- |
| Event Name: | GUKPT Main Event Day 1B – £200,000 Guaranteed |
| Buy-in: | £1,000+110 |
| Re-entry: | Yes unlimited |
| Time: | 12pm |
| Entry Period: | Till Day 2 |
| Days: | 3 |
| Levels played: | 10 |
| Clock: | 60min |
| Starting stack: | 20,000 |
| Breaks: | Every 2H |
| | |
| --- | --- |
| Event Name: | GUKPT Main Event Day 2 |
| Time: | 12pm |
| Levels played: | 10 |
| Clock: | 60min |
| Breaks: | Every 2H |
| | |
| --- | --- |
| Event Name: | £250 NLH – £15,000 Guaranteed |
| Buy-in: | £250+25 |
| Re-entry: | Yes unlimited |
| Time: | 4pm |
| Entry Period: | 3 hours |
| Days: | 1 |
| Clock: | FTT 30min |
| Starting stack: | 20,000 |
| Breaks: | Every 2H |
| | |
| --- | --- |
| Event Name: | GUKPT Main Event Day 3 |
| Time: | 12pm |
| Clock: | 60min |
| Breaks: | Every 2H |
| | |
| --- | --- |
| Event Name: | Womens |
| Buy-in: | £90+10 |
| Re-entry: | Yes unlimited |
| Time: | 2pm |
| Entry Period: | 2 hours |
| Days: | 1 |
| Clock: | 25min |
| Starting stack: | 20,000 |
| Breaks: | Every 2H |
| | |
| --- | --- |
| Event Name: | £100 NLH – £7,000 Guaranteed |
| Buy-in: | £100+15 |
| Re-entry: | Yes Unlimited |
| Time: | 3pm |
| Entry Period: | 3 hours |
| Days: | 1 |
| Clock: | 30 min |
| Starting stack: | 15,000 |
| Breaks: | Every 2H |
| | |
| --- | --- |
| Event Name: | 75/75 Bounty |
| Buy-in: | £150+15 |
| Re-entry: | Yes unlimited |
| Time: | 4pm |
| Entry Period: | 4 levels |
| Days: | 1 |
| Clock: | FTT 20min |
| Starting stack: | 15,000 |
| Breaks: | Every 2H |