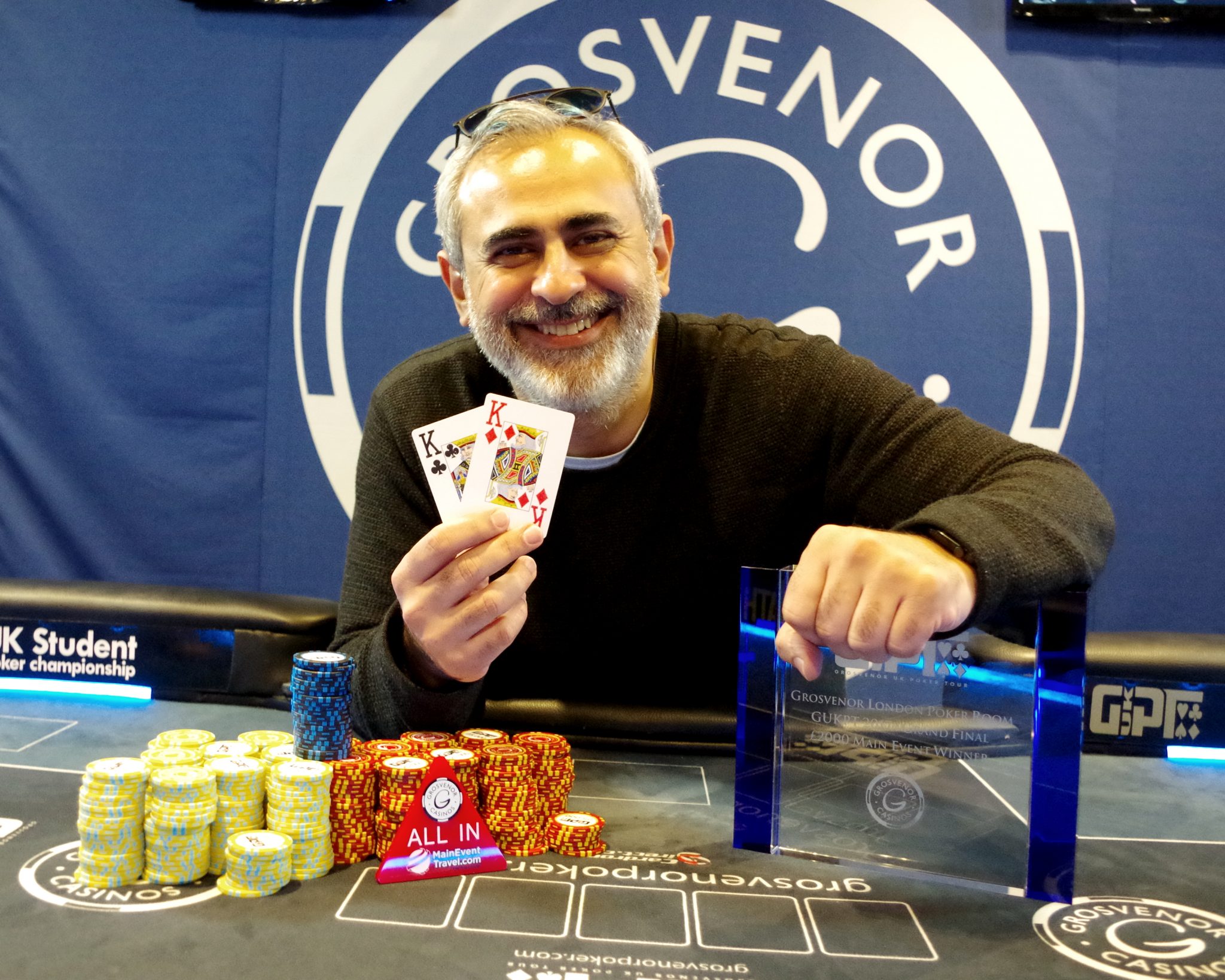 It's a Full House as GUKPT Grand Final finishes in Spectacular fashion
Published On November 27, 2017 |
Late last night Season 11 of the GUKPT came to a spectacular close at London's iconic The Poker Room, the perfect setting for the end of what has been a remarkable year for Grosvenor Casinos and the GUKPT. A phenomenal 304 players took part in the £2,125 buy-in Main Event, making it the 2nd biggest GUKPT Grand Final in GUKPT's ten year history. A huge congratulations to the last man standing, Ahmed "Lella" Abdella, the 2017 GUKPT Grand Final Champion.
The fantastic turnout created a prizepool of £608,000, with over £480,000 awarded to the final 9 players. With huge money at stake it was no surprise the final 5 players agreed a deal which saw all five guaranteed at least £65,000 in prize money. It was overwhelming chipleader at the time, Eric Chen, who banked the biggest cheque of a whopping £129,000.
Top 10 Payouts
1st – £89,000 – Ahmed 'Lella' Abdella*
2nd – £72,000 – Jamie 'Boz' O'Connor*
3rd – £129,000 – Eric Chen*
4th – £67,000 – Neo Neophytou*
5th – £65,000 – Chris Trick*
6th – £21,900 – Davide Magnan
7th – £17,000 – Cai Cai Huang
8th – £14,000 – Patrick Leonard
9th – £11,600 – Braz Junior
10th – £9,700 – Angelos Nastosmegas
*Payouts after deal
As fate would have it the cards were not in Chen's favour as he ultimately bowed out in 3rd place, making way for previous GUKPT Winner and grosvenorpoker.com regular Jamie "Boz" O'Connor and Egyptian born Ahmed "Lella" Abdella to battle it out for the title. Spectators were kept enthralled right to the end all thanks to a dramatic finish as both players held full houses in the final hand as the chips went flying into the middle. Unluckily for Jamie he was out pipped by Ahmed but  the small matter of £72,000 will go some way to soften the blow, especially as the 28 year old is soon to become a first time Dad.
That means the GUKPT Grand Final trophy is making its way to Dubai, where Abdella resides and works as a business director specialising in cyber security. Despite Abdella's 30 years playing experience this bests his previous best tournament result by almost 20 times. This was his first time taking part in a GUKPT and with an introduction of this nature, we doubt it'll be his last.
The notoriety of the GUKPT Grand Final always attracts the biggest names in poker and Grosvenor Casinos was delighted to see some of the big names in attendance for this event. Steve Watts, Ben Vinson, Luke Schwartz and poker superstar Patrick Leonard were all amongst the 30 who made it into the money. There were also several satellite winners who finished amongst the big winners including 4th place finisher Neo Neophytou, 5th place Chris Trick and 6th place Davide Magnan who all won their seat via a live satellite.  Together they earned a combined £150,000, an extraordinary amount of money from a relatively small investment and re-emphasising the very basis on which the tour thrives – giving everyone a chance to win life changing money.
So that's another year of GUKPT in the history books and Grosvenor Casinos would like to once again thank all their players for their loyalty and custom. We hope you have enjoyed the year as much as have and look forward to Season 12. All dates can be found here
Season 11 may have come to a close but fear not as Grosvenor Casinos would not leave your poker desires unfulfilled until the New Year…  There are still a couple of 25/25s and the Christmas Cracker on offer before the year is done. Grosvenor Casinos has teamed up with Grosvenorpoker.com to give players the opportunity to take part in the Christmas Cracker online. Online Day 1s will be taking place on 10th and 17th December,