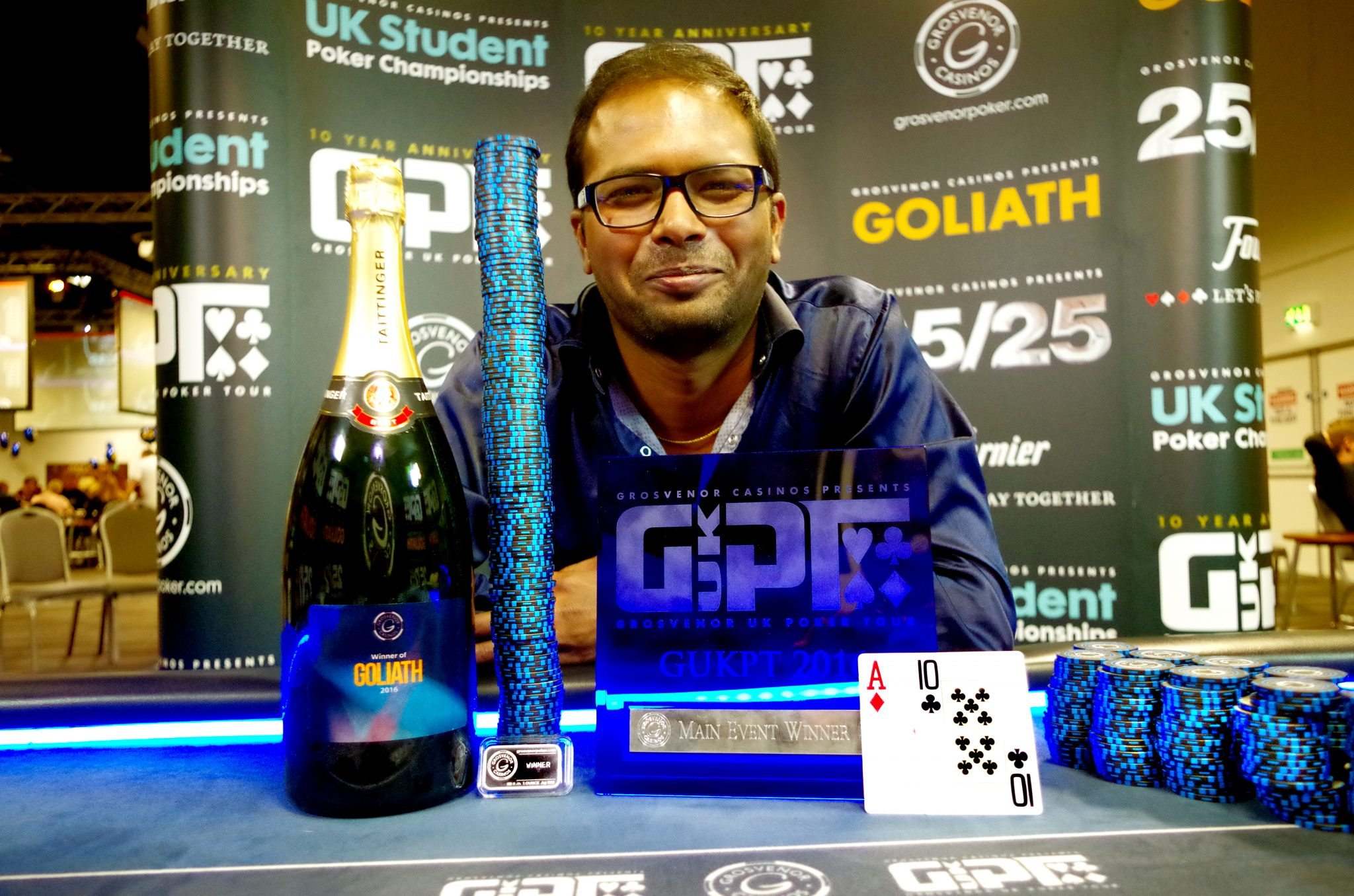 Grosvenor Casinos' Goliath slays its own title, as record breaking tournament tops 5,000 entries!
Published On August 8, 2016 |
Media Release: Monday 8th August 2016
Grosvenor Casinos' Goliath slays its own title, as record breaking tournament tops 5,000 entries!
Grosvenor Casinos had high expectations for this year's Goliath but no one expected the numbers witnessed over the last week. The Goliath 2016 Main Event attracted an incredible 5,232 entries, over 1,000 more than in 2015, creating a staggering £523,200 prizepool!
At just before 8pm last night and after 3 days of solid poker, one of those players outlasted the other 5,231 entries, officially winning the largest live poker tournament in Europe. A huge (Goliath even) congratulations to Londoner Vamshi Vandanapu for finishing on top, earning £62,750 and taking home the much coveted trophy. Vamshi, the 2nd IT consultant to win this event in as many years, has been playing poker for a number of years after being introduced by his friends. He can usually be found at his local, The Poker Room, located above Grosvenor Casino Victoria.
Phil The Tower Heald caught up with Vamshi who was still visibly shocked from his remarkable achievement; "I never imagined I'd be the remaining one. I just played it one hand at a time" he said.
With 30 players left Vamshi battled hard with fellow big stack Robbie Richwood, with both commenting that it felt inevitable they would eventually find themselves headsup for the title. Neither player therefore was too surprised when this later became a reality, with 44 year old Irish Robbie Richwood finishing as a valiant runner up. He and 33 year old Romanian born Cristian Popescu (3rd) both left the Ricoh Arena £50,000 better off after the final three made a deal which saw each player secure £50,000 and leaving £12,750 and the title to play for. An understandable arrangement given the amount of money at stake especially compared to their original £120 investment!
As ever the final table showcased the huge diversity of players who attend these events. This included; 44 year old William Campbell (4th) a teacher from Birmingham, 21 year old Bartender Tom Powell (5th) who has recently become a Dad, 33 year old Graeme Evans from Horsham (6th) who planned to put winnings towards a deposit for a house, Poker Professional Luke Winsley (7th), Sheffield student Craig Drew (8th) who was looking to beat his best cash of £700 so he can treat his girlfriend and Roofer Jonathan Mellor from Bristol (9th) who has only been playing for two years and cashed for his best poker result yet.
1st Vamshi Vandanapu £72,850.00 (£62,750 after deal between top 3)
2nd Robbie Richmond £52,200.00 (£50,000 after deal between top 3)
3rd Cristian Popescu £37,700.00 (£50,000 after deal between top 3)
4th Will Campbell £27,000.00
5th Tom Powell £18,850.00
6th Graeme Evans £13,400.00
7th Luke Winsley £10,450.00
8th Craig Drew £8,600.00
9th Jonathan Mellor £7,400.00
10th Daniel Andrew Corbett £6,400.00
Every year Grosvenor Casinos strives to put together an unparalleled week of poker festivities offering top class entertainment as well as the best tournament and cash poker Europe has to offer. All that hard work and dedication put in by Grosvenor Casinos staff, from both behind the scenes and those working the tournament floor, is worth every single minute when we see our customers making the most of that experience. Grosvenor Casinos wants to thank all our players for supporting the Goliath as well as our other Poker Tours, without you, this wouldn't be possible.
Other notable performances during the Goliath festival week included Deep and Steep winner Lester Mobbs, Red Tooth Event winner Jennifer Barr, Joker is Wild winner Kevin Leeds, Tag Team winner Sophie Rigali, Omaha winner Wayne Beet, Win the Button winner Drew Grewcock and 25/50 winner Peter Wigglesworth. The overall team winners from the Goliath Main Event were the Hampshire Squad. Congratulations to you all.
A small well earned break is now on the cards for all for the Grosvenor Casinos tournament staff and live media team before our attentions to the Summer Sizzler which is reaches various destinations around the UK over the August bank holiday weekend. Shortly after the Summer Sizzler the GUKPT will be heading North towards Edinburgh for the £100,000 GTD GUKPT Main Event.
For updates and details on all of Grosvenor Casinos Poker events including the GUKPT, 25/25 and Summer Sizzler please go to https://www.gukpt.com, like us on Facebook or follow us on Twitter