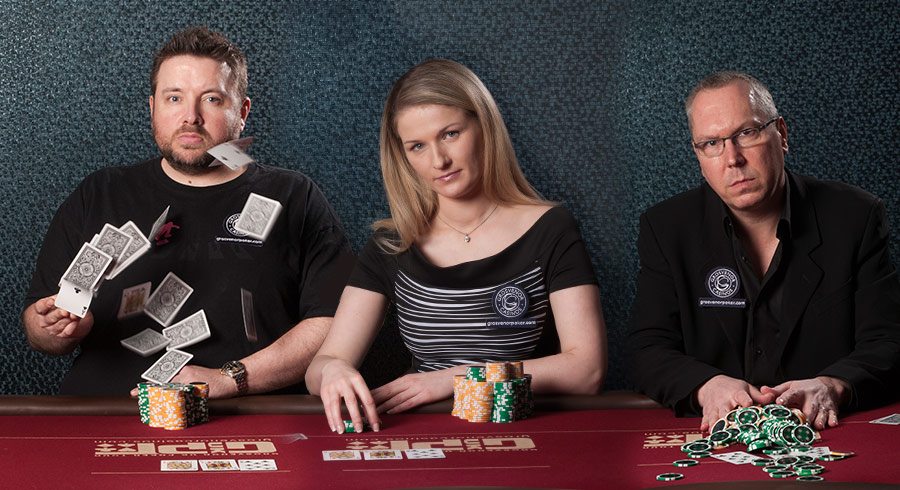 Grosvenor Casinos Searches for David(s) Across the UK to Take on Goliath
Published On June 11, 2015 |
June 2015
Grosvenor Casinos Searches for David(s) Across the UK to Take on Goliath
Grosvenor Casinos launches Dave & Goliath today, a nationwide hunt to find 12 real life David's to take on the challenge of Goliath 2015; the biggest Poker tournament in Europe. The only requirement? Participants must have a version of Dave in their name. So if you are called Dave Jackson, Sally Davidson, Dafydd James or Helen Davidtz, you could win a spot in Dave & Goliath and a chance at Goliath's record-breaking prize pot of £250,000.
The 12 contestants will not face Goliath unprepared; they will go through intense face-to-face training at Goliath Boot Camp from three of Grosvenor Casinos' top Poker professionals, Joe Beevers, Jeff Kimber and Ellie Biessek. Joe, Jeff and Ellie will impart their expert knowledge to each participant so they go into the tournament with an arsenal of Poker strategies and skills. Open to complete beginners and passionate amateurs with between 0 – 2 years of Poker playing experience, Dave and Goliath offers an unforgettable opportunity to not only learn and perfect your skills under the guidance of seasoned professionals, but the chance to win thousands of pounds at Europe's largest poker tournament.
Taking place from Saturday 8th August – Sunday 16th August at Coventry's Ricoh Arena, Goliath offers players eight days of Poker bliss. However, for the 12 David's, beating Goliath will be no easy feat as in 2014 there were an impressive 3,400 entrants competing for a share of the prize. Though 21-year-old Ryan Foster from Devon proved it can be done as he walked away last year with lion's share of £62,120, despite being a complete novice at the game.
Ellie Biessek, professional Poker player sponsored by Grosvenor Casinos, comments: "Each year the Goliath Poker tournament goes from strength to strength and we expect this year to be the biggest yet! It is really exciting for Joe, Jeff and I to be able to pass on our knowledge of the game from years of playing to the 12 David's who will be taking on the challenge of Goliath.
With our training and the right strategy we hope our David's will not only learn a lot about Poker, but will be able to take home a share of the prize pot at the tournament itself."
To enter the Grosvenor Casinos Dave and Goliath competition, the entrants' name has to incorporate a variation on David, whether in the first, middle or last name. After filling in the entry form on here before 26th June 2015, entrants will then be posted a poker chip to let them know if they've been successful: a plain poker chip for those who didn't make it and a lucky golden poker chip for the 12 winners who have been selected to take on the challenge of Goliath!
Further details on how to apply, as well as the competition terms and conditions, can be found by visiting here.
Over 18s only and photographic ID will be required for all new customers.
www.gambleaware.co.uk
-Ends-
For further information please contact:
Jo Kent or Chris Batchelor
Publicasity
Office: 020 3757 6820
E-mail: grosvenor@publicasity.co.uk
Notes to Editors
About Grosvenor Casinos
Grosvenor Casinos is part of The Rank Group Plc, a leading European gaming business, based in the UK and listed on the London Stock Exchange. Rank Group owns Grosvenor Casinos, the largest UK casino operator with 56 casinos nationwide and Mecca Bingo, the UK's leading bingo operator.
Players can experience the best that Grosvenor Casinos has to offer by visiting one of its casinos or by playing online at grosvenorcasinos.com.
For more information on Rank Group, please call the head office on +44 (0)1628 504000 or visit www.rank.com.