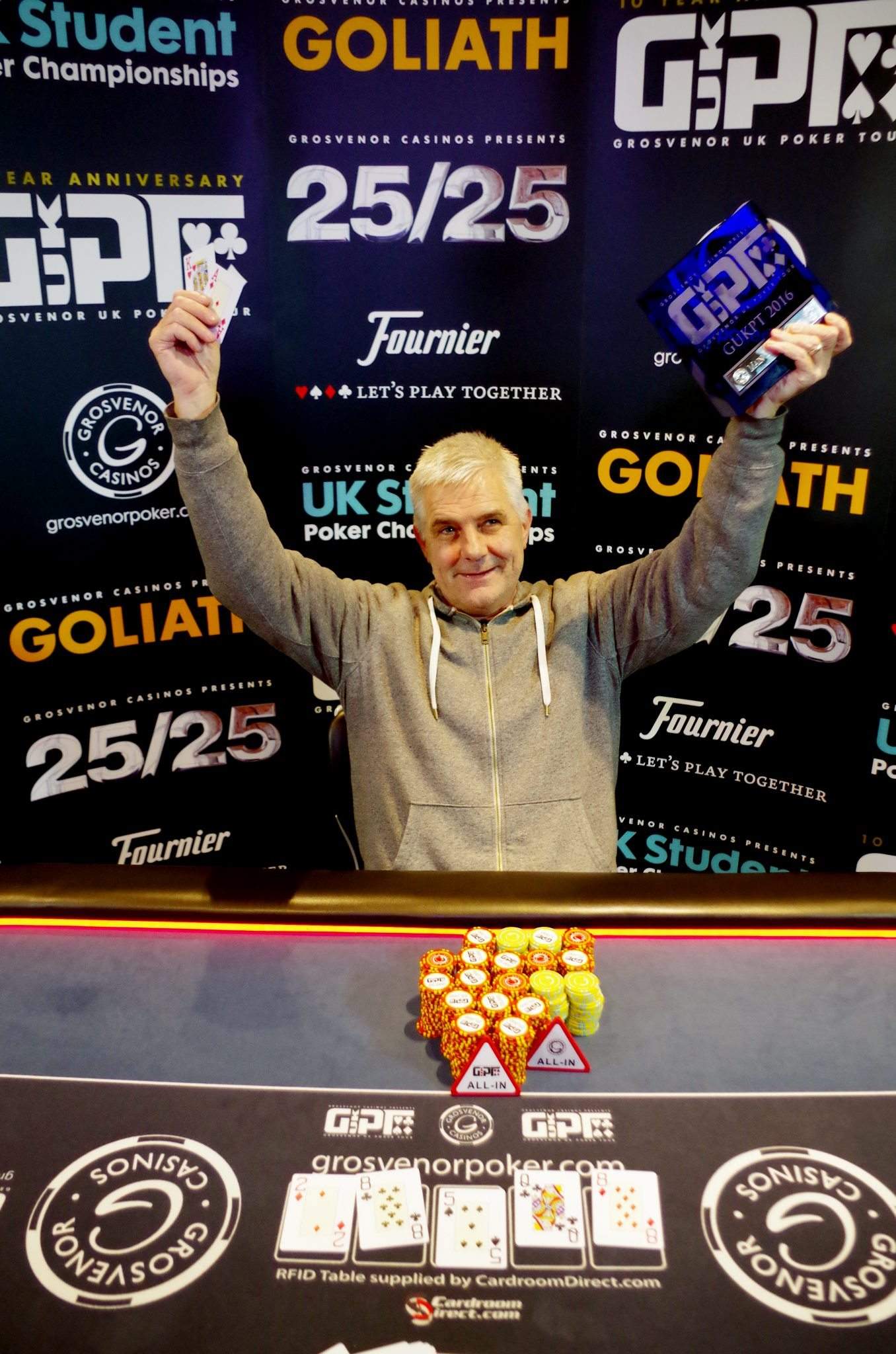 GUKPT continues to break records, as 10th Anniversary tour kicks off with an unusual end to the Main Event!
Published On February 2, 2016 |
GUKPT continues to break records, as 10th Anniversary tour kicks off with an unusual end to the Main Event!
Grosvenor Casinos kicked off the GUKPT 10th anniversary tour at their most iconic venue – The Poker Room on London's Edgware Road close to the Victoria Casino and what a tremendous start to the tour it was! Leg one of the 2016 GUKPT attracted a total of 394 entries, with 243 of those taking part in day 1B, making it a new GUKPT record for the most entries in any one day of the GUKPT! This meant the prizepool totalled an incredible £394,000, just short of double the £200,000 guarantee, and generated a £109,000 first prize.
However, viewers tuning into last night's live stream were stunned when the 8 remaining players opted for an ICM chop based on their current chip counts. Many railers, including UK poker star Simon Deadman, expressed their surprise to see so many players agree to this extraordinary chop. The deal meant all players secured a payout of between £24,000 and £49,500 and left a further £48,000 to play for, which was further split heads up. It isn't every day you see deals been made between 8 players but with so much money to play for, it's easy to see why.
It was regular London circuit player Martin Hogarty who is now the first GUKPT Main Event winner of 2016! Hogarty is regularly found taking part in London's poker tours but this is the first time he has clinched such a big result. Hogarty found the dream spot heads up holding Ace King versus Daniel Barriocanal's Ace Ten. No improvement for either player meant Martin's King kicker was enough to take the trophy and first prize cheque of £66,538.
An honourable mention has to go to Ben Winsor who finished 3rd for £36,103. Ben's win at the 2015 Grand final is fresh in the mind of many and Ben's supporters online were gunning for him to take the record for first back to back GUKPT wins, a feat which would also have seen him join Julian Thew in the 3 times champion club. In the end it was heart breakingly close for the young UK talent but we have a feeling 2016 will be big for Winsor. Other notable final table finishes included Mark Banin, who finished 6th for £33,537 and all from a £110 investment as he won his seat to the £1100 buy-in Main event on Thursday evening!
London GUKPT 2016 also saw the debut of the first ever £20,000 GTD Mini Main which by all accounts was a huge success. A huge 311 players turned up to take part in the £200+20 buy-in event and it was GUKPT regular Yiannis Liperis who emerged victorious, winning over £17k. This event looks certain to become a players' favourite on the tour this year.
Attention now turns to the Manchester GUKPT which will be taking place at Grosvenor Casino Bury New Road from 28th February to 6th March. Both the Mini Main and the GUKPT Main Event will be back to crown new winners, as will all the other satellites and side events on offer. You can win your seat to the £1000+100 Main Event at Grosvenor Casino Bury New Road (details here) or online at www.grosvenorpoker.com.
London GUKPT 2016 Results
1st – £66,538 – Martin Hogarty
2nd – £47,962 – Daniel Barriocanal
3rd – £36,103 – Ben Winsor
4th – £24,360 – Mykola Vysotski
5th – £49,981 – Mr.B
6th – £33,537 – Mark Banin
7th – £26,020 – Marc Foggin
8th – £24,049 – Dahe Liu
9th – £7,450 – Adrian Mateos
10th – £6,300 – Grant Wheelhouse
11th – £5,550 – Anon
12th – £5,100 – David Greene
13th – £4,700 – Angelos Nastos-Megas
14th – £4,350 – Samir Tageldin
15th – £4,350 – Paul Barnes
16th – £3,950 – Dan Bushell
17th – £3,950 – Danny Toffel
18th – £3,550 – Gang Wang
19th – £3,550 – Leo Margets
20th – £3,550 – Charlie Carrel
21st – £3,150 – Arun Sood
22nd – £3,150 – Ravi Sharda
23rd – £3,150 – David Barnes
24th – £3,150 – Alain Teffaud
25th – £2,750 – Les Kearney
26th – £2,750 – Ben Heath
27th – £2,750 – Jorge Walsh
28th – £2,750 – Ramsey Ajram
29th – £2,750 – Deborah Worley-Roberts
30th – £2,750 – Briane Peattie
Prizepool – £394,000