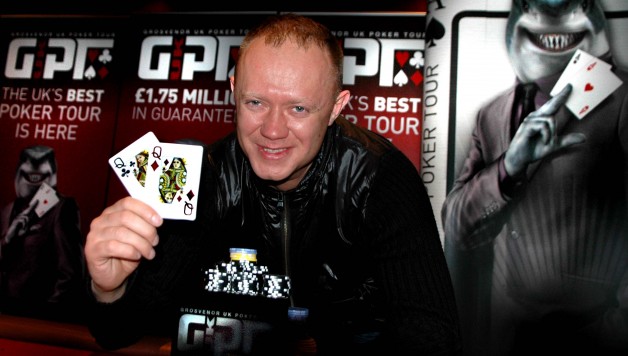 GUKPT Didsbury Report
Published On April 16, 2013 |
Ladies' Man Livonas Lands GUKPT
Birthday boy Eirimas Livonas has joined the illustrious list of GUKPT Champions by taking down GUKPT Didsbury in Manchester for a £22,570 payday.
On his 34th birthday, the Lithuanian defeated a field of 153 runners to join the likes of Sam Trickett, Praz Bansi and Julian Thew in the GUKPT winners' enclosure as the £50,000 guarantee was smashed in the £500 buy-in event at the Grosvenor G Casino, Didsbury.
Livonas beat Yani Yanev after two hours of heads-up combat, the final hand seeing the recent APAT champion's pocket queens holding up all-in preflop against Yanev's K-Q.
"I felt it was fate that I was going to win on my birthday," he said afterwards. "I hope there's more to come!"
The ladies had been good to Livonas throughout the tournament. In fact, if Doyle Brunson has the T-2 named after him, surely pocket queens will from now be known as the Livonas after he wielded them to great effect throughout the latter stages of the tournament.
Graham Doherty, who had earlier knocked out last year's GUKPT Plymouth champ Rod Albright on the money bubble, had felt the wrath of Livonas's ladies on day two, bubbling the final table when his pocket deuces couldn't catch up against the two queens.
Livonas had already run queens into pocket aces twice and busted them both times – one time flopping quads! –  as he built a massive chip lead going into the final, holding almost double second placed Amir Dandanfard.
The final table lined up as follows:
Seat One – Alex Zeligman – 171,000
Seat Two – Amir Dandanfard – 448,000
Seat Three – Andy Booth – 210,000
Seat Four – Ben Winsor – 301,500
Seat Five – Eirimas Livonas – 875,000
Seat Six – Justin Devonport – 325,500
Seat Seven – Matt Davenport – 124,000
Seat Eight – Tom Hall – 230,500
Seat Nine – Yani Yanev – 360,000
The action started fast and furious, Matt Davenport shoving in his short stack with J-T within the first orbit, only to get looked up and bested by Yani's A-9. Davenport departed with £1,530.
Next to leave was Alex Zeligman with £2,105, who found the ladies at the wrong time, running his queens into Eirimas's pocket kings.
Yani played executioner again when he picked off Amir's bluff with second pair to knock the former big stack out for £2,870, while Andy Booth (£3,630) lost a race with 5-5 against Tom Hall's K-Q to depart in sixth.
Tom's A-3 shove couldn't beat Ben Winsor's pocket eights and he departed with £4,785 before Yani knocked out another, taking care of Justin Devonport with A-T v K-9, the Mancunian picking up £6,120 for fourth place.
When Yani also saw off Ben, who took home £9,845 for third when his K-8 lost out to Yani's pocket 10s, he looked to have the momentum, not to mention the chip lead, going into the heads-up battle with Eirimas.
It was not to be for Yani though, who was gradually ground down before having to settle for second place and the £15,870 runners-up cheque.
Next up on the tour schedule is Leg 3 at the G Casino in Stockton from the 5th to the 12th May, with the £500 + £50 £50,000 guaranteed main event commencing on Thursday 9th.
See the 'Events' tab on www.gukpt.com for further details.