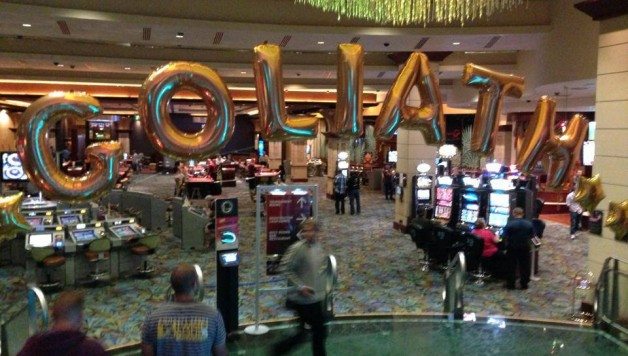 GukPT Goliath 2013 Day 1a
Published On August 20, 2013 |
End of Day 1a Chip Counts
Will anyone from Day 1b be able to catch Michael Greenwood who finished with over 700,000 on Day 1a.
Michael Greenwood 700000
Nishid Pnadipleuman 485000
Nathan Tudman 420100
Jordan Michael T Kyle 382300
Ryan Barnes 365600
Ying Dyt Danny Wong 345600
Andre Ine 343700
Jake Skidmore 336600
David Griffiths 315500
Christopher Blower 309900
Valentin Svilentov 307000
Ciprian Berdan 305500
Colin Bidwell 293800
Aarun Bernard 292400
Richard Leniewski 291800
Robert Harding 290600
Simon John 288000
Nicholas Aldridge 269100
Tim Lloyd 268900
John Fontana 263600
Ethan Jenkins 257500
Ali Haidar 248500
Matthew Farmer 242900
Richard Johnson 241600
Peter Haslam 239900
Shaun Higgins 236600
James Guy Cunningham 236500
Daniel Arbon 235000
Kenneth Paul Kemp 220500
Robert Trueman 218600
Geoffrey Dunn 202400
Ved Madan 188600
Gavin Daniel Blakeway 180400
Daniel Cullen 179000
Frederik Russell 171600
Steven Winstanley 176100
Jeremy Brown 175600
Bhim Ruia 173800
Stephen Thomas Roache 168900
Michael Brown 161100
Daniel Thomas Kennedy 149000
Jiri Sladkovsky 147100
Joseph Cockburn 143500
Stephen Moss 137400
Istvan Szakacs 131400
Paul Gardner 122000
Michael Kossov 114800
Joseph Stone 84500
Hardeep Bassi 77500
Ryan Jonathan Mandara 58000
Simon Deadman 20000
.
.
End of  1a With Ian Bryan – 00:43
.
.
Day 1a Comes to a Close – 00:42
It started back at noon today, and over twelve hours later, Day 1a of the GukPT Goliath has come to an end. We're down to just 54 players going to Day 2, and the average is 203,200.
We've had a look around the room, and we're not sure who our Chipleader is, as the counts seem really close. We think we've narrowed it down to the two guys in the pictures below, but we could be wrong.
Nathan Tudman
 Ryan Barnes
We'll have the confirmed chip counts for you in the morning, but until then, Goodnight from GukPT Goliath! -RK
More Recent Eliminations – 00:23
Michael Annis
Malcolm Colwell
Greg Matthews
David Young
Callum Young
Simon Hyde
.
.
Last 7 Hands – 00:20
Clock has been paused and we've drawn for 7 more hands and then we will be finished for the night. – DM
.
.
Side Event Action
The £75 side event is down to 19 players spread across two tables, all battling for the £1,650 first prize. The average stack is currently sitting at 22.9k, which is just under 23 big blinds each, so this isn't going to take that long to resolve. – RK
.
.
Level 16
We have hit the final level of play for the night with 40 minutes of play remaining, blinds now running 2,500/5,000/500 – DM
.
.
Down to 7 Tables – 23:48
Lee Satchwell gets his last 50,000 in the middle with


and is called by Aarun Bernard holding


Lee fails to hit an ace on the board and is eliminated. With his elimination we are down to 63 players on the final seven tables.
Aarun on the other hand is up to 220,000.
.
.
Short-stack – 23:45
Kenneth Brent Priestnall playing a very shortstack moved all in with


and found a call from the one of the big stacks with a dominating hand


as the board ran out





– DM
.
.
68 left in Day 1a
We have seen the field contract down to just 68, and with less than a level and a half to go, we're expecting it to get even smaller. Some of the latest players to hit the rail include Thomas Davidson, Susan Stevens, Philip Davidson and Philip Harding
.
.
Got There – 23:41
Nicholas Aldridge manages to get there on the river against Simon Deadman, 20,000+ in the pot already with the board spread



12,000 was the bet from Deadman as he was check called, onto a

turn action slowed as both players checked, dealer revealed

river card once again Aldridge checked the action & Deadman checked behind to show pocket Jacks but they were no good as


was shown for the rivered straight. – DM
.
.
Chip Canyon – 23:38
Walking around the floor, I couldn't help but notice three big stacks sitting all in a row on table 3. James Cunningham, Daniel Arbon and David Griffiths are all sitting next to each other with about 400k each. It certainly has to be intimidating for the rest of the table. – RK

.
.
The King is Dead… – 23:17
Simon Skinner is no longer in the Goliath Event. The former chip leader left after losing most of his hand when his

high flush was beaten by James Cunningham's

high flush. We're expecting Skinner back tomorrow to re-enter.  – RK

Madan vs Deadman – 23:08
Ved Madan takes one from Simon Deadman, I join the action on the flop with the board reading



Madan from the SB made it 3,000 to go while Deadman from the button repops to 8,300 and called.
Turn

slows both players down as the action went check/check leading on the river it came

Madan reaches into his stacks and bets 5,000 Deadman can't continue with the hand and puts his cards into the muck. – DM
.
.
Tower In Training – 23:07
.
.
Check Raised – 22:59
Two players to a flop of of



Joseph Stone out of the SB checks to the button who leads 40,000 at the pot, Stone pulled the check raise all in as he pushed his stack of 108,000 into the middle, fold from the button and a nice chunk of chips went the wrong way. – DM
.
.
More Exits – 22:53
Pat Brooks
Ali Ayub
Mohammed Soltani
Shaun Harkin
Richard Griffiths
Lee Rawson – Winner in 2011
Stephen Whittall
Thomas Curry
Mohammed Suhail
Thomas Pearce
Stephen Poker
.
.
Jacks Aren't all Bad
The last time Jacks showed up in this blog, they were being assigned the usual "Death hand" status a lot of players give them. Brian Yates is probably considering them mana from heaven instead right now. He got his pocket jacks all in against Jonathan Chapman's pocket "Ladies", and Yates spiked the

on the river to scoop the 100k+ pot. – RK
.
.
Time for a new Chip Leader
Simon Skinner has been atop of our unofficial chip counts for several hours now, but he's just dropping back into the pack following a hand at table 3. We only came along as the final calculations were being done to pass over 100k over to James Cunningham. The board was reading




and Cunningham had shown


for a flopped three of a kind. Skinner had the


and was obviously not expecting to see a 4 in Cunningham's holding. We don't know who has the chip lead yet, but when we know, we'll pass on the information. – RK
.
.
When is a Short Stack not a Short Stack?
When it's a micro stack, obviously! Elizabeth Makepeace is currently riding the rollercoaster of short stack poker. She got her already short stack crippled by fellow short stack Graham Farbrace leaving her in the big blind with less than 4 big blinds. Joseph Cockburn opened from early position to just over 10k. The action folded round to Makepeace, who announced she was all in blind, and Cockburn turned over


, while Makepeace was lucky to find the

to go with her

.
The cards hit the deck, and the



flop put Makepeace ahead. The

turn and the

river didn't change anything, and Makepeace doubled up her micro stack into a merely short one. – RK
.
.
Level 14
Less than 100 players currently remain at the moment and with three 40 minutes levles still left to play, I'm sure there might be a few bets around the room on what the final figure for the night might be. Blinds now running 1,500/3,000/300 – DM
.
.
Beer Pong!! – 22:25
.
.
Button Steal – 22:21
Christopher Filus playing 18,000 managed to get a shove through from the SB after the player on the button opens for 5,100 it's certainly not that much more to call unless you're just at it, from the quick fold one would assume so. – DM
.
.
Stop & Go – 22:16
UTG raise to 6,000 action is onto Thomas Davidson 3betting to 21,000 rest of the table step out of the way bar the original raiser who elects to flat call. Flop



promots the insta all for circa 22,000 which leaves Davidson to mull over the old stop & go move, not wanting to put any more chips at risk he finds the fold. – DM
.
.
Level 13 – 21:50
We've reached Level 13 and the blinds are going to be 1200/2400 with a 300 running ante. We have 117 players left, and an average of 93,800 for each player, we may start to see the bustouts calm down from here on in. RK
.
.
Chip Porn
With the 25 chips being raced off during the break between levels 12 and 13, we thought it was time for a few pictures of the bigger stacks floating round the room. – RK
.
.
£75 + £8 Side Event running an £650 Overlay – 21:12
The first side event of the festival surrounding the Goliath has just closed registration, and has ended up running with an £650 overlay on it's £5,000 guarantee. 53 players entered, and 5 of them have also had a second go in this re-entry event.
These side events are running all week, and are going to be great value, so if you are in Coventry for the Main Event, remember, it's not the only poker on offer. – RK
And Gone… – 21:07
Things have not gone well for Mr G over the coarse of the last 2-3 hands, going from a healthy stack to bust.
Onto the first hand we are to the river with the board reading





well over 100,000 in the pot already Mr G is facing an all in for over 72,000 from Timothy Lloyd. Hitting the tank for the guts of 3 minutes he gets the dealer to give him an exact count before making the call, it's not good as his


is no good against


for top set.
Hand or two later and it just went from there, open on the table to 1,600 Simon Deadman is next to act and he 3bets to 3,275 Mr G to his immediate left flats as does the player on the button, original raiser steps out of the way.
Flop



Deadman cbets this board for 5,600 which prompts an instant all in from Mr G for around 65,000 player on the button moves aside and Deadman makes the quick call holding


and was up against


when the

peeled on the turn there was only now any of the four remaining 8's to claim the pot but the board paired on the river again with a

– DM
.
.
Anna Kournikova
The bustouts are still coming on a regular basis, and nothing hurts more than losing with a premium, especially at this stage of the day.
On table 3, James Cunningham limped under the gun, quickly followed by David Griffiths raising to 5,100. Antony Toole made the call from the small blind, and Cunningham also called.
The flop fell



and the action was checked in flow to Griffiths who fired out a 7,300 continuation bet. Toole made the call out of position, and Cuningham folded after dipping into the tank to make his decision. The turn was the

and Toole check again, and Griffiths fired again, this time for 20,500. Toole pushed back this time and shoved all in, which was snap called by Griffiths, almost before Toole had finished declaring his action.
"You've got the Ace Ten haven't you?" said Toole as he turned over the


for top top. The answer was obvious as Griffiths turned over the


, and the river didn't bring the King Toole needed to survive.
After all the chips had been delivered to his stack, Griffiths commented "I'd have folded like a girl if he'd raised preflop!" – RK
.
.
The Towers Calzone Challenge – 20:42
.
.
One of the Re-Entrys – 20:37
Istvan Szakacs didn't have the best going of it today on his first entry, nut flush vs quads/flush over flush/straight vs straight would see him hitting the rails, but since this is a re-entry tournament he decided to give it another shot.
Seems like second time round has been good for him, up to over 140,000 he informs us that he has hit a few houses one of those on his BB, holding Q9 he seen a Q9A flop bingo card on the turn as it came another Queen to house him up and when a 7 hit the river he was able to put a bet of 15,000 in and get looked up, let's see if this bullet can do him well for the rest of the evening. – DM
.
.
Even More Eliminations – 20:10
Since the dinner break, players have been busting out at a constant rate. Whether it's a food coma, or the short stacks wanting to get into the £75 + £8 side event while the late registration is still open, it doesn't really matter. We are down to just 180 players still vying to make it to Day 2 tonight. Players who have recently left the main event for today include Andy McBean, Wai Kwan Yuen, Peter Evans, Andrew Probyn and Alan Griffiths. – RK
.
.
More Elimination's – 19:44
Little over 10 minutes into play since players returned from break and we've already lost 16 players. -DM
Chip Counts From Dinner Break – 19:44
We managed to get some rough chip counts during the dinner break, and the big stacks currently are:
Simon Skinner – 303,000
Nicholas Porter – 200,000
Kenneth Kemp – 180,000
Steven Chennells – 160,000
Mr "G" – 145,000
Ryan Barnes – 143,000
Sirous Salehi Bakhtiari – 135,000
Ivan Stephan – 130,200
Gavin Blakeway – 125,000
Ali Haidar – 109,700
Jason Holland – 107,500
Ciprian Berdan – 102,000
Philip Davidson – 100,000
Timothy Slater – 97,000
Joseph Kershaw – 96,000
Stephen Owen Poker – 95,000
Gary Maddison – 93,000
Hardeep Bassi – 92,000
Derek Irving – 92,000
Westley Mains – 91,000
The chip average is still only 49,900, so Simon Skinner having over 300,000 is pretty impressive. We have 220 players left, and will be playing 7 levels after dinner tonight.
.
.
Updated Chippy – 19:35
Just chatting with Simon Skinner briefly before the players retook their seats, between the time I last spoke & the actual break he has increased his stack even further, turning a straight flush he managed to get all his opponents stack as they held Ace high flush.
Currently up to over 300,000. – DM
.
.
A Chat With Ian Bryan – 19:35
.
.
Level Ten – 19:30
The players have been watered and fed. They are now back in the room as we begin level 10.
Blinds are 600/1200 with a 150 ante.
210 players remaining.
.
.
Dinner Break
Players have vacated the tournament area and will take a 1 hour dinner break, we will see you all again very soon. – DM
.
.
Chippy – 18:32
Simon Skinner has just taken what I presume to be at the minute the tournament chip leader, getting into a big clash a little while back against Ashraf Wahid.
Skinner opens 77 with Wahid holding pocket Aces on the button decided to slow play his action, looking to get crafty he was looking for a full double but got the opposite and hit the rails. Flop came down 997, Skinner made it 3,000 to go Wahid repopped the action to 9,000 and then was raised one more time to 15,000 and he thought he found a good spot to get it all in & made the decision to put his 75,000 stack in and was called and shown the bad news as his opponent had flopped a house. – DM
.
.
A Hand With Andy Booth
.
.
Age is Nothing but a Number.
Mr "G" is still showing the kids how to do it. He's still among the chip leaders, and has just shown a rather irate Mohammed Fassil the exit. Fassil was less than happy with the result, and left the tournament room to vent his frustration. – RK
.
.
Grasping at Fleeting Glory – 18:04
With the bustouts coming thick and fast, it's time to give a few more names some fleeting glory as we name check them. Malcolm Cannell, Mark Physick, Paul Evans, Scott Weaver and Joshua Lacey-Smith have all hit the rail, but all have the chance to come back tomorrow and re-enter.  We have 240 left in as we head to the dinner break.- RK
.
.
That's Magic!! – 17:55
.
.
The Action Heats Up – 17:54
The number of players maybe getting smaller, but the action is certainly heating up.
In a five way limped pot on table 2, the flop was dealt to show



. Phillip Davidson opened the round of betting with a bet to 1,300. Only Richard Sutcliffe wanted any part of the action as he called in position. The turn was the

and Davison slowed down, check/calling Sutcliffe's 2,600 bet. The last card off the deck was the

and again Davidson checked over the Sutcliffe. After a few moments deciding his bet size, Richard fired out 5,700. In either an act of amazing courage, or with a read as good as the last Ian Rankin, Davidson made the call with just


for just a pair of nines. Sutcliffe threw away his straight draw turned into a bluff in disgust as the chips were passed over to Davidson. – RK
.
.
Shark back in Action – 17:42
I posted earlier about the bust out of Bob "TheKiltedshark" Tait about how I reckon he would be back in the field, that assumption was correct as he is currently sitting on Table 5 Seat 10 and is just below the starting stack.
He just poped over to the blogging desk for a quick update mentioning that evertime he goes for a smoke he forgets where the new tables is. -DM
.
.
A Friendly Push out the Door
Jaz Meegan just left the action when his


went up against Ivan Stephan's

:

. These two have been sharing a table all day, and were able to have a joke and a laugh as Stephan's re-raise went in after Meegan's shove for about 3.5k.
The board brought Jaz enough bricks to build a community project in Africa and he left in remarkably good spirits. – RK
.
.
Recent Elimination's – 17:35
Clock currently reads 295 players remaining at the moment, here is a quick list of some of the most recent bust outs.
Mohammed Ifzail/Jonathan Tyrer/Christopher Cole/David Martin/Peter Mains. – DM
 .
.
Entry Into The Casino – 16:45
.
.
Official Numbers for Day 1a of GUKPT 2013 Goliath
Registration has closed here on Day 1a creating a total of 441 runners, out of those we've 77 reentries leaving us with a figure of 364 unique entrants. – DM
.
.
It's good to be King – 17:19
Sirous Salehi Bakhtiari is doing his best to keep among the chip leaders. I popped over to see how he was doing, and stayed to watch him play a few hands. The most interesting was when Christopher Cole opened from under the gun to 2,400 and Sirous made the call from middle position. They went to the flop heads up, and saw the



spread on the felt. Cole fired out 5,000 and Salehi Bakhtiari made the call in postion. The

on the turn slowed things right down, and the action was checked by both players. The

on the river didn't do anything to speed it up again, and both players saw a cheap(ish) showdown. Cole flipped over pocket Queens, but Salehi showed the

to take the pot, and add to his large stack of chips. – RK
.
.
"You don't raise my big blind" – 17:01
Sirous Salehi Bakhtiari is one of the characters that has come out of today's action.
He is currently one of the tournament chipleaders and wielding his stack with authority. Little over a min open to 850 the action is folded around to Bakhtiari who just grabs a big pile of his 5,000 chips and slams them into the middle announcing "all in". His table mates found this quite amusing as most broke into big rapturous laughter, "you don't raise my big blind" was the words from Bakhtiari when his opponent mucked his hand to be shown the aul


– DM
.
.
Lucky Sevens
I came along as he uttered the infamous words "All In" as he pushed his dwindling stack over the line. The flop on the table was



, and he got two calls. One from Simon John with


, and the other from a guy holding Ac

. Wallace flipped over his


to be miles ahead. The turn brought the blank

and the river was turned over to show the

. Wallace tripled up to just under an average stack, and put a big smile on his face. – RK
.
.
Provisional Chip Leaders
During the last break, I had a quick walk round the floor, and we seem to have two clear chip leaders. Mr "G" (see Mohamed Ghollamrezapour in previous updates) seems to be on about 130k, and is joined by Sirous Salehi Bakhtiari on about the same. Sirous can thank a three way pot for his stack, as his pocket Jacks stood up against Ace High, and Queen high. He scooped the pot when the community cards came out as bricks. Mr "G", on the other hand, has been accumulating chips steadily throughout the day. – RK
.
.
Exits – 16:35
Nicholas Orme
Sam Morley
Clive Affleck
Katheryn Nash
Steven Vladar
Josh McDonald
Chris Trickett
Luke McAuley
Mark Barlow
Have all busted the Goliath!
.
.
Level 7 – 16:30
The players are back as we begin level 7.
Blinds are 200/400 with a 50 ante.
310 players remaining.
.
.
F1 Simulator – 16:25
.
.
Left With a Chip and a Chair
Table 4 just saw Nicholas Orme lose most of his chips as he tried to hit his open ended straight flush draw. I arrived as the flop of



was flipped over. The player sitting in the seven seat bet out of position, and after a short thought, Orme pushed his remaining chips over the line. After a short trip to the tank, the call was made and Orme's


was up against pocket jacks. The Turn and river were of no help to Nicholas, as they came


. Orme was convinced he's busted, but after the chips were counted, he was left with a chip and a chair. – RK
.
.
Break Time
Players will now leave the tournament area for a 15 minute break. -DM
.
.
Round of the table with Simon Deadman 15:59
Took some time of the tournament to take in a whole orbit of table action with Simon Deadman, the young English pro has a GUKPT title under his belt not to mention a host of final table appearances, one to those also included a 4th place finish in the Goliath two years ago.
Hand 1 – HJ – fold
Hand 2 – LP – Simon opens to 600 called in the HJ, raise to 2,150 from the button Simon folds.
Hand 3 – MP – fold
Hand 4 – MP – Simon opens to 600 called in two spots, flop Qd–8s–As action checked three ways, 4d Simon check folds to a bet of 600
Hand 5 – UTG+1 – fold
Hand 6 – UTG – fold
Hand 7 – BB – UTG opens 600 called in 3 spots Simon completes, flop 8h2dKh Simon folds after the SB leads for 600
Hand 8 – SB – Simon 3bets to 1,150 after a LP open, 2h–8h–2c calls a bet on the flop, turn 7s Simon check calls a 2,625 bet, river Jh Simon checks once again and his opponent moved all in and quickly called as Simon turns over Ah–7h for the nuts.
Hand 9 – Button – fold
Hand 10 – CO – fold
Was a pretty quiet round for him other than a couple raises getting snapped off, but on the 8th hand goes to show you don't need to win them all just the big pots, Deadman finished with 50,000 at the end of that orbit. -DM
.
.
Houghton & Physick – 16:01
.
.
.
.
Today's Table of Death?
The Tournament Directors may have found today's table of death. Just before the last table broke, 4 players busted in 3 hands on table 14. It seems that Ciprian Berdan has been the beneficiary of this action, as he's currently sitting with the big stack on the table. – RK
.
.
Getting There – 15:33
While over railing the table of Simon Deadman I caught a couple of hands with a bunch of chips changing hands, first up we have Mohammed Suhail opening 600 UTG and got flat called in four spots HJ/Button/SB/BB – flop 8h—2d–Kh check from the SB bets 600 with the BB stepping out of the way Suhail raises to 3,500 forcing the players behind to fold, action back on the SB who now makes it 10,100 which prompts an all in for 25,875 from Suhail, SB tanks for a few moments before eventually sliding his chips in the pot (had him covered by a small bit)
Cards are table SB holds Ks–Js for top pair while 5h–6h for a flush draw, Qs was a brick for Suhail but when a Jh hit the river it was a scope and not an elimination for him.
Onto the next hand there is an open to 600 from an EP raiser, called in two spots (HJ/Button) the action is to Martin Philips in the BB who 3bets to 2,400. Action back to the original raiser flatting the now reraised bet, flop As–7d–7h action goes check/check from both players, turn brings another 7 this time a club Philips now leads 2,000 and called, river 9h brings an instant all in which sends Philips opponent back into his seat, after a couple minutes dwell the all in brought around a big "sigh" and fold. – DM
.
.
Cardroom Pan Pt.3
.
.
Level 6 – 15:37
The blinds are now 150/300 with an ante of 25. This is the last level for late  registration or re-entries today, and we currently have 331 players left from 360 entries and 53 re-entries.
Ghollamrezapour On Fire – 15:33
Ghollamrezapour is really bossing his table around now. With his stack he may well be the chip leader, and from the way the following hand finished, he's making it seem he's hitting every flop hard.
He opened from UTG+1 to 575 and saw Debbie Kershaw three bet him to 2,250. Mohammed made the call, and the flop was turned over. The 2c9hTs saw both players check, and the turn brought 9c. Mohammed fired out a pot sized bet of 5,000, and Debbie folded her Ace Queen face up. Ghollamrezapour flipped over his cards to show the stone cold bluff, and raked in the pot. – RK
.
.
Exits – 15:23
Chris Filus
Jonathan Coleman
Ricky Knight
Robert Mills
Mark Harding – Runner Up Last year
Andy McBean
Graham Davey
Steve Devine
Michael Siarkiewicz
Sean Breslin
Thi Phan
Have all busted, but have the chance to re-enter.
.
.
Cardroom Pan Pt.2 – 15:14
.
.
More Bustouts
With the blinds starting to rise, we're also seeing an increase in the number of bustouts, and currently have 56 player ID cards sitting on the media desk. Players who have recently departed the tournament include Stuart McNicol, Michael Rouault, Ved Madan, Mohammed Mehrban and Andrew Symeou. – RK
.
.
Inflatable Sharky – 15:08
When you walk into the casino you are greeted by a giant and it's not The Tower. It's inflatable sharky!!!
.
.
Level 5 – 15:03
The blinds increase as we begin the fifth level of the day.
They are now 100/200 with a 25 ante.
344 players remaining from the 395 entries.
.
.
Cardroom Pan Pt.1 – 15:01
.
.
Tournament Director's Bane
Table 17 is reportedly the Tournament Director's Bane today. I've just been told that not only has there been a 10 hand penalty for a player shoving all in out of turn, but it the floor has been called for ruling about every ten hands. The last ruling was caused when Koroush Anisi asked Rajinder Kumar if he had a particular card, while others still in the hand. Kumar answered him, and has earned a warning for his action. The tournament staff may be waiting for this table to break with baited breath. – RK
.
.
 Ghollamrezapour Heating Up
I just caught a massive pot at table 27. Mohammed Ghollamrezapour has just added to his already large stack when his Ace high flush pipped Debbie Kershaw's King high flush.  Ghollamrezapour seems to be the table captain here, and Kershaw is starting to think she's doomed. "I can't win with anything" she was heard to say as I left the area. – RK
.
.
Chipping Up 14:30
Just over chatting with Gavin Daniel Blakeway (knocked out the first player) to get a quick heads up on how his tournament has being go so far in these early stages, it would seem pretty well as currently a stack of about 57,000 sits in front of him and another elimination to his name. Flopping a set of Kings on AK4 wanting to slow play his hand somewhat to get maximum value he just called a bet, onto a turn it fell a 5 Blakeway bet enough that if his opponent was to call he would be all in, his opponent duly made the call as he held A10 for two pair no luck pairing up on the river and it was a second scalp for one of early chipleaders. – DM
.
.
Goliath is Looking Like it's Going to be Big.
Since we had our last elimination round up, we've lost another load of players. Isaac Lloyd, Craig Farwell, Steven Frew, Gareth Williams, Jahanguir Borhany and Teepu Mirza have all joined the rail which also happens to include Robert Finch, Abdul Qayyum, James Fisher and Ross Wood. We are down to 336 players from the 352 who've entered with 29 re-entries, and it looks like it's going to be a massive turnout. – RK
.
.
Hitting An Ace on the River Isn't Always a Good Thing
Just before the end of the level, we caught up with table 22. We arrived just as the Qd joined the Ts–7s–6s flop. The pot was standing at around 2k, and both of the players still in, Nicholas Aldridge and the Patrick Jakubecz on the button, checked to see the river. The Ac hit the felt and Nicholas Aldridge checked over to the button. He fired out 1,100 and after a little thinking time, Nicholas made the call, turning over his Ace King, expecting to take the pot. The Jakubecz however flipped over his pocket sevens for a flopped set, and took the pot for more than 4,000. – RK
.
.
Break Time – 14:01
The players are now on their first 15 minute break.
.
.
Shuffle Up & Deal Video – 14
.
.
Shark Sunk – 13:53
Bob "TheKiltedshark" Tait has busted Day 1a of the GUKPT Goliath, unfortunately we didn't manage to catch his exit hand we found out when going through the bust out ID's, I'll be very confident in saying that we haven't seen the last of the "TheKiltedShark" for the rest of the week. – DM
Suited Connectors – 13:43
Over on Table 31 Simon Deadman leads 1,850 into a flop of 2–7h–9d Benjamin Sweetman flats in LP with the player in the CO folding, 10h on the turn brings checks from both as we moved to the river 8s, players again being cautious check their action, Sweetman turns over 9s7s for two pair which is good enough to scoop as Deadman mucked his hand. – DM
Level 3
On the commencment of every level the gong here at the Goliath is struck to inform players of a new blind level, for this round I got to strike it hopefully the players didn't get too much of a fright as I put a good bit of "oomph" into it.
Blinds now running 75/150. – DM
Live Mis-clicks can cost you big
Controversy at table 32 with the floor needing to be called into action. Mohammed Ifzail mis-click opened to 3,000 with the blinds still at 50/100. He said he had announced 300, and had put out the wrong chips. The player sat next to him confirmed he had heard it, but by this point, both he and the player to his left had folded.  The floor was called, and after hearing the case, the decision was made that the raise had to stand. Michael Rouault made the call in position. The flop fell Qs–7c–8c, and Rouault saw his 2.8k bet, after Ifzail's check, called.  The 2s turn saw Ifzail check fold to Rouault's stab at the pot, and was then shown the pocket fours in Rouault's hand.
Ifzail is now one of the shorter stacks in the room, and probably ruing his mistake. – RK
.
.
Eliminations – 13:13
TD's are handing us all the bust outs as they happen, since the last batch we've been handed another 7, those to fall so far today are – Mark Hussey/Richard Abson/Simon Coles/Valentin Svilenov/Jeff Kimber/Scott Duncan/James Parslow. – DM
"Everybody Hates Jacks" – 13:03
No doubt everybody has said those immortal words "I always lose with Jacks" or some variation of that, Richard Abson had two limpers into his big blind Clive Beale
from the HJ and the SB, Abson made it 400 to go and found one call in Beale.
Flop 6c–4h–Ks– Abson check calling 700, Turn 6d went check check, brick on the river brought a check from both players once again, "Jacks" was the words from Abson but they were no good as Beale turned over Kc—10h for top pair. – DM
Big Stacks, Big Action – 13:01
The blinds may still be relatively small compared to the stack sizes, but action is still very much the order of the day. We caught a hand at Table 7 with Adam Hemmings going up against Steve Devine. When we came along, the hand was already at the river, and the board was showing 5d–Ts–8d–7c–4h. Hemmings fired out a river bet of 1,200, and Devine made the call. Hemmings turned over pocket sevens for a set, and took the pot for about 4.5k. – RK
River Action – 12:58
Walking by table 32 I see the board has completed and reads 8s–9d–Qh–7h–6h, James Parslow has a bet of 5,300 out in front of him after raising the river bet from his opponent, now the pressure gets put back on him as he got raised to 9,600 and tossing in the call he was shown the bad news Ah8h for the nuts. – DM
Level 2, and Four Down
With this event having the option for players to re-enter all of the Day 1s, the eliminations are coming pretty quickly.
In addition to the elimination of Ricky Brett, we have lost Kevin Weymouth, Dean Mawby and Mathew Cartwright and it's only the end of the first level. Blinds are now up to 50/100. – RK
First Elimination of the Day 12:30
Gavin Daniel Blakeway has claimed the first scalp here at the GUKPT Goliath 2013 after he eliminated Ricky Brett about 20 minutes into play, Blakeway held AA UTG and raised to 150 with Brett sitting directly to his left flat called saying "I need to get some chips back" after both players where involved in an earlier skirmish with flush over flush, Flop Q57 rainbow drew a cbet of 200 which was reraised by Brett to 525, onto the turn which fell an Ace to give Blakeway top set this time electing to check to the aggressor who lead 1,050 which prompted a check raise to 2,600 Brett not wanting to give up aggression made it another 5,000 on top.
Blakeway said he tanked for a bit before moving all in to get called pocket 77's for a set, Brett was in bad shape with only one out no miracle river card and we had the first elimination of the day. – DM
Couple Familiar Faces – 12:20
After a quick walk around the tournament room so far I've seen five familiar faces, Bob "TheKiltedshark" Tait/Dan Carter/Simon Deadman/Istvan Szakacs who would normally deal at this event but is taking a shot on the other side of the table this week. – DM
Day 1a – 20/08/13 – 12:10
The plan of action today is to do a video blog and updates as we normally do for the first 2 days of a GukPT. The live stream will be up and running from day 1b all the way through, until we crown a champion next Monday.
Shuffle Up & Deal!! – 20/08/2013 – 12
Play is now underway.
Blinds are 25/50.
We have 269 players starting today.
.
.
15 Mins Till The Off – 20/08/2013 – 11:45
We are only 15 minute till the kick off of the Goliath 2013!!!
The dealers and chips are in place, the player list is up. We have 237 players so far with a huge queue waiting to buy in.
.
.
Welcome To The Goliath – 20/08/2013 – 11:34
Welcome to the GOLIATH here at the Ricoh Arena here in Coventry. We will be here for the next 6 days bringing you all the action as the players fight it out for a GTD prizepool of £200,000!!!!
There were 1965 runners last year and we hope to smash that this year!!
Play will start in 30 minutes at noon!
Are you ready for it????