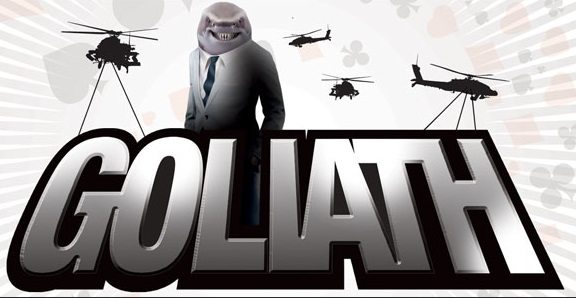 GukPT Goliath 2013 Day 1b
Published On August 21, 2013 |
Day 1b Round Up – 12:55
.
.
End of Play – 01:35
.
.
It's All Over – 00:50
Well that is it from Day 1b here at the Ricoh Arena. 261 entries and then 108 re-entries turned out today to make  367  in total. It was another action packed day, which was thick and fast!
After 16 levels of play, we have finished with around the same amount as yesterday 51 players.
There is no dominant stack today though as it's much more spread out. On top of the tree is Vahid Amirzahiri with a stack of 422,000, followed by Nigel Griffiths with 384,000, Tim White 367,100 & Dreenie Nutt with 353,9000.
Tomorrow is a different day and it will be an exciting one as we are expecting a HUGE turnout!!
From everyone here at the GukPT we will see you at noon tomorrow.
.
.
Griffiths Takes Chip Lead – 00:35
The action is opened from Andriena Nutt who makes it 11,500 to play and is called in three spots.
The flop comes



It's passed round to Ivan Scott on the button who bets 80,000, into the 50k pot. Nigel Griffiths takes around 90 second before making the call.
The turn card is

Nigel checks to Ivan who moves all in for around 90,000 and Nigel quickly calls!!
Ivan tables


for two pair.
Nigel shows


for a full house and Ivan is drawing dead!!
The river is a meaningless

.
Ivan heads out of the tournament.
Nigel Griffiths takes the huge pot and has around 450,000.
.
.
Nearing the End – 00:30
Six hands have been called after that we will be finished for the night. – DM
.
.
One Big Blind – 00:29
Vincent Junior Campbell is down to his last 5,300 and in the BB which is 5,000 managing to wake up with a hand


he was up agains the


of the player on the button.
Not to be some miracle spin up as the dealer spread





– DM
.
.
Much Needed – 00:20
Brian Fenton has managed to secure himself a much needed double up, all in preflop holding


for 52,000 he had the dominating hand up against


board ran out





– DM
.
.
Luck? Who needs luck?
Tournament poker has never been won without a little luck, and Jamie Brown has just been on the wrong end of that fact. I arrived as Tim White shoved over Brown's 35k flop bet with



showing. Jamie made the call, and turned over


to be comfortably ahead of Whites's


. The turn however changed everything when it came

, and put Brown's tournament life in danger. The

river sealed his fate, and White effectively doubled up to about 370k. – RK
.
.
Dodging bullets with bullets!
The two short stacks go at it approaching the last level.
Kev O'Connor gets his last 10 bigs (40k) in the middle with


unfortunately for Kev he runs into the


of Gary Gilbertson.
The flop comes



as Kev flops top pair, giving him a chance to bust the aces
The turn card comes

giving Kev more outs with a flush draw.
He can't get there on the river as it comes

Kev is eliminated from the tournament and will probably be tomorrow for more, as he is one of the nicest guys on the poker scene and just loves the game.
Gary on the other hand takes the pot, but still has less than average with 140,000.
.
.
The final level – 00:04
The players have made it to the final level of the day, as have we, even without red bull!
The blinds are now 2,500/5,000 with a 500 ante.
59 players remaining
.
.
The Long and Winding Road… – 23:59
As the stacks get shorter, and players decide to go big or go home, some of them are leaving to join the long a winding road. Recent departing players include Kevin O'Connor, Charles Griffin, Byron Sugars, Gary Humphris, Randhir Koli and Liam Smith, all of whom can come back tomorrow to try again. – RK
.
.
Back to Back – 23:56
Andrew Garland opens 10,000 UTG next to act Johnson Nwabuko flats behind, action folded around to Jonathan Cosgrove in the BB he comes along for the ride.
Spreading a flop of



Cosgrove first to act checks prompting Garland to bet 20,000 which is met by a quick all in from Nwabuko for a total of 35,100 one fold and the remainder of the bet is called.
Flopped flush for Nwabuko as he turned over


and was a lock on the hand as Garland held an inferior flush draw with


with the board running out an inconsequential


Next hand Garland is short on chips with circa 30,000 in the BB to Cosgrove's SB, playing the big stack he looked down at


and was more than enough to put his opponent all in,


was more than enough to make the call as the two players went to a flop


:5:h Cosgrove had flopped two pair as was looking in great shape for the elimination but his opponent asked for a diamond on the turn and he was obliged when the dealer revealed

now with some hope for the double up he received such when the river fell

– DM
.
.
Last Ladies Standing – 23:43
Andriena Nutt (below) is not only one of only four women left still in the tournament, she is also one of the chip leaders. Andriena, known as Dreenie to most people in the UK circuit is smashing it at the minute and has around 300,000. She is one of, if not the most aggressive women players I know and has a stack which will see her putting pressure on the rest of the table.
The other women left in are Sue O'Connor who has 100,000, Carol Everton who has 90,000 and Shahla Javadi with 120,000.
.
.
Time to get Busy – 23:28
Lots of shortstacks hovering around at the moment and it's time to get busy, unlike other events when it's multiple re-entry & can forfeit a stack and bring forward the bigger, you can't do that at the Goliath, so therefore whatever you make it through today is the stack you'll take through to Day 2.
Chatting with Simon Deadman last night on his way out he mentions that he had a horrid last couple levels and get decimated and will be coming back Saturday with only 4 bigs, that is of course if he want's to make the journey from where he lives a couple hours away. – DM
.
.
Level 15 – 23:23
The blinds increase again as we begin level 15.
They are now 2,000/4,000 with a 400 ante.
72 players remaining.
.
.
Down To 8 tables – 23:15
With just two levels and 5 minute to go of the night, we are down to our final 8 tables, 72 players.
We should get at least below the 50 mark.
.
.
Helter Skelter – 23:05
Mr "G" is riding a rollercoaster. Earlier, you may remember our picture with his burgeoning stack, but the intervening time has seemed to dwindle it, with the majority of his 5k chips leaving his procession. He is however flipping well, as I just caught the end of a hand where his


hit a king on the flop to beat


to knock Oliver Morgan out of today's action. –RK
.
.
Power – 22:54
Power of position is a big part of poker also the power of a cbet is another factor to include when you've got both it's a big advantage to your hand, Quoc Nong was the player in the HJ and opened to 7,100 getting called in one spot from the SB, flop



checked to the bettor and he lead 8,700 at the pot which was enough to take it down. – DM
.
.
Chip Counts – 22:53
A few chip counts from around the tables
Richard English – 140,000
Tim White – 230,000
Ian Sanders – 250,000
Jonathan Cosgrove – 175,000
Stewart Wood – 245,000
Mr G – 200,000
Sue O'Connor – 55,000
.
.
Level 14 – 22:48
Blinds up now as we begin level 14.
They are now 1,500/3,000 with a 300 ante.
Only 83 players remaining.
.
.
Big Stack Blues – 22:41
The guy we had pegged as the chip leader has just been involved in a pot in excess of 150k. I arrived as the flop was delivered in this 3 bet pot. 2909 raised after seeing the



flop, only to see Leslie Lamnea shove the rest of his 62,600 stack over the line. The think tank was visited briefly, but Amirzahiri finally made the call. He flipped over


, but Lamnea 's


was miles ahead.
The turn brought a sweat with the

, but the

sealed the deal, and the massive pot slid over to Lamnea. Amirzahiri has been pulled back into the pack, but is still one of the bigger stacks out there. -RK
.
.
Double For O'Connor – 22:29
Kev O'Connor three bet shoves for 19,000 over an open from Charles Griffin, Charles makes the call and the two players table their cards.
Kev has the best of it showing


vs the Ac :10d of Charles.
The smacks Kev in the face as it comes



!! He flops the full house.
The turn is

River a

Kev wins the pot doubling up to 45,000 which is less than half the 106,000 average.
Charles still has plenty with around 150,000.
.
.
Busto – 22:24
Adam Wilson moved all in for his remaining 32,000 holding :Q

but unfortunate for him the player to his immediate left woke up with


looking for the miracle Queen to rescue his tournament it wasn't to be as the dealer ran out a board of





– DM
.
.
Side Event Registration Closed – 22:17
The late registration for the £75 + £8 £5,000 guaranteed "Win the Button" side event has closed, and 61 players tried their luck, and 5 even had a second go. 36 players are left in, and they are all doing their best to be one of the 8 to make a profit, and would obviously prefer to be the winner, who gets to take home £1,600. – RK
.
.
Level 13 – 22:02
Players are back in the room as we begin level 13. It could be unlucky for some.
Blinds are 1200/2400 with a 300 ante.
103 players remaining.
How many will we finish with??
.
.
Break Time – 21:42
Break time for the players as they take 20 minutes.
.
.
Exits
Sebastian Ionita
Bernard Maregedze
Sheila Burden
Raymond Salmon
Khashayar Parsi
Martin Hogarty
Linda Dye
Florian Andrei
.
.
The Mating Call of the Wild Poker Reporter
The words "All In" are like the music of Barry White to us Poker Reporters. It attracts and excites us, and the last time I heard this particular phrase was on table 4 a few minutes ago. Richard Stocks was being put to a preflop decision for all of his chips by Ivan Scott. He didn't take too long to make the call, and his


was behind to Scott's


. The flop looked pretty blank as it showed



, but the turn of the

must have felt like a slap to Scott's face as it turned the tables on him. Without one of the two remaining Kings, he was going to double up Stocks. It didn't come as the

hit the felt. The only consolation to Ivan is going to be the size of Stock's stack meant it didn't make much of a difference, and he's still short. – RK
.
.
The Fortunes of War
Last time I had wandered past Mr "G", he was sitting on the smallest stack on his table. Now, as you can see, he's turned things around.
.
.
Wow – 21:19
Action folded around to Scott Duncan on the button making it 4,200 to go, Randhir Koli in the SB completed as did the player in the BB, off to a



flop we went both blinds checking to the bettor who continued with 4,600 Koli was the only one from the blinds to call, turn brought

to pair the board once again he checked to the bettor leading this time for 6,600 Koli now took the aggressor role as he check raised to 19,000 with Duncan playing about 40,000 behind.
Duncan hunched over the table tanked for a few minutes before deciding to fold his hand, in doing so he flashed the

to his table mates, no cards where shown from his opponent as he raked in the chips. – DM
.
.
Short stack to No Stack – 21:11
Sam Wright is one of our latest casualties, Amarjit Jutla opend to 5,200 holding


& Wright with a very short stack of 8,700 and


found a hand to get them in with.
Board running





– DM
.
.
One For The Ladies – 21:10
I get to the table as the flop reads



Shahla Javadi bets 4200 into a pot of around 7,000 and is called by Steve Redfearn.
The turn card comes

Steve checks again to Shalha who bets 6,000, which is again called.
The river card comes

The same action happens, but this time it is a 16,000 bet Steve will need to call, which he does almost instantly,
Shahla quickly tables


for the full house. It's good to take the pot as Steve shows


One for the ladies as Shahla is up to 85,000, while Steve is down to 30,000.
.
.
Level 12 – 21:05
The blinds increase as we begin level 12.
They are now 1,000/2,000 with a 200 ante.
124 players remaining.
.
.
Sometimes you Just Can't fold – 20:59
As I was looking around the tournament floor, I heard the cry of "All In!" and being like a moth to the flame, I ran over to the relevant table. Wei Wang had pushed his stack over the line, Smith made the call, turning over


. He was understandably frustrated when he saw the


  of Wang. The board wasn't any help as it ran out





. Smith counted out the required 87,500 with a sigh, and saw most of his stack slid over to his opponent. – RK
.
.
Much Needed – 20:48
Carla Smyth has managed to secure a much needed double up through Paul Jackson, all in for 4,550 holding


vs


dealer ran out a





also scooping up a little dead money from the pre flop action of another player. – DM
.
.
Side Action – 20:.34
The Goliath Main Event isn't the only action going on here in the G Casino in Coventry. We have a £75 + £8 "Win the Button" side event currently running with a £5,000 guaranteed prize pool. The Event currently has over £1,000 of overlay, and with only 51 original runners (with 2 re-entries) and 47 left playing, it's choc full of late registration value.
The cash games are also thriving and there are currently 4 tables of £1/£2 No Limit Hold'em running, and a single £2/£5 Pot Limit Omaha table. There is capacity for more tables to run, so if you're in the building, pop over to the card room to join in the action. – RK
.
.
Getnet Doesn't Get There – 20:33
Getnet Hailu moves all in for his 25,000 stack in first position, the rest of the table quickly pass round to the big blind, Ashiq Abdullah who makes the call.
Getnet is at risk tabling pocket Jacks against the pocket ladies of Ashiq.
The flop comes 9–2–8.
The turn card comes a Queen, giving Ashiq a set, but it also gives Getnet a gut shot straight draw. A ten would give him a straight.
The river card is an Ace.
Ashiq scoops the pot and now has 55,000. Getnet is eliminated from the tournament at the start of level number 11.
.
.
"I thought he had the set" – 20:23
Catching some multi way action over on Table 9 there is an UTG+1 raise to 2,800 Debbie Kershaw flats as does Andriena Nutt also along for the ride is Mark Wates.
Dealer spreads

:5:h

orginal raiser checks to Kershaw who fires 7,200 flatted behind while Wates moved all in for around 19,000 – one quick glance at his cards the original raiser steps aside Kershaw moved all in to isolate but bad news as Nutt instantly called. Cards on their backs,
Wates –



Kershaw –



Nutt –


Nutt is in great shape and just has to avoid a spade for a nice scope, as the turn brings

and the river

completing the board it was a count down of her stack, 37,950 was cut from Kershaw's chipstack and sent to her table mate who is sitting quite comfortable. – DM
.
.
Level 10 Exits
We are 20 minutes into dinner and already the players have started to fall.
Some of the players we have lost…
Peter Evans
Yaswant Shah
Alan Omar
Andrew Cowley
Nick Banks
Dan Bazeley
Terry Clarke
Barrie Price
.
.
Live Stream
For those of you looking to see what's going on down here at the Goliath you can follow the coverage HERE – on the feature table we have Paul Jackson (seat 6) who is well known for a hand against Phil Ivey which you can watch HERE – DM
.
.
Rough Chip Counts
During the dinner break, the lovely tournament staff have provided us with the chip counts of the bigger stacks still in the field. We have these for you beow, but don't worry if your name isn't here, it's not a full list.
Charles Griffin – 153000
Vahid Amirzahiri -150000
Matt Hays – 127500
Ian Sanders – 125000
Chuck Sellers – 121000
Mark Smith – 120000
Carol Everton – 116200
Jianhui Nie – 110000
Florian Andrei – 110000
Shahla Javadi – 106675
Mohammed Asad – 102000
Christopher Paul. Hobbis – 100000
Timothy Chung – 98800
Liam Smith – 97000
George Clayton – 95000
Timothy James White – 90000
Mark Sadler – 87000
Paul Bowser – 86200
John Cullen – 85400
Oliver Morgan – 85000
Jonathan Chapman – 83000
Paul Leach – 83000
Adam Wilson – 82875
Christopher Badham – 82000
Amanda Gail Birney – 80000
Ivan Scott – 80000
James Koumis – 78500
George Lawson – 77100
Paul Jackson – 75000
Paul Bahbout – 71000
Getnet Hailu – 70000
George Watson – 70000
Raymond Salmon – 70000
.
.
Level 10 Begins – 19:40
The players are back from their dinner break, and the cards are in the air for Level 10. The blinds are up to 600/1,200 with a running ante of 150. We have 183 players left in, with an average stack of 50,100. – RK
.
.
Dinner Break – 18:40
All players will now leave the tournament area for a 1 hour dinner break, play will resume at 7:40. – DM
.
.
Karma Bites – 18:39
Nigel Griffiths shoved his short stack preflop, and was obviously looking for a caller. He got one in even shorter Andrew Newton, who took his time before flipping over


. 2908 turned over his


and we were off to the races. The flop was fanned out to show



to give Newton queens full of aces. Griffiths was left looking for either the last Ace in the deck, or on of the 3 remaining Kings. The

turn was of no help, but the river brought the

to keep his hopes of the Goliath title alive – RK
.
.
Who said Aces were a Monster? – 18:37
As I was wondering round the room, I caught Andrew Larner doubling up when his


cracked the


of Sirous Salehi Bakhtiari. The majority of the money went in on the river with the board showing


:


. Larner is still short, with only about 30k to his name but Salehi Bakhtiari however is now struggling to keep his head above water with significantly less than that. His friend, who had just arrived to take him to dinner, was told in no uncertain terms "To hell with you, you turn up and I lose!" –RK
.
.
And Gone – 18:36
Glenn De Cuyper has just come to inform us that he has busted the event, one limper and the SB completes De Cuyper in the BB moved all in for 7,000 with KJ suited, original limp reraised enough to isolate the all in with A9, no help for either as the board ran out an Ace high was enough.
He won't be back to the Goliath till Friday to try his luck once more. – DM
.
.
Moaning It In – 18:30
Daniel Winrow moves all in for his last 7,000 chips and is called by Chris Bampton.
It's a classic coinflip as Daniel tables A-J vs the pocket sixes of Chris.
The flop comes A–7–4. Chris gives out a moan, saying "What a surprise!!"
The turn card is a five, giving him two more outs with a gut shot.
He then says "Four-ball, would be nice…" It comes on the river as he rivers a straight!! Chris Bampton is back up to 50,000 while Daniel Winrow will have to try again tomorrow.
.
.
All the Way – 18:19
Glenn De Cuyper arrived to todays event two and half hours late & having planned on playing 1D he decided he is here why not give today a shot, himself and three friends have traveled all the way from Belgium to try their luck at the Goliath.
Things haven't been going too well for him today currently hovering around the 7,000 mark but he still has a couple more shots tomorrow or Friday if he does bust out today. – DM
.
.
More Exits – 18:08
The tickets are still coming in thick and fast as we lose player after player after player. 102 players have been eliminated so far today. Here's a list of some of them.
Andy Nguyen
John O'Reilly
Jeven Kapoor
Peter Drakeford
Eric Spicer
Stephen Lacey
Warren Jobe
Bill Maynard
Chad Whitney
Paul Myers
.
.
Level 9
Blinds up now running 400/800/100 ante, 220 players currently remaining, at the end of this level players will be going on a 1 hour dinner break. – DM
.
.
Double Up & a Bit
Three way all in


vs


vs


George Clayton had both playes well covered and was the one holding pocket Queens, wasn't going to dent his stack as the main all in was for around 7,000 but the chance to knock two players out is always a great opportunity.
Board ran out





– DM
.
.
The Lifecycle of a Poker Tournament
It's like the laws of thermodynamics, the longer a poker tournament runs, the higher the number of players that have lost all their chips. There is a definitive correlation between the two. Players who have succumbed to this inevitability recently include Ian Roberts, Derek Castle, Helena Brett, Richard McCartan, Franklin Tarverdianconaraky, Kenneth Burden and Paul Burrows. We're dwon to 256 players left, and the field will continue to shrink as we get deeper into day 1b. –RK
.
.
Tower Schumacher – 17:28
.
.
"Ace" – 17:23
3 way limped pot gets taken to a flop of



Neil Leicester leads for 1,800 after it's checked to him from the blinds, looked up in one spot from the button, turn

check/check as we went to the river it came

both players check their action an nearly simultaneously announce "Ace"


scoops over the


– DM
.
.
Level 8
Blinds now running 300/600/50 – DM
.
.
Action Slowed Down – 17:11
Action has become a little quieter now the players cannot re-enter. We have had over 300 entries here today.
We will find out the final number and post it up as soon as we get it.
.
.
The Kilted Shark – 17:01
.
.
Level 6 Bustouts
Level 6 saw a flurry of people trying to chip up before the re-entry window closed at the end of the level. We've lost, amoung others,  Mark Lucas, Paul Bowser, Patrick Hobart, Andrew Garland and Adam Kelly. They all had the chance to re-enter, but that ship has now sailed. We'll have the updated numbers on today's entries for you in a little while. – RK
.
.
Level 7 – 16:40
The players are back from their break as we begin the 7th level of the day.
Blind are 200/400 with a 50 ante.
We have 274 players remaining.
.
.
Sean 'The Hitman' Hayden – 16:31
.
.
The Players are on a Break
The players are off for a 20 minute break, and we're going to join them. We'll be back with more action after this short interlude.
.
.
A Chat With Paul Jackson – 15:59
.
.
More Eliminations
With level 6 being the last one to allow re-entries today, we're starting to see an increase in the number of bustouts since the blinds increased. Recent players to join the rail include Charlene Coleman, John O'Reilly, Farbod Jarvand, Erik Sund, Nigel Griffiths and Robert Udy. The level has about 25 minutes left to run. –RK
.
.
Level 6 Begins
We have entered the sixth level of the day, and the blinds are standing at 150/300 with an ante of 25. We have 289 players left in, but we're still seeing a steady stream of bustouts. –RK
.
.
Playing to the Crowd – 15:38
As I passed table 19, I spotted a bloated pre flop pot involving Richard Wainwright and 1Marinos Mina. As I arrived the flop was fanned out to show



. Wainwright fired out a nearly pot sized bet of 8,500 which sent Mina into the tank. After a minute or so, he tried to get a response from Wainwright, saying that he would have continued to bet with Aces or Kings. After his attempts to elicit communication had fellen on deaf ears he went back into the tank, and the only thing heard around the table was the sound of the two players methodically riffling chips. After what seemed a lifetime, Mina announced he was all in. Now it was Wainwright's turn to retreat into his own tank, and after a short think, while the sound of riffling chips rattled in my ears, he mucked his hand. "I'll show you this one for the blog" Mina taunted as he flipped over the

and raked in the pot. Wainwright didn't look pleased. –RK
.
.
Turned It – 15:32
Cyril Lloyd pulled the check raise all in on Julianna Strocka, catching up with the action on the turn board read




Strocka had a bet of 7,000 out in front of her while Lloyd had his whole stack pushed into the middle, after a count down it was a smidge over 6,000 more to call but after dwelling over her decision for a little bit she decided to fold her hand to be shown


for the second nut flush. – DM
.
.
Recent Exits
Ian Bosley
Mark O'Donnell
Glynn Cook
Mo Asad
Ian King
Neil Jackson
Carla Goddard
Dale Moulton
David Martindale
Chris Huyton
.
.
Live Stream
For those of you looking to actual watch some action we will be streaming throughout the rest of the festival, you can find the live stream HERE or else find it through the GUKPT Facebook page HERE – DM
.
.
Catching the Action – 15:02
As I'm railing one table I look over to see a big pot brewing on Table 20, Oliver Morgan has been raised all in after betting a flop of



making the call for his enitre stack of circa 22,00 he turned over


for a flush draw and was up against


no help on the turn

but the

river card saved him from an early exit and possible re-entry. – DM
.
.
Level 5
Blinds now running 100/200/25 – DM
Sometimes you just know you're beat – 14:59
Over on table 8, I just caught an interesting hand between Muhammed Latif and Albert Voortman. We arrived after Latif had raised pre flop, Voortman and the big blind had called to bring the flop. The cards were fanned out to show



and both Voortman and the big blind checked in flow to allow Latif to fire out a continuation bet to 1,100. Voortman called, but the big blind got out of the way. The turn brought the

and Latif fired another barrel, this one was 1,700 chips big, and after a significant thinking time, Voortman called behind. The river was turned over to expose the

and Voortman checked again to Latif's previous aggression. He didn't disappoint, and threw out a 5k chip announcing the 2,000 bet as he did so. Voortman made the call, and before the dealer could ask for him to show his cards, Latif's holding was flying into the muck. Voortman showed his


as the pot was passed in his direction. -RK
.
.
Straight into the Muck – 14:55
Over on Table 11 an open to 600 from EP was 3bet to 1,625 action was to Graham Anderson in the BB who just cold called while the original raiser folded.



was spread by the dealer players playing cautiously checked to each other,

turn card brought a 1,700 bet from Anderson but a raise to 5,000 was the next move which he called, river

Anderson checked to the bettor who fired 6,000 at the pot with a quick call from Anderson his opponent insta mucked his hand while


was shown for the win. – DM
.
.
Early Eliminations – 14:27
We may only be in level 4, but we've been losing player slowy but surely as the day has progessed. Players who have lost all their chips include: Luke Diaper, Peter Drakeford, Alisair Carins, David Martin and Robert Palmer. The players all have the option to rebuy once today if they wish. – RK
.
.
Rough Look at the Big Stacks – 14:22
During the break, we had a quick walk round the tournament floor, and picked out a few players who seemed to have chipped up well. These players include Mark Gilbert, Mr "G", Billy Ngo, Rodger Chadwick, Narcis Chiriac, Bobby Scott and Sirous Salehi Bakhtiari.  -RK
.
.
Level 4
Blinds now running 100/200. – DM
.
.
Break Time – 14:02
The players are on a 20 minute break, and will be returning to Level 4, when the blinds will be 100/200.
.
.
You can't always get there… – 13:55
The action was from under the gun +1, who raised to 350, and got two callers in Michael Tewkesbery in the hijack and Simon Hill in the big blind. The flop was flipped over to show



and Hill checked to the pre flop aggression from the early position raise, who followed it up by firing out a 550 continuation bet. Both of the other players in the pot called to bring the

turn. Hill checked again, and this time the early aggressor slowed down, and checked behind. Sensing weakness Tewkesbury fired out 850, but got two callers to bring the river. After seeing the

hit the felt, the out of position players checked, leaving just Tewkesbury to act. Down to just 5k chips in his stack, he threw one into the middle announcing the bet was 2,500. Hill folded almost immediately, and the pre flop aggressor took a few moments before also mucking his cards. –RK
.
.
"House" – 13:37
Barrie Price one of the early tournament chipleaders is continuing the run good from earlier as he rivered a house once again to beat yet another flush.
Couple limpers into him and he 3bets to 650 from the BB receiving just the one call from a player in EP, dealer spreading a flop of


:5:s Price leads this for 1,200 onto the turn which puts four spades out there as it came

slowing the action it brough checks from both,

was rivered by the dealer and it brough out a 2,200 bet from Price & was called very quickly "flush" was announced but it wasn't good as Price responded with "house" :A:10c vs


– DM
.
.
Champion Down – 13:38
We have lost David Johnson from the field, who in 2010 took down the GukPT Main Event in Blackpool for £67,750 (below). David heads out of the room, but I am sure he will be back later on today to re-enter. How could he now with a GTD prizepool of £200,000 to fight it out for.
.
.
Like a Phoenix from the Ashes
Table 13 seems to have few players who want to build their chips stacks early in the day. Sitting in an England cricket hat, the gentleman playing under the gun raised the action to 600. He got a call from Shaun King on the button and John Gibson in the big blind. The flop was fanned out across the felt, showing the



and Gibson checked in flow. The cricket fan fired out an over bet to 2,250. After a quick dip into the tank, King mucked his hand, quickly followed by Gibson's cards. It seems the winner of this hand has more than the recent Ashes Series Victory to celebrate already today. – RK
.
.
Suited Connectors vs Suited Gappers – 13:28
Anthony Lloyd Spencer 3bets to 275 after an UTG limp and gets called in two more spots, 4 players to a flop of



checked to Spencer who continues with the betting making it 550, players behind fold to the bet while player UTG makes the call, turn

continuing with the betting lead 900 from Spencer and flatted, river

slows down the action as it goes check/check.
Cards are flipped over on their backs Spencer held


for a pair of 8's which was good as his opponent turned over


for the missed flush, diamond on the borad would've made for some intersting action. – DM
.
.
Level Three – 13:21
The blinds increase as we begin the third level of the day.
They are now 75/150.
270 entries so far today.
.
.
Limping with Aces – 13:20
It's always a tricky one when you try get crafty with pocket Aces, Paul Bahbout was playing it very tight as he limped the CO for 100 but luckily the button raised behind him to 600, both blinds step out of the way and action back on Bahbout now got the 4bet in to 1,600.
Two players to a flop of



the action went check/check, turn

action once more went check/check

peeled on the river and that's when the first bet went in, Bahbout tossed in a 5k chip but the bet was too much as his opponent folded his hand to be shown


– DM
.
.
Exits – 13:14
Well in the first two levels we have lost quite a few players already, just like yesterday. Those who have busted and will probably be re-entering are…
Martin Hogarty
Getnet Hailu
Randhir Koli
Richard Peddle
Ben Grafton
Vaidas Sirionas
.
.
Returning Heroes from Yesterday- 12:55
Day 1a saw several players accumulate big stacks throughout the day, and they included Mr "G" and Sirous Salehi Bakhtiari, both of whom had been flirting with the chip lead during big part of Day 1a. I was expecting to see the chip leader from the majority of Day 1a, Simon Skinner, re-enter today, but as yet, he's not showing up on our list of entries. – RK
.
.
Everyone Loves a Chopped Pot – 12:49
As I was doing my cursory walk round the floor looking for faces I recognise, I came across a big pot on table 27. Narcis Chiriac and Ian King had reached the river with the board showing





. Chiriac had already fired out a 1.2k bet, and King had re-raised him to around 4.5k. Narcis fired back another bet, taking the price to play up to another 5.7k. Ian slid the rest of his stack over the line, and got an instant call from Chiriac. The cards were turned over, and both players held the same hand. Chiriac had the


and King had the


, and both players were back to where they started the hand.  – RK
.
.
Level 2
Blinds now running 50/100 247 players on the clock at the moment. – DM
.
.
Five Minutes – 12:15
It took just five minutes or so for us to lose out first player of today, Danny Miller was the unfortunate one as he lost all his chips to Barrie Price, Price held KK against Miller's


on a 9 high board with two clubs, turn card brought the club as it came

and that's when both players managed to get their stacks in the middle, Miller just had to fade the river card housing up but he couldn't hold and he made his way to re-enter.
On his second entry he was very close to busting once again in quick succession as he got AA in vs AA but his opponent was freerolling the flush but it bricked. – DM
.
.
Shuffle Up & Deal – 12
Play is now underway here on Day 1b.
We have 206 entries sat down and playing in this fabulous venue.
.
.
Ten Minutes Till Kick Off – 11:50
We are only 10 minutes away from the kick off here on Day 1b. We have 195 players registered so far, who will be rushing through the doors very shortly.
.
.
End of Day 1a Chip Counts
Will anyone from Day 1b be able to catch Michael Greenwood who finished with over 700,000 on Day 1a.
Michael Greenwood 700000
Nishid Pnadipleuman 485000
Nathan Tudman 420100
Jordan Michael T Kyle 382300
Ryan Barnes 365600
Ying Dyt Danny Wong 345600
Jake Skidmore 336600
David Griffiths 315500
Christopher Blower 309900
Ciprian Berdan 305500
Richard Leniewski 291800
Robert Harding 290600
Simon John 288000
Nicholas Aldridge 269100
John Fontana 263600
Ethan Jenkins 257500
Ali Haidar 248500
Matthew Farmer 242900
Richard Johnson 241600
Peter Haslam 239900
Shaun Higgins 236600
James Guy Cunningham 236500
Daniel Arbon 235000
Kenneth Paul Kemp 220500
Robert Trueman 218600
Geoffrey Dunn 202400
Gavin Daniel Blakeway 180400
Daniel Cullen 179000
Steven Winstanley 176100
Jeremy Brown 175600
Bhim Ruia 173800
Stephen Thomas Roache 168900
Michael Brown 161100
Daniel Thomas Kennedy 149000
Jiri Sladkovsky 147100
Joseph Cockburn 143500
Stephen Moss 137400
Istvan Szakacs 131400
Michael Kossov 114800
Joseph Stone 84500
Hardeep Bassi 77500
Ryan Jonathan Mandara 58000
Simon Deadman 20000
The chip average from the survivors of Day 1a is about 237,800, which gives those of you playing the rest of the opening flights a target.
.
.
Welcome to Day 1b
Welcome back to the Ricoh Arena in Coventry for Day 1b of the GukPT Goliath. Today also sees the launch of our live stream, and we'll be bringing you more information on that, and how the chip counts ended up last night, soon. – RK