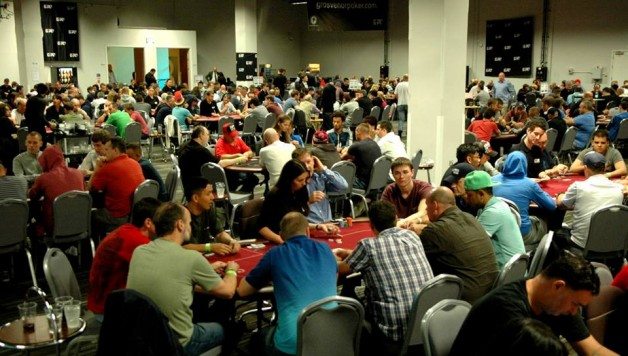 GukPT Goliath 2013 Day 1d
Published On August 23, 2013 |
Crazy 1D Is In The Books – 01:20
What a day!!
We reached numbers no one could even dream of at the start of the day. At 11am this morning, we were already at capacity with 750 entries. Names were then taken on an alternates list which in no time at all was over 200 names long!
After eight levels of play every who was guaranteed a seat or re-entry had been seated, making the total players for today a massive 1139!!! A huge turnout which we believe to be the most players seated in one day at any tournament in Europe!!
If you thought yesterday was manic, today was unbelievable!! We lost around 950 players from the field in one single day!! Meaning we finished with around 190 players, but we will have to wait for the full chip count before we confirm anything.
Chip leaders are
Richard Angus – 454,000
Nathan Dippie – 383,900
Stephen Barrett – 383,100
Alan Egan – 333,900
Richard Marshall 325,100
It has been a great days poker which again has ran like clock work. The dealers and floor staff have all been awesome and even the Tower was dealing at one point. It's been a very fun day which has been played with smiles on faces and in great spirits.
We will be back again tomorrow for more of the same with around 370 players coming back as they fight it out on Day 2!!
.
.
Last Five Hands – 00:55
A 5 have been drawn, so five more hands and we are done for the day.
.
.
Countdown to Busto – 00:45
As you might expect, the numbers of players are still dwindling, and we've lost Robert Jackson, John Haigh, Michele Degiovanni, Stewart Szumski, Stuart Proctor,  Matthew Worsley, Carlos Barrera-Walker and Baillie Ttoffali  recently. The tournament staff will be drawing for the number of hands left to play in about 3 minutes. – RK
.
.
Up & Up – 00:45
You can't exactly miss Simone Grace Robinson and her brightly coloured pink hair but it took me a couple seconds to spot it out in the tournament floor, last time I spoke to her she was on 80,000 but when I asked her how she is getting just now she is up to 150,000 and in her words "yo yoing" – DM
.
.
Afon Holds Aces – 00:40
Afon Morris makes it 10,000 to play from early position, Joe Stoyles sat directly to his left moves all in for around 100,000. Then the action comes back to Afon he quickly makes the call.
Joe tables


but is in a world of pain as Afon shows


The board runs out





With that we lose Joe from the field. While Afon is near the top of the chip counts as he is close to 400,000.
.
.
Pipped
To some of the real small stacks, seeing an ace is all it takes to get all of their chips into the middle. Thomas Buchanan-Wallsgrove was just in this position when he looked down at


and got his sun 5 big blind stack straight into the middle. Daniel Pettyhappened to wake up behind him with


and was ahead from the get go. The board ran out





and Petty is going to have to do it again soon in order to make it to the money. – RK
.
.
The Last Level – 00:25
The last level of the day has just started with 220 players. How many are we going to finish with tonight??
.
.
Level 16
We've just entered the last level of play for tonight, blinds running 2,500/5,000/500 220 players remain with an average stack of 129,400 – DM
.
.
Chip Counts
Some chip counts from around the tables…
Ashley Kinsella – 175,000
Lee Taylor – 220,000
Alan Peers – 250,000
David Jones – 300,000
Sami Ozone – 320,000
George Bedi – 150,000
Garry Underwood – 280,000
Chris Williamson – 310,000
Paul Harbden – 300,000
.
.
Timely – 00:06
Andrew Hayes opening to 8,200 player to his immediate left 3bets him to 15,000 action folded back around to him and after a brief dwell he put all his chips into one stack and slid them into the middle of the table, his opponent looks a little perplexed by this but can't pass up his hand and makes the call.


vs


as the dealer spreads

:9:h:K:d it was a virtual hammerlock on the lock on the hand as the turn paired with a

it was done and dusted with a

finishing out the board.
71,400 was his stack and now with a bit over the average he has now positioned himself a lot better moving forward. – DM
.
.
Nothing Fancy
Right now, most of the bustouts are coming when the shortstacks are getting it in, either hoping to be flipping for their tournament lives or hoping for the fold. Marcus Moraitis just got his 70,000 stack in against Christopher Rhodes's


holding nothing but


. This time he was obviously hoping for a fold. The board ran out





to end Moraitis; hopes of becoming the 2013 GukPT Goliath Champion. – RK
.
.
Exits
Some players who will not be coming back tomorrow
Federico Secola
Paul Clark
Milena Langdale
Nicholas Fellone
James Hinder
Mark Hall
Luke Dunford
Terence Anderson
David Lawlor
.
.
Level 15
Blinds now running 2,000/4,000/400 279 players currently remain with an average stack of 102,100 – DM
.
.
Queen – 23:38
What started off as a pretty innocuous hand has just lead to a bust out, Bhavesh Patel liming the CO for 3,000 Paul John Harben immediately to his left 3bet to 9,000 with both the blinds folding action back to Patel who asked his opponent would he like a call.
Flop



Patel thought for a moment before putting 25,000 chips into the pot, 60,000 was the bet now facing him as Harben was keeping up with the aggression, asking a floor person going by did he know yet how many people were getting paid (he didn't) Patel was stirring in his seat before announcing all in, he didn't have to wait to long to find out the answer as his all in was called.
Patel –


Harben –


Top two pair vs the gutterball as we went to the

turn it was one last pull of the trigger, asking for a Queen it duly popped up on the river to give Harben the nut straight and send Patel into a round of "how can you call" with the dealer counting down the stacks Harben helds 103,900 moving onto the next stack it was going to be close but he was covered and we lost one more player from Day 1d. – DM
.
.
Sometimes, There is Nothing You Can Do – 23:33
I missed this hand in real time, but table 5 soon caught me up. It was all in preflop with Jacks for Craig Robinson, Queens for Stewart Reynolds and Kings for Paul Clark, with all 3 players on a short stack. The board ran out, giving the jacks a set on the river, and that same river card bringing the four card flush for the queens. Reynolds is now just above average with around 110k, Robinson has about 10 big blinds, and Clark has less than 3 big blinds, and needs to make an urgent move. – RK
.
.
The Classic Coinflip – 23:16
The classic coinflip in poker is and always will be A-K vs QQ, we have just seen it on Table 33.
Chris Stomenov all in with


vs the


of Julie Butler.
The board ran out





Queens held for Julie who is now up to 90,000 which is just below average.
Chris heads out as we are now just under 300 players.
.
.
Kismet – 23:14
We have less than 3 levels left in Day 1d of the GukPT Goliath, and the number of players is only going in one direction. We are still seeing a decent number of players busting each hour, and some of the recent victims of fate include Aiden Wright, Richard Dawson, Stephen Ruffles, Joseph Soloman, Steven Healey, Dominic Smith, Michelle Edwards, Matthew Adams, Elliot Prentice, Andrew Taylor, Mark Zwinkels and Scott Long. – RK
.
.
Passively – 23:08
Siegfried Hodgson vs Claire Ann Hulott played one of the most passive hands I've witnessed today, the former opening with a 5,500 bet which the latter flat called from the SB,



went check/check –

turn card check/check – river

surprise surprise once it again it went check/check 99 vs QQ and Hulott scooped up a very easy pot. – DM
.
.
8 Minutes – 23:04
Just witnessed a hand that took easily 8 minutes to complete and we didn't even make it all the way to the river.
Open to 6,000 Richard Angus on the button flat calls,



flop was spread by the dealer cbet of 11,000 which is called, turn 2:d is where we now spend the next 6+ minutes 12,000 bet to Angus who dwelled over his decision cutting and counting his chips before finally making a move and repopping the bet to 26,000 his opponent now takes about the same amount of time mulling over the bet he now faced, not willing to continue with the bet he passed his hand. – DM
.
.
Dominate Your Opponents – 23:03
At this point there are two real strategies for the shortstacks. No 1 is to nit it up, only play monsters, and hope you have enough chips left that when you do win a hand it is worthwhile. Option 2 is to get aggressive, pick your spots, and put other short and medium stacks under a lot of pressure and try to win small pots, and flip for your tournament life. I just caught a hand that shows what happens when these two style run into each other. As I arrived, both players were effectively all in, and Andrew Chan had


and Byron Sugars was holding


. The pot was for around 70,000 and the board was dealt out.



gave the dominated hand of Sugars a significantly higher number of outs, but the turn of

and the river

were both bricks. Sugars is now crippled with hardly any chips left. – RK
.
.
Ace High Is Good – 23:01
I get to the table on a flop of



There is around 13,000 in the middle with two players in the hand Robert Alden & Peter Godden.
Peter leads out from the small blind position, betting 6700, which is just over half pot.
Robert raises making it 17,500 to play. Peter then moves all in and Rob asks for a count.
He tanks for a minute or two before making the call with just KING HIGH as he tables


, Peter shows

Q:s for ACE HIGH which is infront.
The turn card comes

The river the

.
I stay round the table to see if there was any explanation from Rob for the king high call but there wasn't.
Peter is now up to 113,000 while Rob is down to 30,000.
.
.
Level 14
Blinds now running 1,500/3,000/300 350 players remaining with an average stack of 81,400 – DM
.
.
Announcement – 22:41
Tournament director Nick O'Hara just gave the room a quick heads up on what first prize will be, over £50,000 to the winner! We will keep you all posted on the rest of the prizepool when it's revealed. – DM
.
.
Exits – 22:40
Some exits from around the tables
Damien Swan
Daniel Platten
Eddie Bhakar
Andrew Dobbins
Ian Sheath
Gary Payne
.
.
Big Stack Poker – 22:24
Just before the break Tommy Bingham took out an opponent, opening the button to 4,400 called from the BB flop



check/check turn X Bingham one fisted stuck a bunch of chips into the pot enough to set his opponent all in, calling it off with


he was miles behind the


Bingham is one of the larger stacks in the room with about 280,000 – DM
.
.
Level 14
Blinds now running 1,200/2,400/300 432 players according to the clock. – DM
.
.
Hit the Road Jack… – 22:03
With the tournament room now closed of to the public, in order to allow the game to continue at a decent pace, the players that are hitting the rail are being asked to vacate the area. These players include Michal Mozdzierz, John Cullen, Curtis Dickens, Joe Gatfield, Martyn Roberts, William Roach, Craig Young, Harrison Herbert, Paul Bowser and Sarah Neville. – RK
.
.
Break Time – 21:55
The players are off for a 25 minute break, and while they are away from the tables, the 25 value chips will be raced off. – RK
.
.
Leave it in the Lap of the Gods
Hearing someone say; "I moved all in and he snapped!" I made my way over to table 3 to see what was going on. Sean Williams had pushed his last 23,475 over the line into a pot not much smaller than his stack. Matthew Worsley had snap called his shove with the flop showing



. Williams flipped over


for top pair, but Worsley had middle set with


. The turn brought a gutshot straight draw for Williams with the

, and the river finished the draw off with the

to give him the straight, and cripple Worsley. – RK
.
.
Frustrated – 21:36
Simone Grace Robinson had taken a seat during the week and exited but back at it today she was an early casualty, over hearing her talking to a friend there was a lot of frustration and cursing about how her exit went, vowing not to re-enter today she couldn't help but pass up on all this action & 1 hour to chill out and relax she retook a seat, currently on 40,000 – DM
.
.
Giving it Up – 21:32
Darshan Sami opens to 3,800 gets flat called on the button



was the flop check to his opponent who lead 5,200 quick glance back at the cards and he sent his cards towards the muck. – DM
.
.
Dwell – 21:27
James Ruffles waited a lot longer to either get called or get the push through, moving all in for 16,050 players were really pondering their decisions on wether or not to call him, one player mentioning "I'll respect you you've been pretty tight" – DM
.
.
Flying Out The Door
The players are still flying out the door as we lose…
James Chadwick
Robert Fabian
Michael Cummings
Ian Crompton
Tim Timotheou
Steven Munnings
Gheorghie Iancu
Jamie Brown
From the field.
.
.
Another One Bites the Dust
Adding to the lists of players leaving the tournament right now, Rayn Reece has just knocked out short stack 4905. Reece got it all in with his


and his opponent called with


. The board ran out missing everyone, and another player bit the dust. – RK
.
.
Level 12
The blinds increase as we begin level 12.
They are now 1,000/2,000 with a 200 ante.
480 players remaining.
.
.
Last Years Champ – Busto! – 21:16
We will have a new champ when someone lifts the trophy on Monday night.  As twitter has just told me that the champion from last year Les Fenton has just been eliminated from the field.
.
.
Peekay & Danny FIFAing it Up – 21:10
.
.
Like An Echo – 21:02
I've just been for a wander out on the tournament floor and it's like an echo, all you can hear is "SEAT OPEN" "seat open" "Seat Open." The players busting out at an alarming rate. in the last 15 minutes we have lost 30 players! Two a minute. That is some going and I can't see it stopping any time soon.
.
.
Action – 20:56
Today's action has been fast and furious so many people so many hands just crazy to see we've just under 500 players at the moment. – DM
.
.
Level 11
The blinds are up, and are now running at 800/1,600 with ante of 200.
.
.
Sue On The floor – 20:25
While The Tower was dealing, Sue Pettitt the photographer started to interview people around the tables.
.
.
Last Meal – 20:17
Since the dinner break, we've had a steady stream of player ID cards arrive at our desk as players have come back from their last meal of Goliath 2013. Players who are off to digest their food away from the tables include Ramakrishnan Balasubramanian, Gareth McNeill, Richard Pearson, Vladimir Kuznetsov, Geoffrey Button, Paul Coughlan, Stewart McFarlane and Ajay Bhadresa. – RK
.
.
The Calzone Challenge – 20:13
.
.
Rough Chip Counts
Our lovely tournament staff have provided us with the rough chip counts of the tournament leaders from just before the dinner break:
Christopher Adams – 160000
Mark Harding – 150000
Alexander Gouck – 145000
Michael Stavrou Theodosiou – 140000
Glenn De Cuyper – 135000
Raymond Persaud – 130000
Adam Pollock – 127500
David Paul Jones – 125000
James Brennan – 125000
Steven Dove – 120000
Daniel Powels – 116000
Raghubinder Aujla – 112000
Venu Mallina – 110000
Marcus Bremner – 108625
Piers John Furnace – 107000
Simone Powell – 106375
David Allen – 105000
Thomas Brady – 105000
Paul John Harben – 101500
Mishack Nwenwu – 100000
Garry Underwood – 100000
Richard Marshall – 100000
Darren Michael Aston – 95000
Marcin Milde – 92200
Renee Xie – 91000
Karl West – 90000
Matthew Heap – 88000
Chris Canham  – 88000
Tommy Bingham – 87000
Jason Taylor – 85800
Ricky Farbrother – 85000
Ben Andrews – 85000
Jay Deryck Scott – 84000
Matthew Adams – 83500
Maximillian Roberts – 83100
Paul Reast – 83000
Stephen Barrett – 83000
Nick Bell  – 83000
Patrick Simcoe – 83000
Dilbir Sahota – 82000
Neil Hunt – 81000
Joseph Stoyles – 80000
Allan Peers – 80000
Andrew Larner – 80000
Joseph Pateman – 80000
Jonathan Walker – 80000
.
.
Level 10
The players are back as we begin level 10.
They are now 600/1200 with a 150 ante.
630 players remaining.
.
.
Dinner Break – 18:49
Players are now on their dinner break as they take an hour to get watered and fed.
.
.
Flower of Scotland – 18:45
The Kilted Shark made a grand entrance earlier on today, walking in with a bagpiper playing "Flower of Scotland" behind him. One of the best national anthems in the world and a beautiful sound was made. A very brave thing to do from The Shark as he is in foreign grounds, but everyone enjoyed it.
He is grinding away with his stack and currently has around 30,000.
End of Alternates….Maybe – 18:40
Well we are half way through level 9 and we think everyone on the alternates list has been seated.
We think the total number of entries is 1320 but we are not 100% sure as their might be a few no shows. We will be able to give you the total numbers at the dinner break, which is in 13 minutes.
.
.
More Eliminations
The number of players still playing is finally starting to get smaller, and we're down to around 780 still left in this year's event. Some of the latest to go include Michael Burton, Kevin Houghton, Nicholas Banks, Jordan Bamford, Twm Jones, Ian Roberts, Oliver Biles, Thomas Murray, Wei Kang Wang, Gary Britten, Mudassa Hussain and Matthew Gilland.
.
.
Hotter than the Sun
Lawrence Gosnrey is currently running rather nicely. He is sitting with nearly 100k, and has just been in a rather interesting hand. Nicholas Wood had just re-entered the event, and on his first hand with his new stack, he shoved his 32 big blind stack over the line with pocket sevens.Gosney woke up behind him with pocket kings, and that was that, and a new magic trick was born. "How to make £120 disappear in 1 hand of poker, without making a mistake!" – RK
.
.
Dark – 18:27
Dominic Smith opens to 1,300 with the only caller to his raised coming from the BB, before the flop has even been dealt BB has checked dark with Smith doing likewise –



turn

action checked from the BB it was 1,700 to call, river

this time it was 2525 from Smith and the BB didn't want to continue any further with the hand and folded. – DM
.
.
Over Pair – 18:22
Colin Inskip found himself on the wrong side of the over pair, opening to 1,400 preflop he was raised to 20,000 and playing not much more than that moved all in,


vs


board ran out





– DM
.
.
Chip Counts – 18:19
Marcin Milde – 80,000
Mo Muse – 30,000
Eli Biessek – 42,000
Val Gray – 40,000
Renee Xie (above) – 75,000
Paul Dunne – 55,000
.
.
"Irish Tom" – 18:15
Haven't spotted many familiar Irish faces at all during the week maybe 3-4 but spotted Tom Brady in the field earlier on, having won the IPO last year for €42,000 and then final tabling the Irish Open this year with a 7th place finish he is on a very good run, lets see if he can keep up the good run, currently has a stack of 80,000. – DM
.
.
Constant Stream – 18:12
Floor staff have been dropping over play ID's from bustouts it's been a constant stream since the kick off and we expect it to keep for many hours to come. – DM
.
.
Level 9
Blinds now running 400/800/100 at the end of this level players will go on a 1 hour dinner break. – DM
.
.
Got to Go – 18:09
Arriving over to the table of Paul Twaddle board reading



he pulled a check raise from 2,100 to 8,000 with this his opponent moved all in which was enough to cover, calling it off Twaddle turned over


for a nut flush draw while his opponent held


for top pair top kicker,

turn & brick

river will see him exit the event. – DM
.
.
Time is Precious
Some players's nerves are starting to get a little frayed as the Goliath is now in Last Chance Saloon territory. Over on table 61, I caught a hand with the river dealt, and Craig Young's full stack at risk. The board was reading





andYoung had been waiting for over 3 minutes for his opponent, Esa Pirttijarvi to make a decision. The floor was called to place a 60 second clock on Pirttijarvi, who spent the next 20 seconds complaining about the clock before folding his holding with the comment "He probably had a queen." -RK
.
.
Exits – 17:45
Kerry Abdel
Stephen Simons
Reginald Blundell
Mark Strahan
Caroline Button
Kyle Richardson
.
.
Announcement – 17:37
Tournament director Nick O'Hara just announced that the student tournament that is suppose to take place at 7:30 will be postponed until 8:30 such are the numbers here at the Goliath. – DM
.
.
Level 8 – 17:30
Blinds up as the players begin level eight.
They are now 300/600 with a 50 ante.
.
.
Seat Open – 17:25
Patrick Rowbottom opens the action making it 1200 to play from early position, Scott Walters then enters the pot, three betting to 3,000, Costel Maresi part of the Red Hot Poker crew joins the action cold calling. When the action comes back round to Patrick he also makes the call.
The three players see the flop as it comes



The two preflop agressors check to Costel who moves ALL IN!! A big bet for 16,750. Patrick has a real decision on his hands, going into the tank, thinking about it for a minute or two, counting his stack, he then makes the call.
Scott shows


and folds.
Patrick tables


for the nut flush draw.
Costel –


for top pair top kicker.
The turn card is

, giving Patrick the flush and the hand.
The river is a meaningless

.
Patrick rakes in the pot, and now has close to 70,000!!
Costel leaves his seat. Which means there is space for another alternate.
.
.
Flopped It – 17:22
Arrive to the table of Charlotte Pike with her up against one opponent, all the way to the river





she has checked her action with her opponent betting 7,000 insta called and tabled :Jh7:h for a flopped flush, opponent in the hand also got there on the river with his


– DM
.
.
Oh My, It is Big! – 17:18
The Prize pool in the GukPT Goliath has just broken £250,000 and the event is now the biggest live event to ever have taken place in Europe. We still have more players to seat, and the prize pool is going to continue to grow until all the registered players have been seated. We expect the registered player list to be empty sometime in the next hour or so. – RK
.
.
It's Not Always Best to be First
The first true elimination of the day has happened as Peter Ablett has left the tournament room and his player ID card has appeared on my desk. No further re-entries are possible in the 2013 GukPT Goliath, but we still have a long list of players who bought in before the start of level 7, waiting for seats to become available. We'll bring you the final prize pool as soon as the tournament staff have it confirmed and verified. – RK
.
.
Entries & Alternates – 17:01
We have 1031 entries so far today with an alternates list 200 player long. Although registration has been closed, these 200 players have been guaranteed a seat.
We could well reach the 1200 mark!!
.
.
Level 6 – 16:51
The players are back after their break as we begin the 6th level of the day.
The blinds are now 200/400 with a 50 ante.
839 players remaining from the 1031 entries!!
.
.
Break Time! – 16:26
Players are now on a 25 minute break.
.
.
Recent Eliminations – 16:20
Phil Baker
James Millard
Paul Ledger
Fitzroy Henry
Adam Phelan
Gary Jones
Paul Veal
Paul Woodhead
.
.
1,000 – 16:16
TD Nick O"Hara has just announced over the mic that we've hit 1,000 runners here on Day 1d, WOW! – DM
.
.
Early Chip Leader? – 16:13
Glenn De Cuyper looks to be one of our early chipleaders up to around 110,000 playing earlier on in the week and busting things are on the up & up for the man who came all the way from Belgium – DM
.
.
Chip Counts – 16:07
Some chip counts from around the room.
Paul Twaddle (above) – 32,000
Lee Taylor – 30,000
Matt Adams – 55,000
Dave Allan – 48,000
George Bedi – 67,000
Emma Fryer – 38,000
.
.
Live Stream
For those of you at home looking to see some live action you can follow it all HERE – DM
.
.
Not Even a Chip and a Chair – 15:56
The list of eliminated players is really starting to grow as we have just headed into the last level allowing late or re-entry. Players who have recently lost all their chips include Leigh Wiltshire, Stewart Mackenzie, Vance Martin, Dean Rugg, John Burberry and Wayne Baker. – RK
.
.
Wearing Out
David Wearing, who has a second in last year's GukPT Coventry, has just been eliminated from the main event. The comment I got from the floor person as she delivered the player ID card was "It was a mess, straights, sets, a total mess of a hand!" I'm guessing Wearing is not currently a happy man based on that analysis. – RK
.
.
Level 6
Blinds have been increased and now running 150/300/25 every-time we have a level change somebody hits the gong to mark it, not everybody does it so gently and just now it was whacked which caused a couple people in close proximity to jump. – DM
.
.
The Kilted Shark & Rupert Graham
.
.
Chip Counts – 15:35
Ludo Geilich – 75,000
Peter Wigglesworth – 15,000
Buzz – 11,000
Tim Timotheou – 45,000
Kyle Hendry – 55,000
James Gray – 30,000
.
.
Flushed – 15:32
Limp UTG for 200 Valerie Gray also limps along as does Jamie Cassells, 2 more limpers with the SB & BB completing we go to a multi way pot.
Spreading a



board action is checked Cassells who bets 475, everybody steps out of the way bar Gray, two to the turn

check call of 900,

completes the board with this Gray takes the first aggressive action in the hand leading it for 1,700 it would seem to have been the wrong decision as Cassells raised it up to 4,000 folding to the bet she is shown


for a King high flush. – DM
.
.
Worth the Wait – 15:29
I've just caught up with the tournament staff, and the queue for entries into the event is about 100 players long, and the guesstimate waiting time for a seat is somewhere around 30-45 minutes.  – RK
.
.
Kings No Good – 15:25
Arrive to Table 7 and we have just gotten to the turn,




6,400 in the pot player first to act checks his option to Daniel Souster who leads 3,000 one call from the BB and we lose our other player, river

check/check Souster turns over


as got there against pocket Kings. – DM
.
.
Shattered Dreams – 15:14
By the end of play on Monday, at least one player in the 2013 Goliath will have achived a dream by winning the event. Unfortunately, to make that dream come true, others will have to have had their dreams shattered. Recent players in this boat include Daniel Rose, Wei Kang Wang, Ravi Sharda,  Clifford Houghton, Fahd Ahmed, Eddie Bhakar and Michael Theodosiou who have all busted out. Their dreams are in pieces, unless of course they decide to re-enter… – RK
.
.
Level 5
We've just started Level 5, and the blinds have been raised to 100/200 and the antes have started, and are currently at 25. – RK
.
.
The Bar Area – 15:01
.
.
The Agony of Being Wrong – 14:48
I just caught a hand at table 59, and arrived just as the flop was dealt in this raised heads up pot. The cards were fanned out over the felt to show



and it brought a bet of 1,775 from Karl West. A call was forthcoming from David Jones, which brought the

turn. West fired again, this time for 3,575, and again the call was made in position. The river was the

, completing both straight and flush draws, and causing West to slow down and check. Jones, however, chose this time to take control of the action and raised to 7,000. West went into the tank, and agonised over the decision. After about 4 minutes he came to a decision. "I think you've got it!" he said as he folded his


face up for a flopped set. Jones smiled, and turned over the


for a rivered two pair. – RK
.
.
Eliminations – 14:48
The eliminations are thick and fast! But the room is still absolutely packed, each player who busts is replaced by another player who is happy to take their seat and play for the prizepool which now stands at 233,400.
Players who have just recently been eliminated.
Peter Godden
Wilhelmine Connolly
Jeff Linsdell
Henrik Nowroozi
Aslam Azboa
Paul Dando
Luke Mesquitta
Richard Boulton
Gareth Bunn
.
.
All Hands on Deck – 14:44
It's busy here at the Goliath real busy! 900 players at the moment tables & chairs are being put into any available space, dealers being pulled in to man the new tables that are opening constantly.
Day 1d of the Goliath is going to be mammoth!!! – DM
.
.
The Red Hot Poker Team – 14:30
.
.
Level Four – 14:25
The players are back from the break as we begin level four.
Blinds are now 100/200.
886 entries so far!
.
.
Break Time – 14:01
The players are on a break for the next 25 minutes, and when they return, we'll be going into level 4. – RK
.
.
Tower Playing Tennis -13:58
.
.
Building a Stack – 13:49
While the Goliath is a big event, it's also a great bit of fun for a lot of the players. Jason Glenister is really getting into the spirit if the thing, and has come in fancy dress. He's hoping to build a stack, while demolishing his opponents. – RK
.
.
The Information Age – 13:43
With such a large number of players today, we've just got the confirmed list of players so far, and we can now bring you some of the unfortunates who have already lost their chips.
First out was Andrew Larner, but he has also been joined by Sam Barnes, Mary Brown, Oliver Fabian, Karl Sutton, Andrew Willis, Aaron Wilson and James Screeton among others. – RK
.
.
Alternates List – 13:30
I've just been told by one of the tournament directors that the alternates list is close to 200 players long!!
WOW!! This is going to be HUGE!!
.
.
Level Three – 13:20
The gong has been smashed!! Meaning level three has just begun. Blinds are now 75/150.
841 entries so far.
.
.
Exits – 13:10
So far we have around 15 entries from the field in the first 2 levels. We haven't got a player list yet though, so as soon as we get it we will be able to tell you who the early eliminations were.
.
.
Day 1c Round Up – 13
.
.
Level 2 – 12:40
The blinds increase as we begin the second level of the day. They are now 50/100.
811 entries so far.
.
.
First Blood! – 12:17
We are 17 minutes in, and we have already got out first elimination. We'll try and find out some more information on what happened to whom and let you as soon as we can. – RK
.
.
Shuffle Up & Deal!! – 12:01
Day 1D is now underway here at the Goliath.
A massive 796 entries so far, with a huge queue of alternates waiting to get in!!
.
.
Lets Get Ready to Rumble! – 11:59
The players are streaming into the tournament room and are taking their seats ready to start the action. It's an amazing site watching them all stream in.
.
.
Survivors from Day 1c – 11:27
We've just gone through the chip counts from last night, and the chip leader last night was Matt Hayes, with 589,200 chips to his name at the close of play. The average stack from the 78 player from yesterday's action going into Day 2 was about 198,500.
Matt Hays – 589200
Adrian Evers – 495800
Alexander Slade – 474000
Khalick Mohangee – 468700
Ryall Swartz – 438800
Steve Brown – 424800
Gary Wilson – 403700
Tom Deane – 339500
Karl John Lavender – 337100
Gareth Nelson – 332000
David Carter – 331300
Timothy Slater – 311000
David Joseph Broome – 310300
Marc Stephen Brazier – 306500
Tan Le – 304400
Amit Patel – 299300
Chico Lamont – 293200
Dean Hemmings – 281600
Nigel Bull – 268800
Neville Price – 267800
Richard Hadaway – 251900
Callum Malcolm – 242900
Paul Steven Hardy – 239400
Andrew Holdroyd – 232400
Glen Sparrow – 224000
Manpreet Randhawa – 220600
Abdul Qayyum – 212200
Luke Noutch   – 210800
Terry Carter – 206700
Scott Maxwell – 202000
Alan Grady – 197300
Terence Sykes – 195700
Robert Taylor – 192800
Kevin Humphrey – 192400
Barry Wilson – 192300
Gary Smith – 187000
Adam Wilson – 181500
Maxwell Gray – 172900
James Koumis – 169400
Ross Wood – 167800
Greig Cushnie – 166500
Michael Davies – 161200
Daniel Cox – 160500
Paula Cowling – 159600
Chris Cancelliere – 157100
Chuc Khuu – 148000
Kamil Kot – 141400
Jason Fairbrother – 141300
Shukri Mushahwar – 136600
Nicholas Alan Flanagan – 134300
Liam Barnard – 132000
Gary Martin Kelly – 130100
John Hayman – 128900
Mark Singer – 127100
Philip Mildon – 121200
Darren Moore – 119600
Tasawar Siddique – 117600
Martin Odonohue – 113700
Stephen Kavanagh – 109300
Justin Williams – 105300
Andrew Duncan – 102000
Martyn J. Hancock – 96000
Terence Etim – 95300
Leo Worthingtonleese – 94700
Dominic Mahoney – 91000
Adam Goulding – 89900
Terry James Marheineke – 88900
Mansa Brown – 87000
Yiannis Liperis – 84600
Peter Vu – 81600
Peter William Leonard Rhodes – 80100
Ann Bullivant – 76900
Simon Ainsley Johnson – 74100
Wayne Maw – 73100
Geoffrey Douglas – 59100
Kerry O'Connor – 51900
Robert Topp – 46100
Carl Moulding – 36600
.
.
GOOD MORNING! – 11:23
We are back in the tournament room in the Ricoh Arena and we're all getting ready for the start of the last Day 1 in this year's GukPT Goliath. We'll have the chip counts of the survivors of last night's action in a few minutes. – RK