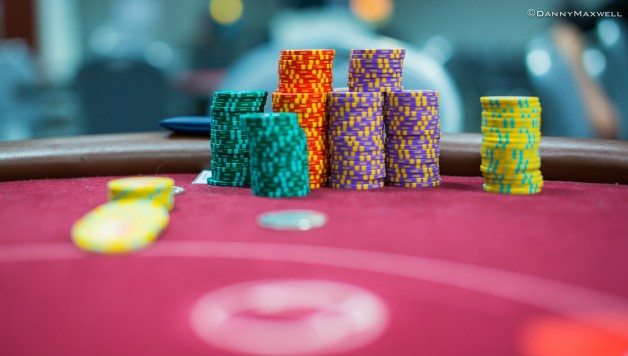 GukPT Goliath 2013 Day 2
Published On August 24, 2013 |
Cullen Leads Going Into Day Three
Day Two here at the Goliath in Coventry has finished 13 minutes early with 27 players.
The day started with 370 players. Ten minutes into play the bubble had burst!! With 360 players being paid, the min cash being £180. Players then flew to the cash desk and at one point there was a queue of 15 players waiting to collect their winnings.
The idea was to play to the end of level 30 today but the players were busting out so quick earlier on that Nick O'Hara decided to cut it short and only play till the end of level 29 or to 27 players which ever came first.
Then when we had around 40 players left play slowed right down as players started to grind their stacks alot more. We would eventually finish before the last level was out though Scott Maxwell being the last player to bust the day in 27th place for £700.
The top four players going into tomorrow are
Daniel Cullen – 7,200,000
Nishid Pnadipleuman – 5,700,000
Peter Rhodes – 4,400,000
Daniel Arbon – 4,100,000
Full chip counts will be up with you as soon as possible.
Play will start again tomorrow at noon and we will play down to the final table, which is nine handed. It will be a short day tomorrow, but it will be a very exciting one!
.
.
Day 2 Over!
Play has stopped for the day, as we are down to a field of 27. The players will be back to play down to the final table of 9 tomorrow. – RK
Final Day 2 Exits
32nd -Sung Hee Yun – £700
31st – Adrian Evers – £700
30th -Guijar Nitoo – £700
29th – Abdul Qayyum- £700
28th – Scott Maxwell – £700
.
.
One of the Last – 23:39
We've lost one of the last players before play will finish for tonight, Scott Maxwell was in the BB with a little over 1,000,000 in chips when the SB had pushed enough pre to set him all in, sitting in his seat he mulled the decision before finally calling with


up against


Flop



Turn

holding the only heart between both players he now had an extra couple outs to hit but when the board completed

it was to the rails. – DM
.
.
Never look a gift horse in the mouth
Abdul Qayyum has just left the tournament after calling Jiri Sladkivsky's shove. Qayyum turned over


and was behind Sladkivsky's


. The board ran out





and sent an extra 1.5 million into Sladkivsky's stack. – RK
.
.
The Field is Shrinking
And that's because more players have busted. The following cashes have been confirmed:
42nd– Michael Brown – £550
41st – Raymond Persaud – £550
40th – George Watson – £550
39th – Vahid Amirzahri – £550
38th – Nathan Dippie – £550
37th – Christopher Blower – £550
36th – Ved Madan – £700
35th – Istvan Szakacs – £700
34th – Robert Taylor – £700
33rd – Frederick Russell – £700
.
.
Last Lady Gone – 23:15
Sung Hee Yun who finished third in this even last year has gone deep again this year.
She is again the last remaining female for a second year running!!
She was on the feature table and shoved for 760,000 with A-7, Ernesto Aguilar making the call with pocket sevens.
Sung couldn't find one of her three outs and is elimninated in 32nd place for £700.
.
.
Cullen Is The Chippy
Daniel Cullen is the chip leader of the whole tournament with just under 6 million chips. 5 minutes into the break and he still hasn't come back yet, even if he didn't come back for the whole level he would probably hold the chip lead going into Day 3 as he has over 3 times average.
.
.
Level 29 – 22:58
The players are back from their break as we begin the final level of the day.
Blinds are 50,000/100,000 with a 10,000 ante.
35 player remaining.
.
.
Break Time – 22:43
Players are now on a 10 minute break as we race off the 1k chips.
.
.
One Direction to the Title
We have a look-a-like in the building, and he has earned the nickname "Harry Styles." He may look a little like a member of a popular boy band, but Daniel Cullen is also accumulating chips in a very big pile right now.
He just eliminated Nathan Dippie when "Harry's"


called the shove made with


. I want to see a 3." said Dippie. The board ran out





which was devoid of a 3, sending him home. – RK
.
.
Down to 4 Tables – 22:40
Chris Blower has just been eliminated in 37th place for £550. With his elimination we are now down to our final four tables.
.
.
Dealer to Player – 22:39
Istvan Szakacs would've normally been dealing this event but he decided to give it a go playing instead, busting a bullet during one of the Day 1's he went back at it again and made better on the second as he has secured himself a minimum of £700
Dropping to 2 bigs at one stage he has been grinding away and had a stack of about 1,500,000 before I caught a hand where he increased his stack by another 400,000+
Open in EP to 250,000 player next to act folded his hand but exposed

by accident, Szakacs in the CO flatted behind, flop



action checked to him and he lead 520,000 at the pot, orginal raiser flashes


while


was from the would be player. – DM
.
.
2 million Flip – 22:35
Lee Taylor makes it 200,000 to play from late position, directly to his left Jiri Sladkocsky moves all in, Lee asks for a count and it's 740,000 more. He makes the call after two minutes in the tank.
We have a 2 million chip coin flip as Lee tables


vs the


of Jiri.
The flop comes



, Jiri flops the nut flush draw, a gut shot and still has two overs.
The turn card comes

!!! Giving Jiri the nut flush and the pot.
The river card is a meaningless

.
Jiri takes the 2 million chip pot.
Lee is left with 1.4million.
..
.
Split Down The Middle
Robert Trueman opens the action and Luke Vinnicombe defends in the big blind.
The flop comes



Luke then checks to Robert who moves all in!! Luke goes into the tank then asks for a count, it's 943,000 to call, he thinks about it for 2 or three minutes, he has a stack of around 1.8million.
He then says fold and tables


!!! Bottom two pair.
Robert says WOW as he shows


for an over pair, nut flush draw and gut shot straight draw.
The table then all start to speak about the hand, some saying how can you fold and others saying it was a good fold, it seems the players are split down the middle about it.
Robert takes the pot and survives. Luke is still comfortable with over the average stack of 1.6million.
..
.
Double your Chipstack, Double your Fun – 22:16
Stephen Young just doubled up through Marc Brazier by hitting a draw on the river.
His


 was up against Brazier's


and I arrived as all the money went in on the



flop. Brazier was ahead with his top pair, but Young had the open ended straight draw and the back door flush draw. The Turn improved his odds with the

and the

river sent the 1.3 Million chip pot to Young. -RK
.
.
Quick Dash – 22:10
Jonathan Cosgrove just came over to the blogging station asking about charging his phone, if the phone rings and it's from Gaby it means his wife is going into labour, it's one of the more peculiar stories I've heard in awhile, currently playing a stack of 1,800,000 he is sitting above average but at any minute might have to make a quick dash to the maternity ward, wishing him all the best on & off the felt – DM
.
.
Even More Confirmed Cashes
We have more confirmed cashes from the cash desk, and we are down to 42 players left in the Goliath. The last bustouts were:
60th – Joshua Clarke
59th – Richard Angus
58th – Craig Charles
57th – Sandra Beesley
56th – Dean Aldred
55th – Gordon Goodall
54th – Keith Hudson
53rd – Timothy Lloyd
52nd – Kenneth Kemp
51st – Barry Wilson
49th – Andrew Duncan
48th – Robert Topp
47th Tom Deane
46th Byron Sugars
45th – Alexander Slade
44th Terry Marheineke
43rd – John Hayman
They all take home £550 from their time in the 2013 GukPT Goliath. – RK
.
.
Level 28
Blinds now running 40,000/80,000/8,000 43 players remain with an average stack of 1,493,000 – DM
.
.
Break Time – 21:41
Break time now as the players take 15 minutes.
.
.
Flipping Hell – 21:38
Nishid Pnadipleuman is sitting with chips on table 4, and to his left were 2 shorter stacks, the very short Terry Marheineke and Paul Kelly. He is applying pressure to these two, and recently opened a hand from the button by announcing al in. Marheineke made the call while Kelly folded. The cards were turned over and Pnadipleuman had


while Marheineke had


. The flip went in Pnadipleuman's way as the board was dealt out to show





, and Marheineke hit the rail. – RJ
.
.
Down to 50 players! – 21:27
All in and a call on the feature table… Paul Penders the short stack all in for 400,000, called by Donovan Burton
Paul –



Donovan –


The board runs out






Kings hold for Donovan who takes the pot, he now has 1.2 million which is average stack.
We lose Paul in around 51st place for £550.
.
.
Double the average Stack – 21:25
We've just had a pot that was more than double the average stack over 2,500,000 UTG opens to 160,000 flatted from Jake Skidmore the player in the CO, action to the BB who 3bet all in for well over 2mill
It looked like a perfect spot for a squeeze with a bunch of chips already in the middle, UTG stepped out of the way while Skidmore mulled over his decision and went into the tank, playing over a milly in chips in made the call and with that it brought in the player from the CO also for over 500,000
As the cards went over onto their backs it was


for the SB it wasn't a squeeze he had a genuine hand, Skidmore held


while


from the CO



flop was safe enough for the Kings but bingo

on the turn snatched away the lead and with the river falling

it was top two pair for Skidmore but more importantly he has probably moved into position as one of the chipleaders and claimed an elimination in the process. – DM
.
.
Last Woman Standing
Sunghee Yun is the last lady in the 2013 Goliath. She's sitting at table 6, with about 900,000 in her stack. Every time I've gone past, she's seemed very quiet, yet solid and playing well, which probably explains why she came 3rd in last year's Goliath.
.
.
Lady Down – 21:05
The action is folded round to the small blind Scott Maxwell who gets it all in attacking Sandra Beesley in the big blind who calls off her short stack with


, that's ahead of the


of Scott.
The board runs out





.
The two pair os Scott takes the pot.
Sandra Beesley heads out in around 55th place for £550.
.
.
More Confirmed Cashes
The number of bustouts is starting to slow down now, but we are still down to only 60 players left in the 2013 Goliath. The last 10 bustouts were:
70th – Martin Tonks – £430
69th – Timothy Slater – £430
68th – Mark Caine – £430
67th – James Cunningham – £430
66th – Richard Leniewski – £430
65th – Timothy White – £430
64th – Christopher Watson – £430
63rd – Michael Maruna – £550
62nd – Jonathan Tyrer – £550
61st – Lee Clarke – £550
.
.
2 Million Chip Pot – 20:51
The action is opened in late position, making it 110,000 to play, Luke Vinnicombe then moves all in!! Craig Charles postures up in the big blind, and asks for a count, it's 971,000 to call, Craig moves ALL IN to create a huge pot which is over 2 million!! The opener gets out of the way and the two hands are tabled…
Luke proudly shows


and gives his mate on the side rail a high five, a very dangerous thing to tease the poker gods by celebrating too early.
Craig tables


and will need Hudinis help to win this pot.
The board runs out





No sweat for Luke (pictured) who doubles to 2 million chips, he gives his mate another high five as he now has double average.
Craig is left with 550,000.
.
.
Staring You Right in the Face
We now have a table right in front of the media desk at the Goliath, so it's a little hard to miss a call of "All In" when it happens within touching distance. We just had one of these, and Lee Clarke got his last 250k into the middle with


and he was snapped off by Adrian Evers with


. The board was dealt in one single flow, and stared up from the felt as





, sealing Clarke's fate. – RK
.
.
QUADS for Taylor – 20:35
The action is passed round to Lee Taylor in late position, who moves all in for 425,000. Ying Wong then also moves all in from the big blind and the big blind gets out of the way.
Everytime they get an all in a call a dealer must shout a member of the floor staff over to over see the situation incase we lose a player. As the 'suit' as we calll them is on his way over Lee begins to question Ying.
Lee: Have you got a pair?
Ying: Yes
Lee: Kings? Ying: Nope.
Lee: Queens? Ying: Nope
Lee: Aces? Ying: YES!
The TD gets there and Ying tables


Lee didn't ask Ying is he had Jacks because he has them showing


The flop comes



Lee takes the lead flopping a set!!
The turn card is

The river card the

!!!!!!
Lee (below) hits QUADS to double up to 1 million chips!!!
Ying is left with 400,000.
.
.
Table Change – 20:34
Look over to see players up and leave a table at the far side of the room thinking they were breaking into others but no they were just moving to a new table that had a bit more warmth, sitting in a draft is never good at a poker table. – DM
.
.
Running over Cowboys – 20:28
It is nice to run well, especially when your tournament life depends on it.Scott Maxwell saw


in his hand, and pushed his stack of about 450k over the line. Big stack Christopher Watson was still to act behind, and woke up with "The Cowboys". The board ran out




and the

river completed Maxwell's wheel straight. He's now up to about 860k which is just below average. – RK
.
.
Couldn't Get There – 20:26
Hearing "all in & call" from the feature table I rush over to see Mark Caine had moved all in for his last 250,000


getting looked up by


it was off to the flop coming down



Caine had outs all over the place flush/straight draw sweating the next two cards but coming


he couldn't hit one of his many outs and he exited the event. – DM
.
.
Flip, like your tournament life depends on it – 20:15
There is a quiet confidence we're probably not going to get all the way through the scheduled levels tonight, and we are going to run into the hard limit of 27 players. With players flipping for their tournament lives as much as is happening, I think the confidence is well placed.
I just caught a hand where Joseph Pateman got his stack in with


and was on the positive side of the flip against Stephen Young's


.
The board ran out





and eliminated Pateman. Young is still below the 917k average with only about 550k, so needs to find some more cards soon. – RK
.
.
Double Up's All Round – 20:11
Christopher Watson in EP position found himself a hand to move all in preflop with


action folded around to the player in the BB who tanked for a minute before eventually calling the 386,000 all in with





flop was spread

turn give Watson a pair but he still had to fade the over cards as the river rolled off

it was time to sit back in his seat and stack up all his new chips. – DM
.
.
Suited Connectors – 20:01
Craig Charles lowly pocket 3's were able to hold against


all in pre flop,





264,000 was his count as his opponent cut out the chips from his stack he was left with about 300,000
On the table right beside the hand above I hear somebody banging the table, looking over I see another


couldn't get there against


of Lloyd White the hand had been completed with the board reading





415,00 was the count of White's stack which puts him right around the average chip count now. – DM
.
.
Chip Counts:
Full chip counts of all surviving players:
Daniel  Cullen  2160000
Timothy           Lloyd  2075000
Paul     Mcardle           1760000
Byron  Sugars 1680000
Nathan            Dippie 1530000
Peter William Leonard            Rhodes            1520000
Jonathan          Cosgrove         1460000
Rhys Wyn       Ellis     1340000
Adrian Evers   1300000
Ernesto            Aguilar            1300000
Lee      Taylor  1280000
Alan    Egan    1130000
Tom     Deane  1080000
Kenneth Paul  Kemp  1080000
Ying Dyt Danny         Wong  1075000
Marc Stephen  Brazier 1070000
Istvan  Szakacs           1060000
Ciprian            Berdan            1060000
Khalick            Mohangee       1050000
Robert Trueman          1030000
Barry   Wilson 1030000
Daniel  Arbon  1020000
Scott    Maxwell          1010000
Guijar  Nitoo   1000000
Richard           Johnson           960000
Joshua Reece   Clarke  930000
James Guy       Cunningham    880000
Sunghee          Yun     875000
Jiri       Sladkovsky     870000
Philip   Bain     870000
Alexander       Slade   830000
Frederick         Russell 820000
Antony Jason  Wickert           820000
Lee      Clarke  805000
Steven Winstanley      790000
Robert Taylor  780000
Vahid  Amirzahiri       775000
Stephen           Young 760000
Craig   Charles            740000
Andrew           Holdroyd        740000
William            Mcmurray        720000
Richard           Leniewski        701100
Mark    Caine   700000
William            Greenwood     700000
Luke    Vinnicombe     690000
Keith   Hudson           680000
Michael           Brown 665000
Michael           Maruna            660000
Tasawar           Siddique          655000
Nishid Pnadipleuman 650000
Timothy James            White  645000
David  Griffiths          585000
Abdul  Qayyum          570000
Daniel  Cox     570000
Mark    Smith   570000
Jonathan          Tyrer    565000
Aarun  Bernard           550000
Robert Topp    545000
Maxwell          Gray    520000
Sandra Beesley            517000
Gordon            Goodall           510000
Terry James     Marheineke     500000
Jake     Skidmore         495000
Raymond        Persaud           470000
Dean    Aldred 455000
Christopher     Blower            455000
Richard           Angus  440000
Timothy           Slater   425000
Donovan         Burton 415000
Nathan            Tudman           400000
Jason   Fairbrother      400000
John     Hayman           380000
Christopher     Watson            365000
Ved     Madan 350000
Andrew           Duncan            315000
Stephen           Barrett 305000
Geoffrey         Dunn   285000
Richard           Hadaway         260000
Kevin  Stevens            251000
Paul     Penders           250000
Martin Tonks  235000
Joseph Pateman          230000
Nigel   Bull     215000
George            Watson            200000
.
.
Level 25
Blinds now running 20,000/40,000/4,000 84 players remain, average stack of 764,300 – DM
.
.
Yet More Eliminations
The number players still in is still falling so quickly, that if we graphed it, it would look like a stick market crash. The last ten players to cash were:
95th – David Paul Jones
94th – Siegfried Hodgson
93rd – Gary Wilson
92nd – Callum Malcolm
91st – Dos Pereira
90th – Eleanor Hodgkin
89th – Raghubinder Aujla
88th – Kamil Kot
87th – Valetin Svilenov
86th – Martin J Hancock
85th – Peter Haslam
They all pick up £430 for surviving this far in the biggest live poker event ever held in Europe. – RK
Dinner Time – 18:32
Players will now leave the tournament area for a 1 hour dinner break, 84 players remain and we will be back with you all shortly.
.
.
And still they fall… – 18:31
We are still losing players at a pretty brisk rate from the Goliath. Table 1 just sent up the cry "All In and a Call!" and I headed over. When I arrived, Ciprian Berdan had called Peter Haslam's all in with


. Haslam turned over


. The board ran out





, and it was all over. I'm sure Peter would have been very happy to know he was going to turn 2 pair before the cards were dealt. The only issue was Berdan's set getting in the way. Haslam picks up £430 for his 85th place.  – RK
.
.
Kamil Runs Into Aces – 18:25
Khalick Mohangee makes it 107,000 to play from first position, Kamil Kot moves all in for 416,000. Richard Hadaway then goes into the tank for a few minutes, he opts to fold. Ying Wong then enters the pot, also moving all in for 543,000 to create a huge pot!!
The action comes back to Khalick who have a moment or two folds :10d :10s face up.
Kamil tables


Ying shows the bullets


The board comes down





Ying takes the pot with a set and now has over a million!!
Kamil heads out in around 89th place for £430.
.
.
Pie & Chips – 18:14
Byron Sugars looks to be our tournament chipleader at the moment with a stack of over 2,100,000 chips and the pie on top. – DM
.
.
Whatever Comes First – 18:11
We have just been told that we will be player till the end of level 29 today or when we get down to 27 players. Whichever one comes first.
Tournament Director Nick O'Hara thinks we will get down to 27 players first.
.
.
Doubled – 18:05
Up on the feature table Daniel Arbon has just got a nice double through, opening the HJ to 77,000 with


player on the button moved all in with


applying maximum pressure, off we went to a flop of



things were looking good no flush draw possibilities but when a

popped up on the turn it probably gave him a brief moment of concern for the suckout,

river completed the board and it was 472,00 x2 plus blinds and antes see Arbon back up over average chips. – DM
.
.
Greig Cushine Exits – 17:55
Greig Cushine makes it 50,000 to play from the cutoff. Alan Egan moves all in from the button for around 400,000, he just has Greig covered. When the action comes back to Greig he snap calls for his tournament life..
Greig –



Alan –


The flop comes



as Alan flops two pair takig the lead.
The rurn card is

meaning Greig cannot win.
The river card is

.
With that we love Greig Cushine in 97th place for £430
Alan Egan is now up to around 800,000.
.
.
95 Left!
We have just had it confirmed, we have 95 runners left in the event, and the last 10 players to bust were:
106th – Ali Haidar – £340
105th – Amit Patel – £340
104th – Ryan Barnes – £340
103th – Adrian Chell – £340 – £340
102nd – Tim Crowther – £340
101st – Scott Royale – £340
100th – Robert Harding – £340
99th – Stewart Wood – £340
98th –  David Carter – £430
97th – Greig Cushine – £430
96th – Phillip Harding – £430
.
.
Level 24
Blinds now increase to 15,000/30,000/3,000 95 players remain with an average stack of 683,000 at the end of this level players will be leaving for a 1 hour dinner break. – DM
All In! – 17:43
We have around 100 players left in the event, which has taken out average chip count up to over 620,000. Players who are short are now doing their best to get their chips in the middle while they are ahead. Andrew Duncan just did that at table 8, when he got it all in with


before the flop against Gordon Goodall. Goodall was holding


, but has chips to spare. The board ran out





and Duncan is now a lot closer to an average stack. – RK
.
.
So Close – 17:42
Tim Crowther was just the river card away from getting a much needed double up but it was to be a cruel one that sees him exit the event instead, limp UTG for 24,000 and Crowther in the SB moved all in fro 175,000 dwelling for a minute or two his opponent made the call,


vs


flop



pairing his seven on the turn

he got cruelly rivered when a

popped up. – DM
.
.
Chip & A Chair
Richard Leniewski was down to just 8,000 chips an hour ago, which was just ONE big blind!!
He has just been all in again with 10-10 vs A-Q and managed to double.
He now has 900,000!!! Fantastic comeback from him.
.
.
Recent Eliminations
We've just got a list of some of the recent eliminations.
136th – Paul Harben
135th – Alessio Sanchirico
134th – Sami Ozone
133th – Simon John
132nd – George Liperis
131st – Christopher Huyton
130th – Winston Jones
129th – Allan Hyde
128th – Ross Wood
127th – Eammon Sharp
126th – Matthew Windsor
All of the players have earned £340 for their play in the event this week. – RK
.
.
Coining a Phrase
Mark Wilkins has coined a new phrase today that may, or may not, take the poker world by storm. During a hand earlier o. his opponent was getting chatty, and his response was "Don't you start that Mind Virus **** with me."  The table seems to have taken it to heart, and insisted on it going in the blog.
Coining a phrase is great, but Wilkins is running on fumes. He has just doubled up with


against


  with a flopped

but he still needs to get moving if he wants to make it to day 3. – RK
.
.
Level 23 – 17:12
The gong has been smashed by Nick as we begin level 23.
The blinds are now 12,000/24,000 with a 3,000 ante.
113 players remaining.
.
.
Mohangee The Man- 17:04
Khalick Mohangee who finished 4th in GukPT Reading earlier in the year is going well in this tournament. Khalick is one of the nicest guys around and will always play with a smile on his face. He has around 850,000, which is in good shape as the average is only 535,000.
Drawing Dead – 17:03
Button open to 52,000 SB shoved for 120,000 Luke Vinnicombe in the BB rejammed to isolate, button passes up on the action.
SB –


Vinnicombe –


Flopping his opponent dead as the dealer spread



not wanting to wait around to see how the board ran out


player from the SB was up out of his seat and walking away from the table. -DM
 .
.
Huge Pot! – 16:55
I get to the table on a flop of



with around 140,000 in the middle.
Peter Rhodes bets 100,000, Matthew Windsor raises to 224,000. Peter then moves all in!!
Matthew goes into the tank and asks for a count, it's 360,000 more to call, this is a HUGE pot.
Matthew eventually makes a crying call tabling


for an over pair.
He has two outs as Peter shows


for top set, the nuts on the flop.
The turn card comes

.
The river card is a picture card, but it's

.
Peter takes the pot and is up to 1.3million!!
Matthew is down to just 150,000.
.
.
Rough Chip Counts
Thanks to the great tournament staff, we have rough chip counts of the chip leaders around the room.
Scott Royle     660000
Mark Caine     685000
Ian Sanders     600000
Mark Wilkins  330000
Scott Maxwell 620000
Timothy Lloyd            1300000
Aarun Bernard            550000
Steven Winstanley      800000
Jianhui Nie      520000
Abdul Qayyum           630000
Mark Anthony Perry   1000080
Byron Sugars  1150000
Siegfried Hodgson      510000
Marc Stephen Brazier 966000
Jake Skidmore 435000
Daniel Cox      520000
Terry James Marheineke         677000
Joseph Pateman 600000
Tom Deane      820000
Alexander Slade         850000
Robert S Ince  900000
Craig Charles  960000
Adrian Evers   1650000
Timothy James            White  650000
David Carter   690000
Richard Sheils 660000
Richard Johnson         850000
David Paul Jones        950000
James Guy Cunningham         680000
Stephen Young           670000
Ernesto Aguilar           800000
Nathan Dippie 1600000
.
.
Level 22
In come the remaining 141 players to start level 22.
Blinds are now 10,000/20,000 with a 2,000 ante.
.
.
Break Time
Players have left the room for a 25 minute break. – DM
.
.
Getting There
Istvan Szakacs moves all in for his last 10 big blinds, 160,000, and is called by Daniel Arbon.
Istvan tables


and will need help vs the


The flop comes



The turn card comes

The river card is

!!!!!!!!
Istvan gets there on the river and doubles up to 340,000!!
Daniel is down to around 450,000.
.
.
Back Again
I had just finished writing up the split pot hand from the feature table, and I was on my way back there again for another pot involving Shukri Mushahwar. He had called the shove from Wayne Maw sat just to his right, creating a pot of around 170k.
Maw turned over the


and was flipping against Mushahwar's


.
The board ran out





, and the chips were passed over to Wayne. Mushahwar's stack however, has been crippled. – RK
.
.
Griffiths Loses Flip – 15:55
Dean Griffiths moves his short stack of 150,000 all in, Ricky Farbrother directly also moves all in for around 210,000, everyone else gets out of the way and the two players table their cards….
Dean..



Ricky..


The board runs out





Ricky takes the pot with two pair and now has around average stack with 370,000.
Dean finishes in around 163rd place for £270.
.
.
Chop it Up
I was just grabbed by one of the floor staff as we had a big hand at the feature table. Shukri Mushahwar had shoved, and got a call from Peter Rhodes. Matthew Windsor was still to act, and reshoved, putting Rhodes at risk. He went into the tank, and after a couple of minutes, made the pass.
Windsor flipped over his


, and with a smile and a little laugh, Mushahwar flipped over


. The cards in the middle were dealt out as





and the massive pot was chopped between the two remaining players. – RK
.
.
13 Levels – 15:37
It has just been announced that because we are losing players so quick, then we will only be playing 13 levels today, not the 14 that was planned. That means we will finish play around 11pm.
.
.
Zhang Runs Into Kings – 15:33
Thomas Zhang gets his last 100,000 in the middle with


and runs into the


of Kamil Kot.
The board runs out





Thomas heads out in around 170th place taking £270 for his efforts.
Kamil is up to around 550,000.
.
.
Level 21
The blinds increase as we begin level 21.
They are now 8,000/16,000 with a 2,000 ante.
.
.
Eliminations – 15:25
190th – John Wells – £270
191st – Elizabeth Hancock – £270
192nd – Trung Moc – £270
193rd – Kishorkumar Rajput – £270
194th – Thomas Green – £270
195th – Emma Fryer – £270
.
.
Lucky Ladies
We have 6 ladies left in the event with 173 left in, They are Sunghee Yun, Catherine Simpson, Sandra Beesley, Eleanor Hodgkin, Jackie Harper and Carol Everton. They may be outnumbered, but don't write them off yet. – RK
.
.
Live Stream
Do not forget to check out our live stream which is running all the way through until we have a winner on Monday.
You can watch it HERE!!!!
.
.
Other Eliminations
We haven't been able to grab every bustout hand, and some of the most recent eliminations have been:
216th – Louis Plested
215th – Garry Underwood
214th – Gareth Nelson
213th – Dilbir Sahota
212th – Andrew Garland
211th – Sebastian Ionita
210th  -Amit Patel
209th – 406 Terrance Sykes
208th – 808 David Barclay
All of them have pocketed £220 for their efforts in this year's event. – RK
 .
 .
Some Big Stacks
It's not possible to get all the big stacks because there is so many tables left. Here are some of the big stacks from around the tables, I'm sure I have missed a few off.
Ernesto Aguilar – 900,000
Josh Clark – 600,000
Siegfred Hodgson – 700,000
Max Gray – 640,000
Nathan Dippie – 900,000
Sami Ozone – 900,000
.
.
Another One Bites the Dust – 14:48
Getting it all in preflop is pretty standard right now, with those on shortstacks left biting their nails as the floor is called to supervise the bustouts.
Scott Maxwell just got it in with


from the small blind, and was snapped off by Terrence Sykes in the next seat with


. The board ran out





, and Maxwell left to pick up his winnings. We have 200 players left in. – RK
.
.
Level 20
Blinds Up as the players begin level 20.
They are now 6,000/12,000 with a 1,000 ante.
208 players remaining.
.
.
Falling Fast
The players are dropping faster than we can cope with. There is currently a queue of 15 players who have been eliminated and are waiting for their money.
We are down to around 230 players now.
14 levels will be played today.
.
.
Big Stack
The stack above belongs to Adrian Evers, and from my rather unscientific pole of chips stacks (I walked round the room and eyeballed them all), it seems he is the chip leader with about 990k. With the cries of "All In and a call!" still ringing out around the room, I think our first chip stack of more than a million can't be far away. – RK
.
.
Level 19 – 14:05
The blinds increase as they begin level 19.
They are now 5,000/10,000 with a 1,000 ante.
265 players remaining.
.
.
Break Time! – 13:41
The players are off for a 25 minute break. The 100 value chips will be raced off during thier toime away from the tables. – RK
.
.
First Prize Confirmed – 13:39
We have just had the first prize confirmed to us by the tournament staff. One lucky player is going to walk away with £56,540 on Monday night. Not bad for a £100 + £20 buy in. – RK
.
.
Not Every Hand is a Bustout
While a lot of players are leaving the tournament right now, not every big hand is a bustout. Stewart Wood just got his 120k stack all in with


, and found himself behind to Shahla Javadi's


. The Floor person arrived, and the flop was dealt to show



, putting Javadi further ahead. The turn changed that, as it came

, and the river of

changed nothing. Wood is now sitting with an average stack, while Javadi is going to need a double up soon. – RK
.
.
That's Poker – 13:21
All in on a call on table 19. I rush over over pen and paper in hand to find Stephen Moss all in with


vs the


of Andrew Holdroyd.
The flop comes



as Stephen flops a set to take the lead!!
The turn card comes

giving Andrew four more outs with a gut shot.
The river card is

!!!!!!
A straight for Andrew as he doubles up to 300,000!!
Stephen takes it in good spirits, shrugs his shoulders and says "That's poker" as he sits back down to his 40,000 stack.
.
.
Cracked! – 13:18
More players are putting their tournament lives at risk now they are guaranteed a return on their investment. Not everything goes to plan though, and I just saw the


of 2806 cracked when he got his short stack in against the


of 2081. The board ran out





to bring the statistically unlike result. We have 285 left in, and that number is shrinking fast. –RK
.
.
The Team Challenge – 13:11
This year we have had 84 teams registered in the Goliath. Of the 370 players remaining, 77 are part of a team with 47 teams still represented.
The winning team will receive free entry into next years Goliath & a £500 online freeroll. The highest point scorer will get a £1000 Main Event seat and the team will all get a trophy.
.
.
307 Left – 13:06
We have 307 left in the event, and the shouts of "All In and a Call!" are still ringing out around the room. With so many short stacks in the room, this was always going to happen, and the tournaent staff are handling the flow of eliminations like the pros they are. – RK
Level 18
Blinds up as we begin level 18.
They are now 4,000/8,000 with a 800 ante.
.
.
Dropping like Flies – 13:02
As normally happens once the bubble bursts, players are doing their stacks in an attempt to spin up their short stacks on route to a deeper cash. I just caught one of these hands on the feature tbale as Liam Barnard got his 90k stack all in against Stefan Trevelyn. Barnard's


was in a race with Trevelyn's


. The flop changed those numbers as it fell



, putting Trevelyn even further ahead. The Turn and river of

and

didn't change anything, and Barbard went off to the cash desk to sort out his prize. – RK
.
.
Min Cash
I caught the bustout hand for Katy Garner as she left the event to be one of the 7 to share the bottom prize. She had shoved her


and had been called in the small blind by 201 with


. After the floor had arrived to ensure the eliminations were handled in order, the community cards were dealt. 5 cards later, the board read





and Katy hit the rail with the min cash. – RK
.
.
Cash! – 12:45
The first cashes of the 2013 Goliath are in, and the prize for 360th place is being split 7 ways. Because it's going to so many people, each of these 7 are also getting a seat in next year's goliath event as well tpo go with the £25.70. The 7 players are Wei Wang, Stephanie Lowe, Vince Campbell, Gavin Helmore, Sam Barnes, Katy Garner and Justin Williams. – RK
.
.
Day 1D Round Up – 12:40
.
.
Live Stream – 12:35
The live stream is up and running!!
You can watch it HERE!!!
.
.
We are in the Money! – 12:28
The bubble has burst here on Day 2 of the GukPT Goliath, and we'll bring you the details as soon as we have them confirmed. – RK
.
.
Shuffle up and Deal – 12:08
Day 2 has begun, and the blinds are at 3,000,/6,000 with an ante of 600.
Day 2 Chips Counts:
Matt Hays – 589200
Adrian Evers – 495800
Nishid Pnadipleuman – 485000
Alexander Slade – 474000
Khalick Mohangee – 468700
Richard Angus – 454000
Ryall Swartz – 438800
Steve Brown – 424800
Vahid Amirzahiri – 422000
Nathan Tudman – 420100
Gary Wilson – 403700
Nigel Griffiths – 384500
Nathan Dippie – 383900
Stephen Barrett – 383100
Jordan Michael T Kyle – 382300
Timothy James White – 367100
Ryan Barnes – 365600
Andriena Nutt – 353900
Ying Dyt "Danny" Wong – 345600
Andrei Ene – 343700
Tom Deane – 339500
Sami Ozone – 339300
Karl John Lavender – 337100
Jake Skidmore – 336600
Alan Egan – 333900
Gareth Nelson – 332000
David Carter – 331300
Richard Marshall – 325100
Jonathan Cosgrove – 320100
David Paul Jones – 316000
David Griffiths – 315500
Timothy Slater – 311000
David Joseph Broome – 310300
Christopher Blower – 309900
Scott Royle – 309900
Valentin Svilenov – 307000
Marc Stephen Brazier – 306500
Ciprian Berdan – 305500
Tan Le – 304400
Robert Panayi – 300500
Amit Patel – 299300
Mark Anthony Perry – 296200
Garry Underwood – 296100
Afon Hedd Morris – 295400
Eleanor Rose Hodgkin – 295300
Paul John Harben – 294500
Colin Bidwell – 293800
Lee Taylor – 293600
Raghubinder Aujla – 293500
Chico Lamont – 293200
Aarun Bernard – 292400
Richard Leniewski – 291800
Robert Harding – 290600
Simon John – 288000
Keith Hudson – 285900
Dean Hemmings – 281600
Paul McArdle – 279900
Antony Jason Wickert – 279700
Michael Boitz – 277000
Gerald Cochlan – 276800
Trung Moc – 275600
Gordon Goodall – 270600
Nicholas Aldridge – 269100
Timothy Lloyd – 268900
Nigel Bull – 268800
Neville Price – 267800
Alistair Carins – 266800
Ian Sanders – 266500
Craig Charles – 265700
John Fontana – 263600
Ethan Jenkins – 257500
Jordan Daniels – 256800
Luke Vinnicombe – 256500
Shane Barnes – 256100
Catherine Simpson – 255300
Gary Taylor – 254500
Joshua Reece Clarke – 253600
Ricky Farbrother – 253300
Christopher Rhodes 252000
Richard Hadaway 251900
Reza Ghaffari 251000
Thomas Zhang 248900
Ali Haidar 248500
Mircea-alexandru Fier 248000
Paul Penders 248000
Matthew Farmer 242900
CALLUM MALCOLM 242900
Emma Fryer 242600
Richard Johnson 241600
Peter Haslam 239900
Paul Steven Hardy 239400
Sean Downs 238700
Shaun Higgins 236600
James Guy Cunningham 236500
Daniel Arbon 235000
Andrew Holdroyd 232400
Tariq Mahmood 229000
Simone Powell 227700
Glen Sparrow 224000
Fitzroy Johnson Henry 223700
Matthew Windsor 223100
Manpreet Randhawa 220600
Kenneth Paul Kemp 220500
Jamie Donovan 218600
Robert Trueman 218600
Richard Sheils 218500
Sunghee Yun 216800
Jake Kumar 214100
Ilija Stojsavljevic 214000
Michele Degiovanni 213200
Allan Peers 212300
Abdul Qayyum 212200
Steven Dove 212100
Wei Wang 211600
Luke Noutch 210800
Dilbir Sahota 210000
Jason Hesson 206700
Terry Carter 206700
Shahla Javadi 204100
Christopher Watson 203200
Geoffrey Dunn 202400
Scott Maxwell 202000
Daniel Daw 200200
David Field 199100
Martin Tonks 197300
Alan Grady 197300
George Watson 196000
Terence Sykes 195700
Luke Whiting 194000
Christopher Williamson 193700
Robert Taylor 192800
Kevin Humphrey 192400
Andrew Hayes 192400
Barry Wilson 192300
Tom Steuartfeilding 190600
Ved Madan 188600
Jianhui Nie 187700
Gary Smith 187000
Kerry Woods 186000
Stewart Wood 185100
Garry James Hallows 184400
Jack Shutt 183400
Byron Sugars 183300
Mark Harding 182300
Adam Wilson 181500
Robert Michael H Finch 181400
Gavin Daniel Blakeway 180400
Carol Everton 179600
Daniel Cullen 179000
Paul Leach 179000
Louis Plested 177800
Steven Winstanley 176100
Jeremy Brown 175600
Raymond Persaud 175600
Darren Grosvenor 175000
Bhim Ruia 173800
Peter Graham Whitehouse 173800
Stephen Young 173400
Paul David Chester 173400
Mohammed Hossien Ghollamrezapour 173100
Maxwell Gray 172900
Frederick Russell 171600
James Koumis 169400
Darren Michael Aston 169200
Stephen Thomas Roache 168900
Susan Oconnor 167800
Ross Wood 167800
Jane Sibley 167000
Chuck Sellers 166800
Sandra Beesley 166800
Stuart Reynolds 166600
Greig Cushnie 166500
Philip Bain 166300
Ji Ye Zhang 165000
Andrew Garland 164700
David Watts 164400
Paul Brown 163500
Sebastian Skurzynski 162700
Sebastian Ionita 162600
Michael Davies 161200
Michael Brown 161100
Daniel Cox 160500
Paula Cowling 159600
Mark Caine 158800
Chris Cancelliere 157100
David John W Newman 156700
Jonathan Tyrer 155700
Winston George Jones 155200
Guijar Nitoo 153100
Dean Aldred 152100
John Wells 150800
Gerard Condon 150000
Leslie Lamnea 149700
Adrian Chell 149200
Ryan Reece 149000
Daniel Thomas Kennedy 149000
Mohammed Asad 148000
Chuc Khuu 148000
Ernesto Aguilar 147900
Jiri Sladkovsky 147100
Christopher Wildgust 147000
Paul Edward Veal 145600
Richard Batchellier 143500
Joseph Cockburn 143500
Gary Miller 142100
Kamil Kot 141400
Jason Fairbrother 141300
Giovanni Albanese 141100
Lee Clarke 140500
Paul Thorpe 140300
George Edward Liperis 138300
Stephen Moss 137400
Philip Baker 136800
Shukri Mushahwar 136600
Matthew Heap 134500
Nicholas Alan Flanagan 134300
Michal Czeszel 134200
Eammon Sharp 132800
Peter Rogers 132300
Liam Barnard 132000
Matthew Gary Charles Needham 131900
Jenyue Chiang 131500
daniel powels 131400
Istvan Szakacs 131400
Johnson Eininnya Matthew Nwabuko 130700
Gary Martin Kelly 130100
John Hayman 128900
Ashley Kinsella 128700
Allan Hyde 128700
Mark Singer 127100
Paul Reast 126600
David Barclay 126100
Mark Lucas 125100
Robert Alden 123400
Paul Gardener 122000
Sam Barnes 121900
Andrew Paul Mcleod 121400
Philip Mildon 121200
Malcolm Linton 120800
Joseph Quinn 120400
Christopher Geater 120400
Darren Moore 119600
David Quince 119500
John Burns 119100
Dos Pereira 118600
David Wood 117700
Tasawar Siddique 117600
Michael Kossov 114800
Alessio Sanchirico 114400
Stephen Broomfield 114200
Pablo Engl 113900
Martin Odonohue 113700
Phillip Harding 113000
Vaughan Di Mascio 111700
Charlene Coleman 111600
Donovan Burton 111200
Mark Wilkins 109400
Stephen Kavanagh 109300
Nic Simons 108100
John Timoney 106800
Brian Fenton 106500
Lloyd White 105900
Gary Gilbertson 105900
Ellie Biessek 105500
Justin Williams 105300
Kishorkumar Rajput 104800
Stefan Trevelyan 103800
Daniel Carl Petty 103600
William Mcmurray 103600
William Greenwood 102300
Andrew Duncan 102000
John Kane 100700
Ross Leonard White 100500
Michael Greenwood – 100000
Rhys Wyn Ellis 100000
Siegfried Hodgson 98500
Anthony Fox 98000
Herrero Luis 96600
Claire Ann Hulott 96170
Martyn J. Hancock 96000
Terence Etim 95300
Jay Edwards 95100
Leo Worthingtonleese 94700
Tim Crowther 93400
Vincent Junior Campbell 92800
George Lawson 92700
Eric Spicer 92500
Dominic Mahoney 91000
Paul Jones 90400
Mishack Nwenwu 90100
Adam Goulding 89900
Colin Sawbridge 89600
CHRIS CANHAM 89400
Neil James Jackson 89300
Terry James Marheineke 88900
Michael Maruna 88500
Paul Kelly 88500
Vicky Vandriessche 88300
David Oldacre 88200
Noel Andrew Farrell 87100
Mansa Brown 87000
Natalie Bromley 86900
Richard Stocks 86600
Adam Pollock 86400
Linas Mataitis 86000
Lewis Mcgregor 84700
Yiannis Liperis 84600
Joseph Stone 84500
Thomas Green 84300
Mark Whittingham 83700
Sam Whitehead 83000
Peter Vu 81600
Peter William Leonard Rhodes 80100
Nicholas James Jennings 77900
Hardeep Bassi 77500
Ann Bullivant 76900
Simon Gibbs 76400
Christopher Huyton 75700
Kris Pillay 75500
Colin Macdougau 75400
Robert Cook 74800
Simon Ainsley Johnson 74100
Paul Foy 73900
Wayne Maw 73100
Jackie Harper 70700
Gavin Helmore 70500
Adam Wilkinson 69600
Elizabeth Hancock 68900
John Bell 67500
Simon Hill 66300
Darren James Proud 66100
Billy Ngo 65400
Sean Smyth 64600
Glenn De Cuyper 64300
Anthony Stanley 63400
Kelly Ince 61400
Joseph Pateman 60800
Renee Xie 60200
Omatayo Tanimowo 59400
Reemster Ahmed 59400
John Barry Mills 59100
Geoffrey Douglas 59100
Michael Hart 59000
Ryan Jonathan Mandara 58000
Adam Bromley 56900
Adam James Kelly 56100
Anthony Haughey 53600
Katy Garner 53000
Kerry Oconnor 51900
Julie Butler 50300
Frederick Field 50000
Jan-Frederik VanOverschee 48600
James Ruffles 48400
David Goody 47900
James Woolgrove 47200
Huu Doc Nguyen 47200
Christopher Pendle 46800
Robert Topp 46100
Jack Michaels 45800
Kevin Stevens 41600
Mark Smith 41200
Carl Moulding 36600
Dean Griffiths 35400
Robert S Ince 34700
John Zulewski 33400
Jay Deryck Scott 31800
Simone Robinson 25000
David Keith Barlow 25000
Paul Holmes 25000
Raimundas Kurminas 22500
Stephanie Lowe 20800
Simon Deadman 20000
.
.Bubble  Time! – 11:41
The final touches are being out to the tables in the Ricoh Area for Day 2 of the GukPT Goliath, and we have to lose 11 players before everyone left gets paid. We'll be bringing you the chip counts as soon as we can. – RK