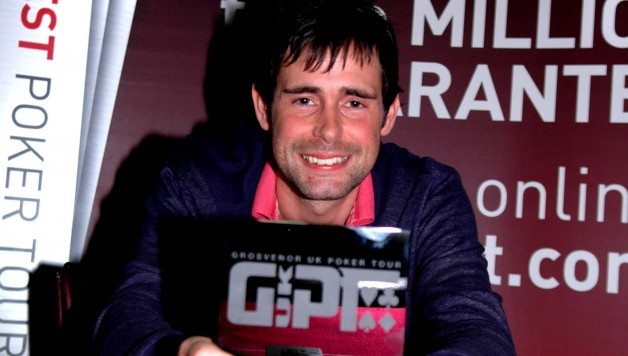 GUKPT Leg 3 Report
Published On May 13, 2013 |
Neil Raine is GUKPT Stockton champion, defeating a field of 116 runners to pick up the £17,690 first prize.
The 28-year-old professional player beat Dave Collins heads-up, his K-9 of clubs finding a king-high, two club flop which he slow played to perfection, allowing Collins to bluff all-in on the turn with just third pair. A second king on the river gave Raine trips and his first GUKPT title, quite a spin up from his investment in a £55 online qualifier.
Stockton's G Casino hosted the third leg of the 2013 tour, with a week-long festival highlighted by the £500, £50k guaranteed, Main Event.
World Series of Poker bracelet winner Lawrence Gosney, GUKPT leaderboard champ Martin Holmes and recent GPS Newcastle champ Ellie Biessek headlined a stellar field in the Main, and while Martin's challenge came up short, Lawrence and Ellie were both still well in the hunt deep into day two.
While Yorkshireman Gosney continued to the final table, it was Ellie who was the unfortunate final table bubble, her A-9 no match for the A-J of Dave Collins.
While Gosney was undoubtedly the most recognisable name at the final, he was outchipped by best friends Tom Hall, winner of last weeks' World Snooker Championships Poker tournament and a final tablist at the last GUKPT in Didsbury, and Raine, who was dominant chip leader with 535,000 chips.
The final table lined up as follows:
Seat One – Chris Green-Smith – 176,100
Seat Two – Neil Raine – 535,000
Seat Three – Chris Howden – 216,600
Seat Four – Lawrence Gosney – 313,000
Seat Five – Dave Collins – 157,600
Seat Six – Stephen Sung – 275,300
Seat Seven – Dave Maudlin – 15,600
Seat Eight – John Bousfield – 267,500
Seat Nine – Tom Hall – 343,000
With local lad Dave Maudlin coming back with just two big blinds, it wasn't long before he made a stand, but his 6-7 was not much of a match for the pocket queens of Chris Howden, who sent Dave home with £1,450.
Next to depart was Chris Green-Smith, who picked up £1,740 for eighth place. He committed his stack with K-9 on a king-high flop, only to get that out-kicked feeling when Stephen Sung flipped his K-Q.
After Chris Howden had been sent home in seventh, £2,320 tucked in his back pocket for his weekend's work, Sung was at it again, taking out John Bousfield in sixth.
Sung raised to 20,000, Bousfield three-bet shoved for 151,500 Raine cold called and Sung put in the extra 130k to create a big pot.
The A-J-2 flop hit the preflop raiser squarely in the face, his pocket jacks making a set that sent Bousfield, who held A-T, home with £2,900.
Despite that small setback, Raine had maintained his chip lead, and he extended it further by taking out Gosney in fifth place soon afterwards.
The 8-9-T flop looked pretty good to the bracelet winner, who held Q-T for top pair and a gutshot, but Raine had flopped a straight with 6-7 and Gosney couldn't find a jack to make a higher straight and had to settle for a £4,060 payday.
Tom Hall had found the ace he needed in a race earlier with A-K v Sung's pocket jacks, but when he found the same match up against Dave Collins, it was the local legend that came out on top, his jacks holding to take down a monster pot.
The dangerous Hall went home with £4,930 for fourth place, one spot above his finish in leg two at Didsbury.
Three-handed and with stacks pretty even, play slowed down as the remaining players jousted for top spot and that all important trophy.
The breakthrough came with a bad beat for Sung, and it was that man Raine who was the beneficiary.
Sung limp reraised all-in from the button with pocket kings and got the call he wanted from Raine, who held A-Q.
A ten-high flop was safe enough, but that dreaded ace hit the turn and Sung's kings were sunk. He picked up £7,830 for an excellent performance, coming up just short in third.
Heads-up play commenced with Dave holding the upper hand, 1.2million to Neil's 1.1million. With blinds at 8,000/16,000, a long battle looked likely with effective stacks of nearly 70 big blinds.
However, Neil quickly won a huge pot, rivering a set of kings against Dave's flopped two pairs, taking a 2:1 chip lead.
From then on the momentum was with the Scarborough man, picking off a three barrel bluff with bottom pair and setting up the final hand to claim victory.
Dave made it 50k to play and Neil called in the big blind. Dave continued the aggression on the Kd-Tc-7c flop, firing 60k when Neil checked, which was quickly called.
An innocuous looking deuce of spades hit the turn and Neil checked again. Dave moved all-in for around 300k and Neil snapped him off, showing Kc-9c for top pair and a flush draw. Dave showed 7d-5d for just third pair, and another king on the river sealed his fate.
An excellent performance from Dave secured him the runners-up spot and £12,470, but the trophy went to Neil Raine.
He said: "It was a tough final because we were so deep but I was really lucky with the table draw, Tom was on my table, but he couldn't do anything because he couldn't get past me. It was really enjoyable, a really good structure.
"Three handed was a nightmare it took so long, no one was getting coolered! I had a few hands where my opponent was in front 'til the river and I got there a few times."
Next up on the tour schedule is Leg 4 at the G Casino in Portsmouth from the 26th May to the 2nd June, with the £500 + £50 £50,000 guaranteed main event commencing on Thursday 30th May.