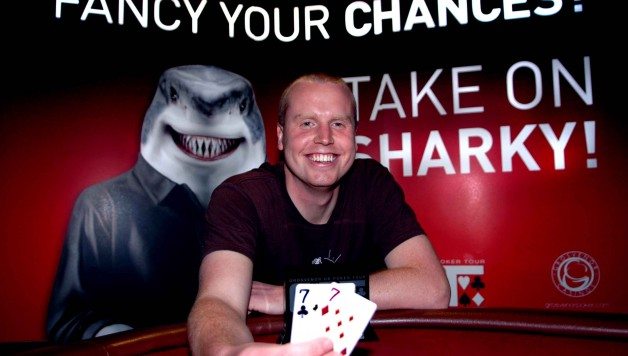 GUKPT Walsall Report
Published On July 15, 2013 |
High Tighe in Walsall
David Tighe is nearly £25,000 richer today after taking down leg 6 of the 2013 GUKPT in Walsall.
The 30 year old beat tour veteran Charlie Denton heads-up, the crucial hand seeing his pocket sevens hold up over A-4 to take the trophy, the added seat to the GUKPT Grand Final, and a cheque for £24,910.
"I had a big chip lead heads up and didn't want to double Charlie up," said the Birmingham-based online pro. "I've just come back from Vegas and played a lot of no limit hold 'em before that trip, and it's paid off, taking this down."
Tighe cashed twice in this year's World Series, and carried on that form back on home soil, going to war with chip leader Tim Slater when play got short-handed, and then wielding his big stack with great success.
A total of 172 people bought into the £500 Main Event at the Grosvenor G Casino Walsall, breaking the record for a Main Event of this buy-in, which had stood less than a month, since leg 5 in Reading.
With two players busting on the final hand of day two, Slater led the following eight players into the final table:
Seat One – Charles Ihle – 190,000
Seat Two – Tim Slater – 987,500
Seat Three – Mark Hester – 176,500
Seat Four – Mohammed 'Mr G' Ghollamre – 527,000
Seat Five – Gerard Harraghy – 287,500
Seat Six – David Tighe – 543,500
Seat Seven – Charlie Denton – 365,500
Seat Eight – Julian Thew – 364,000
With almost $3million in career earnings, and a record three GUKPT victories behind him, Julian Thew was undoubtedly the biggest name at the Walsall final table, but he was first to depart, running pocket queens into Charlie Denton's aces to take eighth place for £2,370.
David conquered the seventh place finisher, Mark Hester, besting his A-6 with Q-J, which flopped a gutshot and turned top pair. Mark won £3,220 for his weekend's work.
Ireland's Gerard Harraghy bowed out in sixth for £4,090, shoving his 20 big blinds with A-2, only to find original raiser Mr G lying in wait with A-K.
From hunter to hunted, Mr G departed not long after, allowing Tim Slater to turn a set of nines after checking the flop with his pocket aces, and failing to hit one of his two outs.
Mr G received £5,160 for his top five finish, leaving Tim favourite to take the title with half the chips in play.
However, David and Tim started to battle, with David seeming to get the upper hand.
While all that was going on, Charles Ihle, who had nurtured his short stack expertly, finally found a hand worthy of committing to.
He moved allin with the nut flush draw, but Charlie Denton held A-K for top two pair, and Charles went in fourth with £6,660 in his back pocket.
Three-handed play went on for a good hour, with David and Tim continuing to battle while Charlie picked his spots to maintain his stack.
Eventually they clashed for the final time, getting all the chips in preflop with Tim's A-5 against David's pocket nines.
A 9-7-6 flop gave David top set, but Tim screamed "eight ball!" as he picked up a gutshot straight draw.
Sure enough, the dealer turned an eight, and Tim's fans went wild, but they were silenced when a seven hit the river to give David a full house.
Tim's third-place finish was worth £10,970.
Heads up looked like being a quick affair, with Charlie 10-1 down in chips, but the Scouser, who final tabled this event five years ago too, fought like a lion to try and regain parity.
Having doubled up once with J-7 suited against David's two eights, another double up would have seen 'the Chisel' close to level, but his A-4 reraise allin couldn't find any help.
"I wanted to win the tournament, but second's not too bad, and I think I played pretty well," said Charlie after his runner-up finish, which banked him £17,420.
"I was down to 2,000 chips twice on day one and had to fight hard, but I'm glad I stuck at it. I'll be in Brighton for the next one, I'll just have to win that instead."
Local lad Tim, playing for Blueblood Poker, was disappointed not to have won after having such a big stack, but was still in buoyant mood afterwards.
He said: "I enjoyed it, it was a great tournament, but I'm obviously disappointed how it went. I expected to win because I had a lot of chips but David played very aggressively and put the pressure on."
Next up on the tour schedule is Leg 7 at the Grosvenor G Casino Brighton from the 21st to the 28th July, with the £500+£50 £50,000 guaranteed main event commencing on Thursday 25th July.