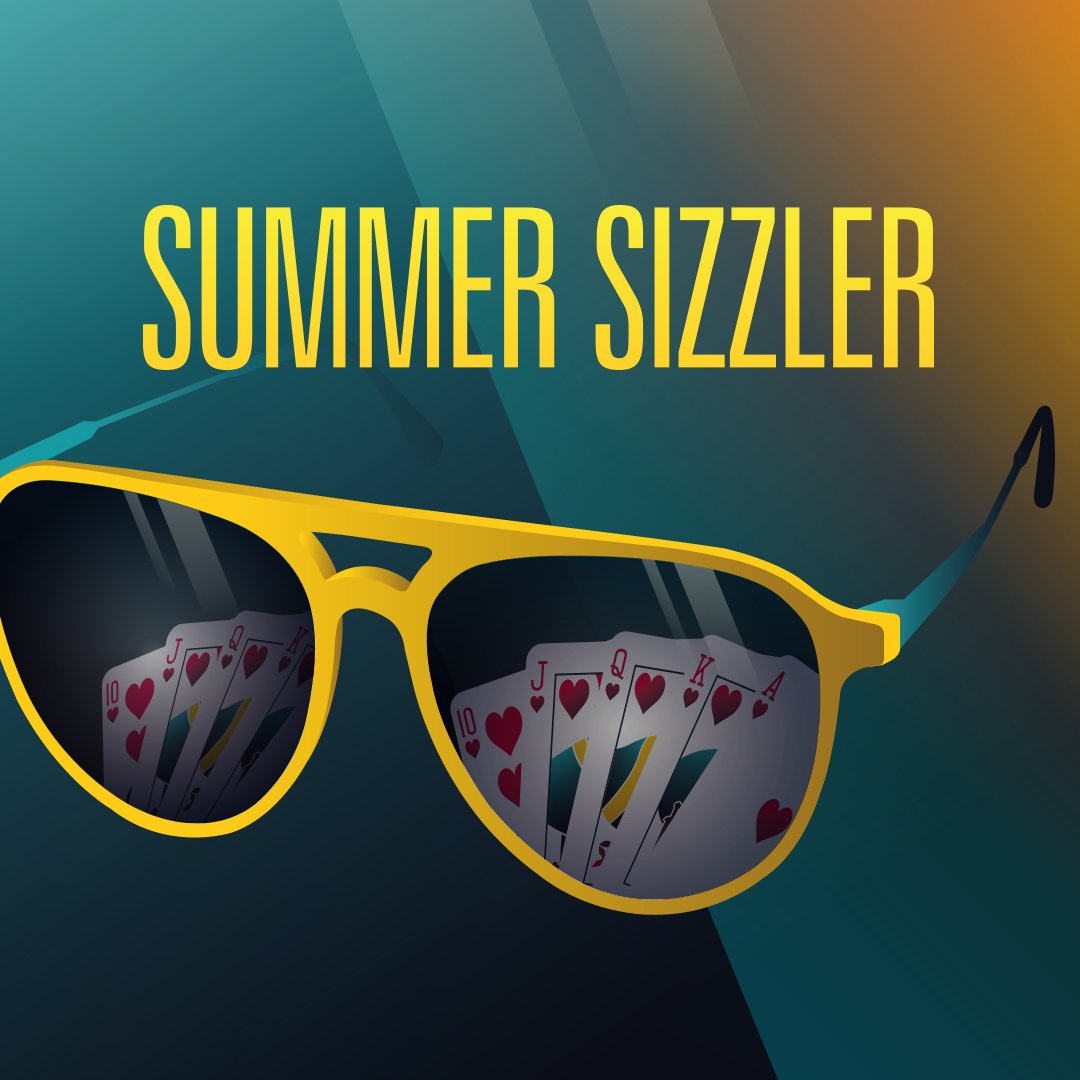 The heatwave returns as record numbers expected for the Summer Sizzler
Published On August 21, 2018 |
Grosvenor Casinos has just recovered from running the phenomenal Goliath. After breaking the record for hosting the largest live poker tournament outside the U.S.A the tournament team certainly enjoyed a small well-earned break. However there's no time for them to rest on their laurels as there's a jam packed poker calendar to adhere to! It's now time to make way for the ever popular – Summer Sizzler.
From 21st to 29th August the Summer Sizzler will be taking place at a Grosvenor Casino near you. Each region will host their own £20,000 guaranteed (£100+15 buy-in) poker tournament. The Summer Sizzler is 1 of 3 'Seasonal Special' events hosted by Grosvenor Casinos throughout the year. Each event is run independently across 7 UK regions, meaning everyone has the chance to get involved without the need for too much travel. Day 1s run at various Grosvenor Casino cardrooms in each region before all day 2 players are brought together in a predetermined location in each region to fight it out for one of the 7 Summer Sizzler titles on offer.
The Seasonal Specials are affectionately known as some of the most social poker events of the year. With this unique concept bringing local players together to play for great prizes it's easy to see why.
Summer Sizzler Day 1's and Day 2 dates and venues
Scotland
7:30pm on Sunday 19th August – Day 1A – Online on Grosvenorpoker.com
7:30pm on Wednesday 22nd August – Day 1B – Glasgow Merchant City
7:30pm on Thursday 23rd August – Day 1C – Dundee
7:30pm on Friday 24th August – Day 1D – Edinburgh Maybury
7:30pm on Friday 24th August – Day 1E – Aberdeen
4:00pm on Saturday 25th August – Day 1F – Glasgow Merchant City
2:00pm on Sunday 26th August – Day 2 – Glasgow Merchant City
Northeast
7:30pm on Sunday 19th August – Day 1A – Online on Grosvenorpoker.com
7:30pm on Wednesday 22nd August – Day 1B – Newcastle
7:30pm on Thursday 23rd August – Day 1C – Sunderland
7.30pm on Friday 24th August – Day 1D – Stockton
4:00pm on Saturday 25th August – Day 1E – Newcastle
4:00pm on Sunday 26th August – Day 1F – Stockton
2:00pm on Monday 27th August – Day 2 – Stockton
Yorkshire
7:30pm on Sunday 19th August – Day 1A – Online on Grosvenorpoker.com
7:30pm on Wednesday 22nd August – Day 1B – Leeds
7:30pm on Thursday 23rd August – Day 1C – Hull
7:30pm on Friday 24th August – Day 1D – Sheffield
4:00pm on Saturday 25th August – Day 1E – Huddersfield
4:00pm on Sunday 26th August – Day 1F – Leeds
2:00pm on Monday 27th August – Day 2 – Leeds
Northwest
7:30pm on Sunday 19th August – Day 1A – Online on Grosvenorpoker.com
7:30pm on Thursday 23rd August – Day 1B – Bolton
7:30pm on Thursday 23rd August – Day 1C – Liverpool
7:30pm on Friday 24th August – Day 1D – Didsbury
7:30pm on Saturday 25th August – Day 1E – Blackpool
4:00pm on Sunday 26th August – Day 1F – Manchester Bury New Road
2:00pm on Monday 27th August – Day 2 – Manchester Bury New Road

Midlands + Wales
7:30pm on Sunday 19th August – Day 1A – Online on Grosvenorpoker.com
7:30pm on Wednesday 22nd August – Day 1B – Birmingham Hill St
7:30pm on Thursday 23rd August – Day 1C – Swansea & Leicester
7:30pm on Friday 24th August – Day 1D – Walsall
7:30pm on Saturday 25th August – Day 1E – Cardiff
4:00pm on Sunday 26th August – Day 1F – Coventry
2:00pm on Monday 27th August – Day 2 – Coventry
Southeast
7:30pm on Sunday 19th August – Day 1A – Online on Grosvenorpoker.com
7:30pm on Wednesday 22nd August – Day 1B – Luton
7:30pm on Thursday 23rd August – Day 1C – Thanet
7:30pm on Friday 24th August – Day 1D – London
7:30pm on Saturday 25th August – Day 1E – Reading
4:00pm on Sunday 26th August – Day 1F – London
7:30pm on Sunday 26th August – Day 1G – Luton
2:00pm on Monday 27th August – Day 2 – Luton
£10 LPS with 3 x £200+25 25/25 seats GTD
South Coast
7:30pm on Sunday 19th August – Day 1A – Online on Grosvenorpoker.com
7:30pm on Friday 24th August – Day 1B – Portsmouth
7:30pm on Saturday 25th August – Day 1C – Southampton
4:00pm on Sunday 26th August – Day 1D – Bournemouth
2:00pm on Monday 27th August – Day 2 – Portsmouth