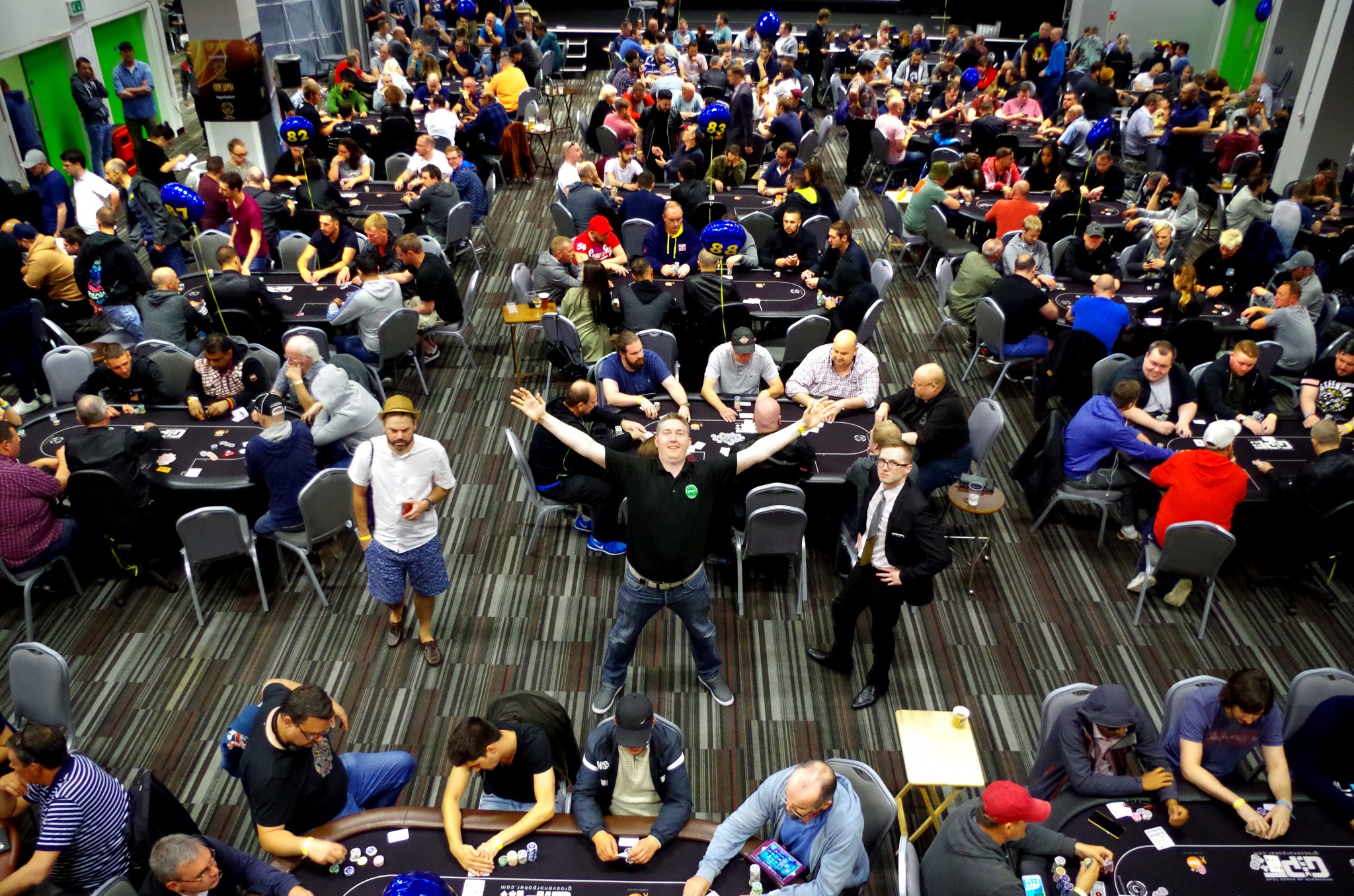 Make way for Goliath: The UK's Largest Live Poker Tournament returns to Coventry
Published On July 24, 2018 |
The week the whole poker world has been waiting for is here, Goliath returns for 2018, and it's bigger than ever!
As record breaking temperatures soar across the country, Grosvenor Casinos' Goliath is ready to break its own record and make poker history yet again by hosting the largest live poker tournament outside of the USA.
The Growth of Goliath
Born in 2011 this event was an instant success, attracting over 1700 players to the luxurious surroundings of the Grosvenor Casino Coventry in the Ricoh Arena. As word spread of the life changing sums on offer to players of all experience and abilities the event has grown to such an extent that this year the attendance is expected to be four times that of the original, with the casino bracing itself for over 6,500 main event players. If that wasn't enough, 1st prize is now guaranteed at a staggering £100,000!
Last year's Goliath Main Event attracted 6,385 entries, creating a prize pool of £638,500. It was brick layer, Elliott Marais, who built the biggest stack and ended as the last man standing taking home £85,000.
| | |
| --- | --- |
| | Total entries |
| 2011 | 1765 |
| 2012 | 1954 |
| 2013 | 2570 |
| 2014 | 3394 |
| 2015 | 4210 |
| 2016 | 5232 |
| 2017 | 6385 |
| 2018 | Over 6,500 expected |
Goliath Main Event by numbers
2018 Goliath
The 2018 Goliath officially kicks off with Day 1a of the 25/50 taking place on Grosvenorpoker.com this Wednesday. Grosvenorpoker.com is also playing host to three more satellites, tonight (Tuesday), Wednesday and Thursday, with a guaranteed 90 x £125 Goliath Main Event seats up for grabs in total.
Grosvenor Casino Coventry in the Ricoh Arena opens its doors on the 26th July for Day 1B of the 25/50 event. From then on a vast array of poker tournaments and 24-hour cash games will be running all the way up to Sunday 5th August.
The undoubted star of the show, the record breaking Goliath Main Event returns on Saturday 28th July, the 1st of 7 day 1's. This £100+25 buy-in event with its huge guaranteed first prize is expected to create a prizepool of over £650,000!
As well as the Goliath Main Event and many of the regular side event favourites, Grosvenor Casinos is excited to add three brand new events to the festival line up;
Grosvenor UK women's poker championship (GUKWPC) carrying a buy-in of £50+8 and a guarantee of £5,000. Please note the GUKWPC will follow standard No Limit Texas Hold'em rules.
Grosvenor UK senior poker championship (GUKSPC) with a buy-in of £50+8 for all players aged over 50
All new daily Flip 'n' Goes – the quickest way to win your £100+25 Goliath seat from only £13!
Additional Information
The Goliath Tournament Team have put together a list of tips to help all players' Goliath experience run smoothly
As well as a full schedule of tournament poker, Grosvenor Casino Coventry will also be running 24 hour cash games with up to 30 tables running at one time
Grosvenor Casinos' travel partner, Maineventtravel.com, are still on hand to help with any accommodation or travel enquires
There will be plenty of food options to keep players energised through-out the week. Cooked breakfasts will be served at 7am. Grab 'n' Go food such as burgers, hotdogs, jacket potatoes and pie and mash will be served from 12pm. A dinner buffet will be served from 5pm as well as Grosvenor Casino Coventry's very own restaurant offering a steak menu from 8pm.
Players and spectators can keep updated with live and upcoming poker events and cash games at every Grosvenor Casino Cardroom by downloading the Poker Live App today, available on iOS and Android.