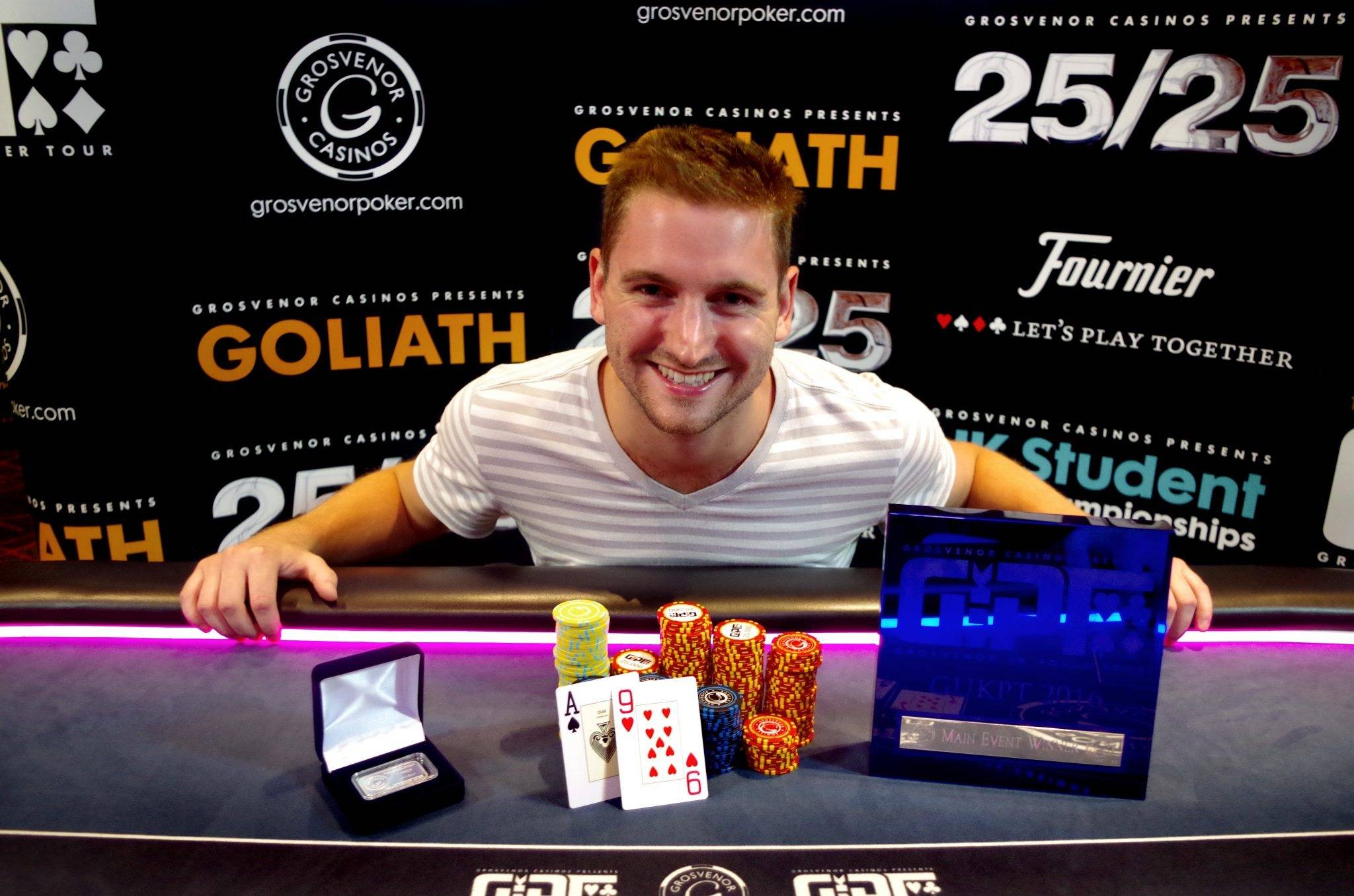 Oh Canada! Brett Kennedy scoops £45k as the GUKPT returns to the Capital
Published On July 5, 2016 |
Oh Canada! Brett Kennedy scoops £45k as the GUKPT returns to the Capital
That's a wrap for the 2nd stop in London on the GUKPT 10 year anniversary tour!
Grosvenor Casinos expected it to be a huge event and the London poker community certainly didn't let us down with a staggering 419 entries in to the £500+50 buy-in Main Event, doubling the £200,000 Guarantee!
As we know the GUKPT draws in poker players from far and wide and Grosvenor Casinos were delighted to see Canadian Brett Kennedy leave The Poker Room triumphant with the coveted trophy in tow. The 25 year old Financial Analyst was on a mission to win enough money to clear his student loans and with a win of £45,470 we're sure he accomplished just that with enough left over to celebrate in style.
Despite Brett clinching the title it was runner up Nguyen Khoa Le who left with the lion's share of the prizepool, a cool £50,000 to be precise, after a deal was made between the remaining two players during heads up play. At the time Nguyen Khoa Le had a considerable chip lead but in true David and Goliath fashion Brett fought his way through his chip deficit in a 90 minute heads up battle that will go down in GUKPT history books.
Also featured on the final were Spaniard Jose Bazan (3rd) and film extra Justin Kyrikides (8th) who both wanted to win enough to get to the WSOP in Las Vegas. Property developer Nick Rishover (4th), Sacha Brookes (7th) and Stephen Bean (9th) all plan to spend their winnings on their families. Sheet music curator Chris Lamb, taught Poker by his parents at a young age will have done them proud (6th) and last but not least Ravi Sharda (5th) was looking for his second Grosvenor Casinos' title after winning the 25/25 series in Reading last year.
A special mention must go to Jakub Sons from the Czech Republic. Jakub is in London for a week long holiday and just happened to stumble upon the GUKPT. Not only did Jakub make a run deep in to the GUKPT Main Event he also won the GUKPT Bounty and The Poker Room's regular tournament last night. Grosvenor Casinos always welcome international players with open arms, it's always great to see an eclectic mix of nationalities on our tables creating a diverse and unique experience for all our players.
The GUKPT will be back on the road in September as it heads to Edinburgh but before then we have the event that we've all been waiting for, the record breaking Goliath! Last year saw 4,210 entries to the £100+20 buy-in Main Event making it the biggest live poker tournament in Europe. Grosvenor Casinos are determined to break their own record and you could be a part of it.
GUKPT London Main Event
£500 NLHE F/O
1st – £45,470 – Brett Kennedy
2nd – £50,000 – Nguyen Khoa Le
3rd – £23,250 – Jose Bazan
4th – £14,670 – Nick Rishover
5th – £9,840 – Ravi Sharda
6th – £7,130 – Chris Lamb
7th – £5,440 – Sacha Brookes
8th – £4,610 – Justin Kyrikides
9th – £3,770 – Stephen Bean
10th – £3,350 – Mark Davey
11th – £2,940 – Iraj Amiri
12th – £2,720 – Jozsef Csapo
13th – £2,520 – Martin Bader
14th – £2,290 – Andreas Sanden
15th – £2,100 – Anon
16th – £2,100 – Neil McCulloch
17th – £1,890 – Brault Valentin
18th – £1,890 – Fahd Bannani-Smires
19th – £1,890 – Robertas Zebragski
20th – £1,680 – Mark Brockwell
21st – £1,680 – Mark Heath
22nd – £1,680 – Dan Barriocanal
23rd – £1,680 – Jan Naderzadeh
24th – £1,470 – Aeragan Arunan
25th – £1,470 – Stephen O'Keeffe
26th – £1,470 – Mykola Vysotskyi
27th – £1,470 – Scott Wood
28th – £1,470 – Steve Chennels
29th – £1,260 – Andrejus Sizincevas
30th – £1,260 – Thomas Drew
31st – £1,260 – Charlie Denton
32nd – £1,260 – Brian Peattie
33rd – £1,260 – Jonathan Hayward
34th – £1,260 – Barrie Gotch
Prizepool – £209,500