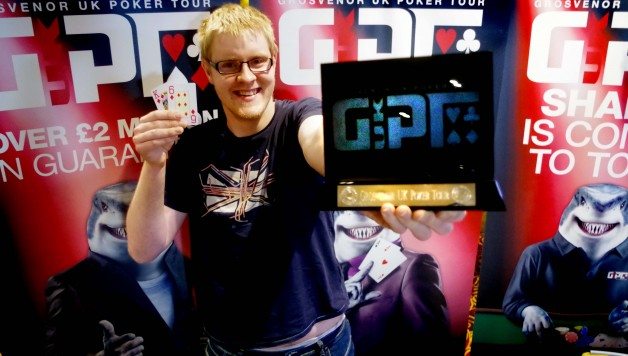 Reading, are you ready for a week of sizzling GUKPT Poker action?
Published On June 17, 2015 |
After the enormous success of last year's Reading GUKPT Main Event there was no chance the GUKPT was going to miss Berkshire's most famous festival town off the 2015 calendar! Last year was the second trip to Reading in the tour's history and Grosvenor Casino Reading South were delighted to welcome 268 players through the door – nearly double the number of entrants from 2013. The impressive turn-out meant the £100,000 guarantee was smashed to smithereens with a mouth-watering £134,000 in cash prizes on offer!
It was young English pro Paul Vas Nunes who walked away with the coveted trophy and the lion's share of the prize pool, as he defeated UK poker legend and WSOP bracelet winner Willie Tann after a commanding final table performance.
The win, his third live title, took Vas Nunes' lifetime tournament winnings over the $1m mark. He is also a prolific online player, with tournament cashes of almost $2m to date over his short career. Vas Nunes showed the poker world he is clearly one of the best the UK has to offer by finishing 2nd in London's GUKPT Grand Final which added another £92,000 to his ever growing record.
The Poker festivities kick off this Sunday with the £20+2 Super Satellite which guarantees 10 x £550 seats to the Main Event. The poker action continues to come thick and fast with plenty of live satellites and side events taking place before making way for the £100,000 guaranteed Main Event which starts on Thursday 25th June. Please find the complete Reading GUKPT schedule below.
Grosvenor Casinos continue to pride themselves in offering the best value tournament poker around. The GUKPT features one of the lowest registration fees in the business and, unlike much of the competition, there is no further raking of the prizepool.
David VS Goliath
Grosvenor Casinos has launched Dave VS Goliath, a nationwide hunt to find 12 real life David's to take on the challenge of Goliath 2015; the biggest live only Poker tournament in Europe. The only requirement? Participants must have a version of Dave in their name. So if you are called Dave Jackson, Sally Davidson, Dafydd James or Helen Davidtz, you could win a spot in Dave & Goliath bootcamp and a chance at Goliath's record-breaking prize pot of £250,000.
Poker Live
Grosvenor Casinos is also proud to announce their Poker App for iPhone users has recently been updated. To receive below information straight from your Smart phone, search for "Grosvenor Poker Live" in the app store!
· Club details
· Current tournament availability and details
· Results of tournaments
· Cash game waiting lists
· Cash games in play
GUKPT Reading Schedule
Date: Sunday 21st June to Sunday 28th June 2015

Venue: Grosvenor Casino Reading South, Rose Kiln Lane, Reading, RG2 0SN, T: 01184 027800, Open: 24 Hours

Main Event Info: £500 + 50 buy-in with £100,000 Guarantee (see full schedule below)
Leg 5 Schedule
Sunday
| | | |
| --- | --- | --- |
| | Event | 1 |
| | Type | £20 NLH Main Event Super Satellite (Unlimited rebuys during rebuy period) |
| | Reg fee | £5 |
| | Day | 1 |
| | Start | 7.30pm |
| | Chips | 2000/4000 |
| | Guarantee | 10 x £550 Main Event seats |
Monday
| | | |
| --- | --- | --- |
| | Event | 2 |
| | Type | £20 NLH Main Event Super Satellite Turbo (Unlimited rebuys during rebuy period) |
| | Reg fee | Free |
| | Day | 1 |
| | Start | 4pm |
| | Chips | 2000/4000 |
| | Guarantee | 1 x £550 Main Event seat |
| | | |
| --- | --- | --- |
| | Event | 3 |
| | Type | £50 NLH (1 x re-entry) |
| | Reg fee | £5 |
| | Day | 1 |
| | Start | 7.30pm |
| | Chips | 7500 |
| | Guarantee | N/A |
Tuesday
| | | |
| --- | --- | --- |
| | Event | 4 |
| | Type | £20 NLH Main Event Super Satellite Turbo (Unlimited rebuys during rebuy period) |
| | Reg fee | Free |
| | Day | 1 |
| | Start | 4pm |
| | Chips | 2000/4000 |
| | Guarantee | 1 x £550 Main Event Seat |
| | | |
| --- | --- | --- |
| | Event | 5 |
| | Type | £150 NLH (1 x re-entry) |
| | Reg fee | £15 |
| | Day | 2 |
| | Start | 7.30pm |
| | Chips | 12000 |
| | Guarantee | N/A |
Wednesday
| | | |
| --- | --- | --- |
| | Event | 6 |
| | Type | £20 NLH Main Event Super Satellite Turbo (Unlimited rebuys during rebuy period) |
| | Reg fee | Free |
| | Day | 1 |
| | Start | 4pm |
| | Chips | 2000/4000 |
| | Guarantee |  1 x £550 Main Event Seat |
| | | |
| --- | --- | --- |
| | Event | 7 |
| | Type | £100 NLH 6 max (1 x re-entry) |
| | Reg fee | £10 |
| | Day | 1 |
| | Start | 7.30pm |
| | Chips | 10,000 |
| | Guarantee |  N/A |
| | | |
| --- | --- | --- |
| | Event | 8 |
| | Type | £50 NLH Super Satellite (1 x re-entry) |
| | Reg fee | £5 |
| | Day | 1 |
| | Start | 9.00pm |
| | Chips | 7500 |
| | Guarantee | 3 x £550 Main Event seats |
Thursday
| | | |
| --- | --- | --- |
| | Event | 9 |
| | Type | £500 Main event Day 1A (1 x re-entry) |
| | Reg fee | £50 |
| | Day | 4 |
| | Start | 1pm |
| | Chips | 20000 |
| | Guarantee | £100,000 |
| | | |
| --- | --- | --- |
| | Event | 10 |
| | Type | £20 NLH Main Event Super Satellite Turbo (Unlimited rebuys during rebuy period) |
| | Reg fee | Free |
| | Day | 1 |
| | Start | 4pm |
| | Chips | 2000/4000 |
| | Guarantee | 1 x £550 Main Event seat |
| | | |
| --- | --- | --- |
| | Event | 11 |
| | Type | £75 Omaha 4/5/6 Card, Round of each (1 x re-entry) |
| | Reg fee | £7 |
| | Day | 1 |
| | Start | 6pm |
| | Chips | 10000 |
| | Guarantee |  N/A |
Friday
| | | |
| --- | --- | --- |
| | Event | 9 |
| | Type | £500 Main event Day 1B (1 x re-entry) |
| | Reg fee | £50 |
| | Day | 4 |
| | Start | 1pm |
| | Chips | 20000 |
| | Guarantee | £100,000 |
| | | |
| --- | --- | --- |
| | Event | 12 |
| | Type | £50 + £50 NLH re-entry Bounty |
| | Reg fee | £10 |
| | Day | 1 |
| | Start | 7.30pm |
| | Chips | 7500 |
| | Guarantee | N/A |
Saturday
| | | |
| --- | --- | --- |
| | Event | 9 |
| | Type | Main event day 2 |
| | Reg fee | N/A |
| | Day | 4 |
| | Start | 1pm |
| | Chips | N/A |
| | Guarantee | £100,000 |
| | | |
| --- | --- | --- |
| | Event | 13 |
| | Type | £100 NLH re-entry |
| | Reg fee | £10 |
| | Day | 1 |
| | Start | 6pm |
| | Chips | 10000 |
| | Guarantee |  N/A |
Sunday
| | | |
| --- | --- | --- |
| | Event | 9 |
| | Type | Main Event Final Day |
| | Reg fee | N/A |
| | Day | 4 |
| | Start | 1pm |
| | Chips | N/A |
| | Guarantee | £100,000 |
| | | |
| --- | --- | --- |
| | Event | 14 |
| | Type | £50 NLH (Re-buy and addon for £25) |
| | Reg fee | £5 |
| | Day | 1 |
| | Start | 4pm |
| | Chips | 7500 |
| | Guarantee |  N/A |