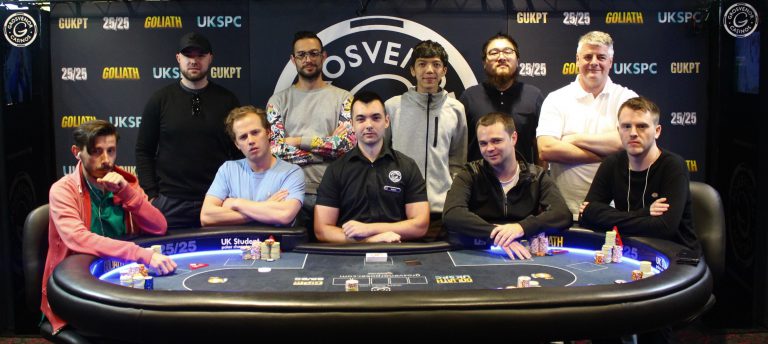 Satellite winner Cheuk Lee takes the title at biggest ever £500 GUKPT Main Event!
Published On July 8, 2019 |
Leg 6 of the 2019 GUKPT has gone down in history as the biggest ever £500 GUKPT Main Event. An incredible 488 entries showed up at The Poker Room, London for the event, creating a staggering £244,000 prizepool. London always pulls in the crème de la crème of poker and this time was no exception, with names such as Martin Bader, Kevin Allen, Andy Hills and Irish Open Champ, Ryan Mandara all in attendance.
Three days of gruelling poker action concluded late last night with 24-year-old Cheuk Lee taking the title and a cash prize of £40,000 back to his hometown in Hong Kong. Cheuk, who is relatively new to poker, won his £500+60 seat earlier on in the week all thanks to one of the live satellites taking place at the casino. Cheuk was delighted to take part in the event and at the very least saw it as a way to learn and work on his game. Little did he know he would be the last man standing, beating the biggest ever £500 GUKPT Main Event!
Cheuk wasn't the only big winner of the night as the final four players agreed to make a close to even split of the remaining prizemoney, meaning 2nd, 3rd and 4th places players all took home over £34,000. Chinese student, Zhen Shao, finished as runner up, Romanian Caicus Cristescu ended in 3rd place and rounding out the top 4 was 29 year old Stewart Kirby from Brighton.
1st – £40,554 – Cheuk Lee
2nd – £35,713 – Zhen Shao
3rd – £34,440 – Caius Cristescu
4th – £35,743 – Stewart Kirby
5th – £10,300 – Stephen Bean
6th – £7,400 – Joe Field
7th – £5,500 – Ryan Mandara
8th – £4,300 – Mark Rubbathan
9th – £3,600 – Arnaud Benaddi
10th – £3,100 – Ali Zihni
It's now time to take a small hiatus from the GUKPT as attention turns to the phenomenal record breaking Goliath which returns to Coventry from 25th July. This year the £100+25 Buy-in Goliath Main Event returns with a £100,000 Guaranteed first prize. Anyone wishing to play the Main Event is strongly encouraged to plan ahead by either winning a seat via one of the many online satellites on www.grosvenorpoker.com or buying in directly at your local Grosvenor Casino Cardroom.