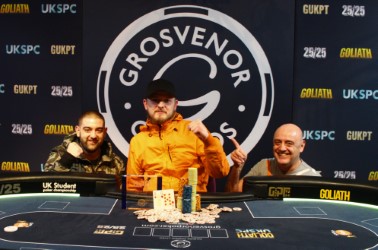 Scots dominate but Englishman escapes with the title at GUKPT Edinburgh
Published On April 8, 2019 |
Media Release: Monday 8th April 2019
The 2019 Edinburgh GUKPT came to a climactic conclusion last night as Englishman Nathan Slater became the latest GUKPT Main Event champion. Slater, from Blackpool, had his work cut out for him as he faced off at the final table against 8 formidable Scots, all eager to win the trophy on home soil. However when the lights went out on another hugely successful week of poker, it was the Englishman who clinched the coveted title and escaped with £41,000 in prize money
Until recently Nathan was relatively unknown on the UK poker scene but after a 5th place finish in the 25/25 Blackpool, a win at the Blackpool Deepstack and now with a GUKPT title under his belt, Nathan has firmly established himself as one to watch.
GUKPT Edinburgh welcomed an incredible 309 entries, an increase of 51 from last year's Main Event. Grosvenor Casino Maybury Edinburgh certainly played its part in the increase in numbers. A huge 67 players qualified from the extensive satellite offering leading up to the festival week in the casino. One such qualifier was Michelle Baldie who came desperately close to becoming the first ever female GUKPT champion, a milestone yet to be accomplished in the GUKPT's 12 year history.
1st – £42,110 – Nathan Slater
2nd – £27,860 – Michael Kane
3th – £17,110 – Michelle Baldie
4th – £10,900 – William Hanratty
5th – £7,420 – Steven Macleod
6th – £5,450 – Jamie Whyte
7th – £4,260 – James Gray
8th – £3,480 – Jamie Geraghty
9th – £2,880 – Bernie McGinlay
GUKPT now takes a small pre-summer break before the Luton leg in June. In the meantime focus now turns to the annual Easter Beast as well as Grosvenor Casinos' U.K. Student Poker Championship (UKSPC).
The Easter Beast seasonal special is just days away. This unique event sees 7 regional tournaments run simultaneously across the country. Each of the 7 tournaments hosts a guarantee of £20,000 with a buy-in of £100+15. What makes the format so fun and unique is that multiple day 1's run across various locations in the region before all Day 2 players meet together to play it out until a winner is crowned. For all the details on the Easter Beast please click here
The 2019 UKSPC officially kicks off on Monday 22nd April at the swanky Vegas style Grosvenor Casino Coventry. However, you can get a head start by playing in the all new online Day 1's taking place on Grosvenorpoker.com on Sunday 21st April. The 2019 UKSPC also welcomes new events to its line-up including a Super High Roller and more live streamed final tables than ever before. For more information on the UKSPC click here