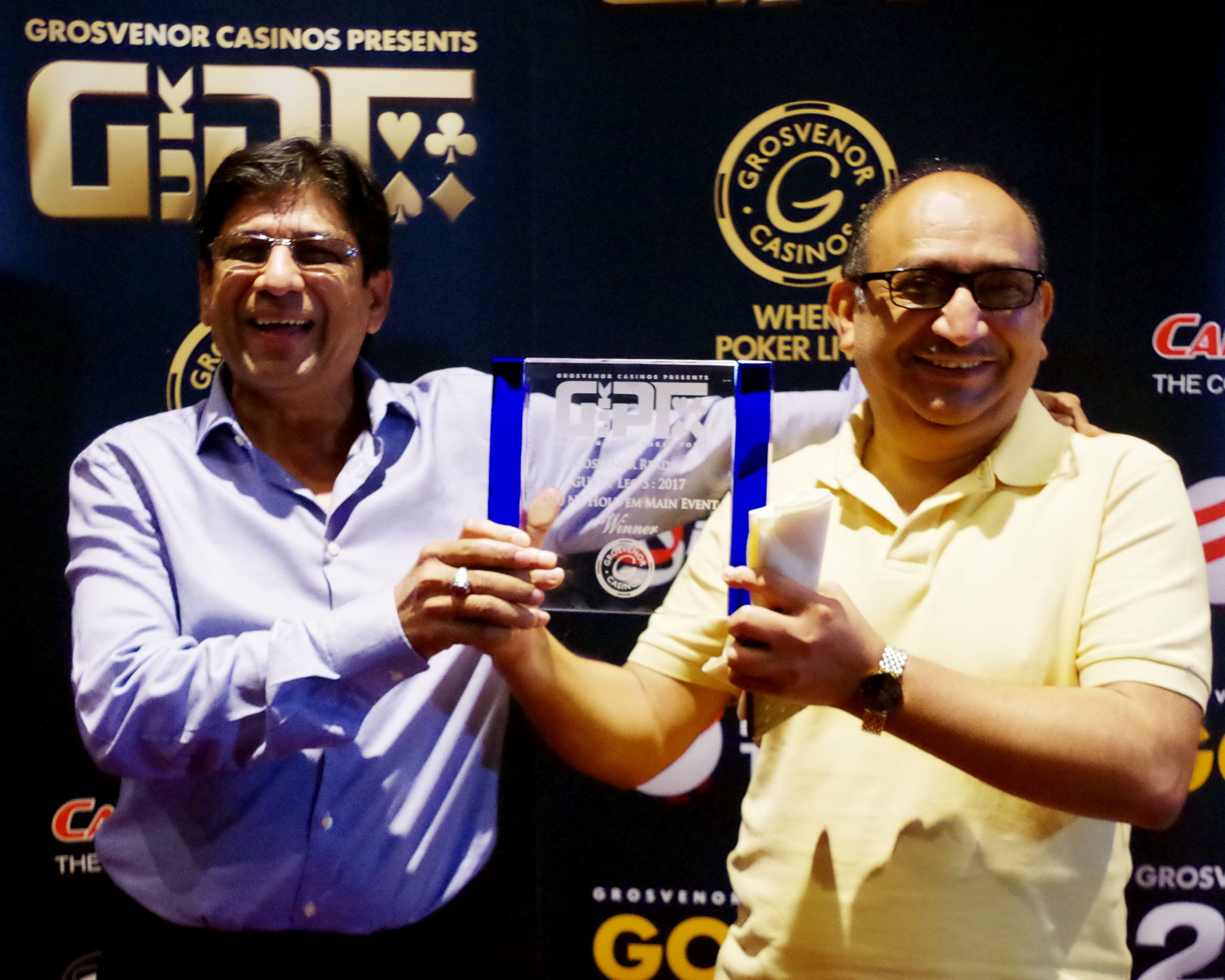 Super-Ali-is-fantastic-as-this-final-shows-us
Published On May 30, 2017 |
GUKPT Reading is in the books and it is legendary GUKPT Veteran Ali Mallu who's leaving with the trophy and a massive £35,310! This is Mallu's second GUKPT Main Event trophy, his first being the Manchester leg in 2015. It further cements his place in UK poker history and now sees him sitting alongside the likes of Julian Thew, Praz Bansi and Priyan De Mel in the illustrious GUKPT multiple winner's club!
It was only last month that he grabbed the poker headlines after falling just one place short of a win at GUKPT Walsall when he was beaten by car mechanic Gareth Howard in a gruelling heads up battle. Mallu is known for his loose and unorthodox play at the table, a style which has seen him clock up over £1,000,000 in tournament cashes over the last 15 years. He boasts a poker resume littered with 1st place finishes, reflective of his all or nothing approach to the game, and one which is now bookended by £35,000+ 1st place finishes at Grosvenor Casinos events.
The £100,000 Guaranteed prizepool at this event was easily surpassed as 249 players came to the take part in the £500+50 buy-in Main Event. Grosvenor Casino Reading South is always a favourite destination on the tour and we hope all players agree the venue definitely delivered yet again on what was a fun packed week of fun poker festivities.
GUKPT Reading Main Event Top 10
1st – £35,310 – Ali Mallu
2nd – £23,090 – Barry Cobb
3rd – £14,450 – Ashley Hunt
4th – £9,390 – Jay Harwood
5th – £6,420 – Tony Martin
6th – £4,820 – Andy Hills
7th – £3,820 – Jerome O'Shea
8th – £3,090 – Tim Wright
9th – £2,600 – John Allison
10th – £2,220 – Mark Reed
Our attention now turns to the next leg of the season, taking place at the iconic 'The Poker Room' located above Grosvenor Casino Victoria on London's Edgware Road. This will be the second time in London for the 2017 GUKPT. This time around it's the £100,000 Guaranteed / £500+50 buy-in Main Event which is the star of the show, supported as ever with a rich variety of side events and satellites. For the complete schedule click here
The poker action doesn't stop there at Grosvenor Casinos. The 25/25 continues to make its way around the U.K, stopping off in Liverpool later this week. There are still opportunities to win your seat to the £200+20 buy-in event with direct satellites taking place every Monday and Wednesday evening online on Grosvenor Poker – there's 5 seats guaranteed in each!
Grosvenor Casinos is also putting the final touches together for the Goliath 2017. The record breaking Goliath will be returning to Coventry at the end of the July and everything points to another new record being set for the biggest live poker event in the UK. Last year saw over 5,000 entries creating a prizepool of over £500,000 and this year we expect even more. For more information on the 2017 Goliath click here