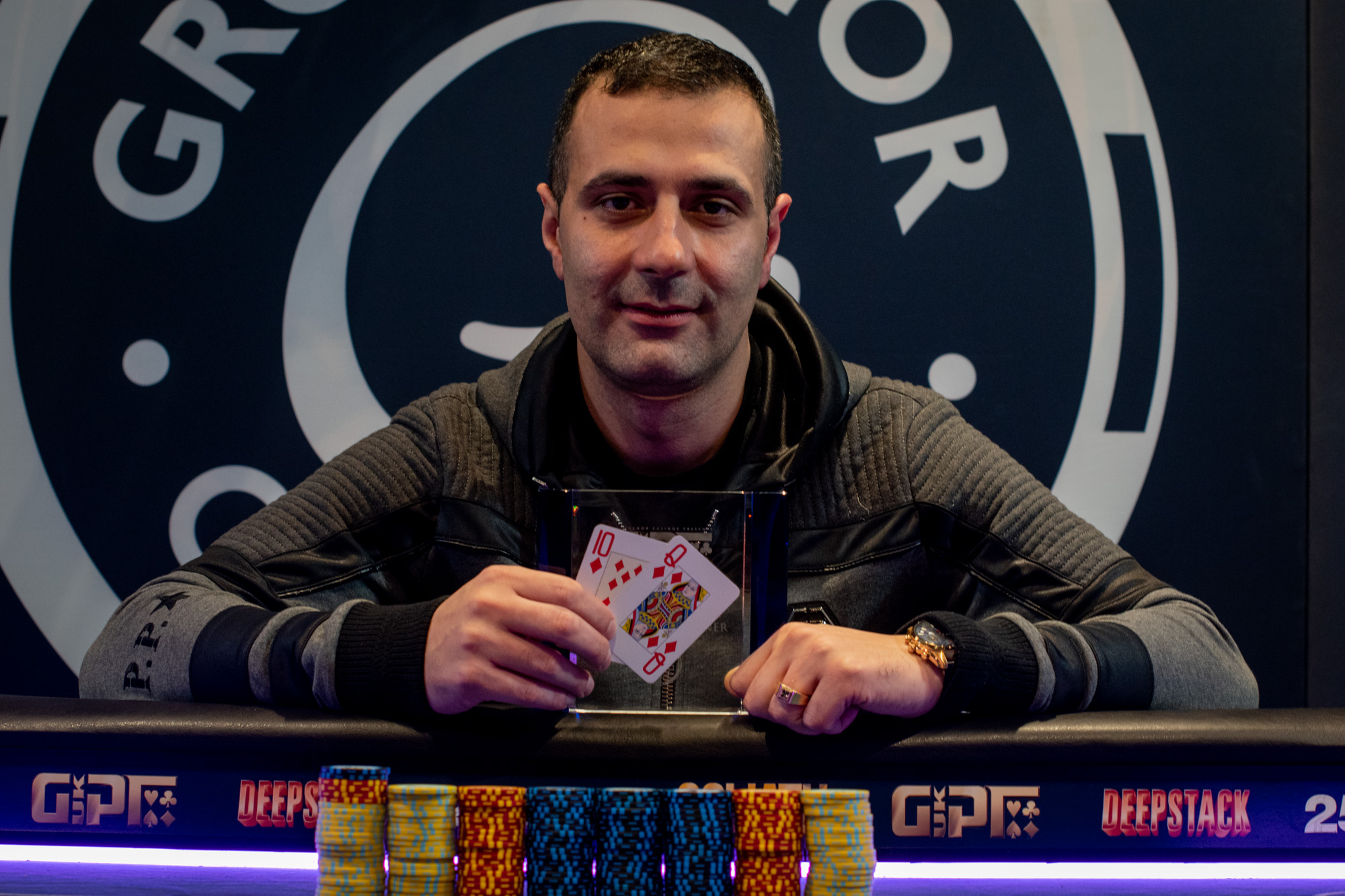 The Art of Poker – Artan Dedusha leads from start to finish to become 2020's 1st GUKPT champion
Published On February 3, 2020 |
379 players came through the doors of The Poker Room, London this past week to take their seat at one of the biggest GUKPT main events ever. A prizepool of over £500,000 was up for grabs together with the prestige that comes with one of the most popular poker events on the UK calendar. Poker players, businessmen, celebrities and more all came together with the hope of becoming 2020's first GUKPT champion. In the end that honour was earned by local player Artan Dedusha who defeated his final opponent Ben Winsor late on Sunday evening, clinching the trophy and the small matter of £137,430.
It was a remarkable achievement by Dedusha. Chip leader after his day 1 and again after day 2, he led virtually from start to finish and never looked like slowing down. The victory was all the more notable for the calibre of his opponents. Winsor was vying to become the 1st 4 time GUKPT main event winner in history. On current form that record looks set to fall at any moment. It was only 3 months ago that Ben was collecting almost £200,000 as the winner of the 2019 GUKPT Grand Final. A title that he also won in 2015. His 1st GUKPT title was back in Walsall in 2014 – £29,000 was then his best live poker result. 6 years and over £1,000,000 in earnings later, the boy from Broadstairs has been on the climb ever since.
Other notable performances included a final table appearance by writer, presenter and London poker favourite Victoria Coren Mitchell. A fearsome opponent in any line up and with over £2,000,000 in poker winnings to her name, Vicky cut her poker teeth in this very cardroom. Her breakthrough victory came here in 2006 with the 1st of her now 2 European Poker Tour titles. Ultimately this time she would fall just short. All in with AK a double up was on the cards if she could only connect with the flop. Not to be this time however, as her opponents pair of 3s survived, sending Vicky home in 5th place.
With the launch of the new Midi Main event proving a big hit with players, and the Mini Main (won by someone called Ben Winsor…) drawing huge numbers as ever, this week long festival of poker was the best possible way to kick off an action packed line up of poker that lies ahead in 2020 at Grosvenor Casinos. Next stop for the Tour is Manchester in just over 4 weeks time. Satellites are running now on GrosvenorPoker.com
Full Results
GUKPT London Main Event
£1,350 NLHE
Entries: 379
Prizepool: £511,650
1st – £137,430 Artan Dedusha
2nd – £91,270 Ben Winsor
3rd – £55,670 Patrice Brandt
4th – £35,100 Anon
5th – £23,570 Vicky Mitchell
6th – £17,050 Damian Bell
7th – £13,040 Jack O'Neil
8th – £11,030 Oliver Bithel
9th – £9,030 Paul Siddle
10th – £8,030 Emrah Cakmak
11th – £7,020 Ben Morrison
12th – £6,520 Heinz Frye
13th – £6,010 Philippe Souki
14th – £5,530 Paul F Tedeschi
15th – £5,010 Dahe Liu
16th – £5,010 Aleem Kanji
17th – £4,510 Jussi Hietalahti
18th – £4,510 Angelos Nastomegas
19th – £4,510 Josh Hayes
20th – £4,010 Rob Garfield
21st – £4,010 Jack Loraine
22nd – £4,010 James Williams
23rd – £4,010 Haresh Thakker
24th – £3,510 Daniel Harwood
25th – £3,510 Oliver White
26th – £3,510 Riyaz Samad
27th – £3,510 Alexios Zervos
28th – £3,510 Karl Watson
29th – £3,010 Yiannis Lipeis
30th – £3,010 Ben Margedze
31st – £3,010 Frode Gjesdal
32nd – £3,010 Rick Trigg
33rd – £3,010 Michael Bartov
34th – £3,010 Jean Chanpang Cheong