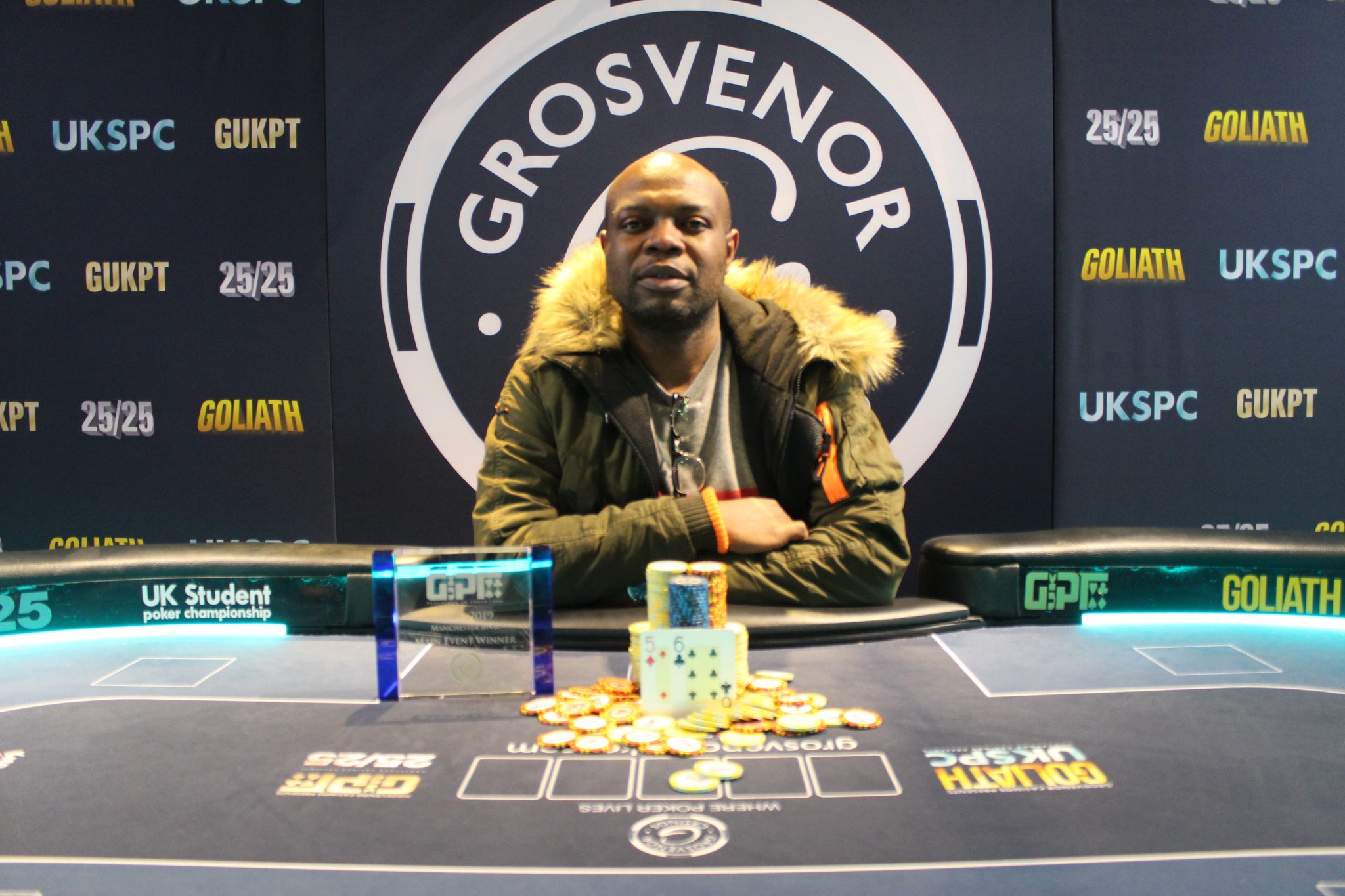 Top 2 share £140,000 as GUKPT Manchester pulls in the crowds again
Published On March 11, 2019 |
Media Release: Monday 11th March 2019
The 13th ever GUKPT Manchester is now in the history books and as always Grosvenor Casino Bury New Road pulled out all the stops ensuring it was one to remember. Congratulations to Coventry's Ben Maregedze who is now £69,000 better off and the latest face to join the illustrious GUKPT Manchester winners' hall of fame. Ben saw off 307 competitors over 3 days of intense poker action, ultimately beating 5 time GUKPT finalist Richard Kellet to top spot and the coveted trophy. The 308 entries generated a prizepool of £308,000 and saw Maregedze and Kellet chop the near £140,000 left at heads up, taking home £69,470 and £70,000 respectively.
1st – £69,470 – Ben Maregedze**
2nd – £70,000 – Richard Kellett**
3rd – £34,110 – Rob Bickley
4th – £21,730 – Craig Drew
5th – £14,790 – Ryan Plant
6th – £10,870 – Mark Rubbathan
7th – £8,450 – Paul Rigg
8th – £6,940 – Chris Byrne
9th – £5,740 – Harry Ross
The GUKPT Manchester final table featured players with a variety of experience levels. Congratulations to Craig Drew, Chris Byrne, Mark Rubbathan and Harry Ross who all won their £1,110 seats in satellites for as little as £22. Special mention should go to 21-year-old Harry who managed to final table his first ever GUKPT. At the other end of the spectrum, the final also included 4th place WSOPE finisher Robert Bickley and 5-time GUKPT finalist Richard Kellet, who both made it in to the top 3.
The GUKPT Mini Main event continues to prove a popular attraction, with a staggering field of 345 joining the event in Manchester. The £200+25 buy-in event smashed its £20,000 Guarantee, with winner Lorand Nagy taking home over £12,000.
Attention now turns to the 3rd leg of the 2019 GUKPT which will be taking place at the Grosvenor Casino, Maybury, in the beautiful city of Edinburgh. Action kicks off on Sunday 31st March which gives customers plenty of time to win their seat either online on Grosvenor Poker or at Grosvenor Casino Maybury, Edinburgh.