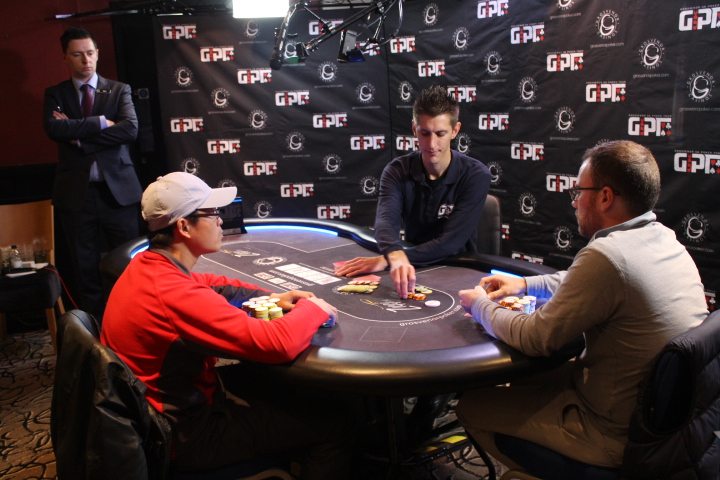 Warning: Edinburgh set to bake in week long scorching poker action!
Published On August 31, 2016 |
Grosvenor Casinos' U.K. Poker Tour (GUKPT) may be in its 10th year but this will be just the third time in the tour's history that the £100,000 Guaranteed GUKPT Main Event heads to the stunning city of Edinburgh.
Last year's event attracted 234 entrants and it was GUKPT veteran James Mitchell who emerged triumphant, winning over £33,000 as he pipped fellow GUKPT regular Colin Wu to the post after a gruelling heads up battle.
Grosvenor Casino Maybury in Edinburgh will again play host to the week long GUKPT festival, with proceedings getting underway this Sunday with the all new £10,000 GUKPT Mini Main alongside the 5 Seat Satellite. The poker action starts as it means to go on, with plenty of satellites along the way giving players the opportunity to play the £100,000 Guaranteed Main Event for as little as £26. Please find full schedule below.
Our dedicated live media team will be in full attendance to ensure all GUKPT news reaches the tour's followers around the U.K and further afield. To follow the action, find us on Facebook, Twitter and our live blog here.
GUKPT Edinburgh
Sunday
Event
Event 1; NLH Mini Main Flight 1A
£10,000 Guaranteed
*Last Man Standing Promotion – 1 x £550 Seat GTD (£10+0 buy-in)*
Buy-In + Reg Fee
£100 + £10
(Re-entry)
Chips
20,000
Start Time
2.00pm
(2 Day Event)
Event
Event 2; NLH SUPER Satellite
5 x £550 seats guaranteed
Buy-In + Reg Fee
£75 + £7
(1 Re-buy + add-on)
(1 Re-entry)
Chips
7,500
Start Time
7.30pm
Monday
Event
Event 3; NLH Satellite Turbo
1 x £550 Seat Guaranteed
Buy-In + Reg Fee
£20 + £6
(Re-buy + add-on)
Chips
2,000, with a double Add-on
Start Time
4.00pm
Event
Event 1; NLH Mini Main Flight 1B
£10,000 Guaranteed
*Last Man Standing Promotion – 1 x £550 Seat GTD (£10+0 buy-in)*
Buy-In + Reg Fee
£100 + £10
(Re-entry)
Chips
20,000
Start Time
7.30pm
(2 Day Event)
Tuesday
Event
Event 4; NLH Satellite Turbo
1 x £550 Seat Guaranteed
Buy-In + Reg Fee
£20 + £6
(Re-buy + add-on)
Chips
2,000, with a double Add-on
Start Time
4.00pm
| | |
| --- | --- |
| Event | Event 1; Mini Main Day 2 |
| Buy-In + Reg Fee | N/A |
| Chips | N/A |
| Start Time | 6.00pm |
Event
Event 5; NLH SUPER Satellite
10 x £550 seats Guaranteed
Buy-In + Reg Fee
£25 + £6
(Re-buy + add-on)
Chips
2,000, with a double Add-on
Start Time
7:30pm
Wednesday
Event
Event 6; NLH Satellite Turbo
1 x £550 seat Guaranteed
Buy-In + Reg Fee
£20 + £6
(Re-buy + add-on)
Chips
2,000, with a double Add-on
Start Time
4.00pm
Event
Event 7; NLH 6 max
*Last Man Standing Promotion – 1 x £550 Seat GTD (£10+0 buy-in)*
Buy-In + Reg Fee
£100 + £10
(Re-entry)
Chips
10,000
Start Time
7.30pm
Thursday
Event
Event 8; NLH Main Event Day 1A
£100,000 Guaranteed
Buy-In + Reg Fee
£500 + £50
(Re-entry)
Chips
20,000
Start Time
1.00pm
(3 Day Event)
Event
Event 9; NLH Satellite Turbo
1 x £550 seat guaranteed
Buy-In + Reg Fee
£20 + £6
(Re-buy + add-on)
Chips
2,000, with a double Add-on
Start Time
4.00pm
Event
Event 10; Omaha 4/5/6 card, Round of Each
Buy-In + Reg Fee
£75 + £7
(Re-entry)
Chips
10,000
Start Time
6.00pm
Friday
Event
Event 8; NLH Main event Day 1B
£100,000 Guaranteed
Buy-In + Reg Fee
£500 + £50
(Re-entry)
Chips
20,000
Start Time
1.00pm
(3 Day Event)
Event
Event 11; NLH Bounty (£50/£50 Split)
Buy-In + Reg Fee
£100 + £10
(Re-entry)
Chips
10,000
Start Time
9.00pm
Saturday
| | |
| --- | --- |
| Event | Event 8; NLH Main Event Day 2 |
| Buy-In + Reg Fee | N/A |
| Chips | N/A |
| Start Time | 1.00pm |
Event
Event 12; NLH 100
Buy-In + Reg Fee
£100 + £10
(Re-entry)
Chips
10,000
Start Time
6.00pm
Sunday
| | |
| --- | --- |
| Event | Event 8; NLH Main Event Day 3 (Final) |
| Buy-In + Reg Fee | N/A |
| Chips | N/A |
| Start Time | 12.00pm |
Event
Event 13; NLH 75
Buy-In + Reg Fee
£75 + £7
(Re-entry)
Chips
10,000
Start Time
4.00pm